On the Absolute Pleasure of British Historical Reality TV Shows
Colleen Hubbard Couldn't Have Written Her Novel Without the BBC's Historic Farm Series
Get enough drink in me—especially in a pub, especially by the fire, especially in that slinky mist that descends on England for about 11 months a year—and I'll tell you all about Ruth and Peter and Alex, and if it's a long enough night, we might even get into Stuart as well. I'll tell you about the bizarre things they've all done—like driving geese to a simulated Tudor market—and how it inspired my book about a woman who does something equally pointless for a lot less money.
BBC's historic farm series started in 2005 and spanned five core programs: Tales from the Green Valley (1600s Wales), Victorian Farm, Edwardian Farm, Wartime Farm, and Tudor Monastery Farm, as well as offshoots like Christmas specials and a show about a 19th century pharmacy where the cast, frankly, seemed surprised by the machinations of life that deposited them in an open-air museum in Shropshire where they make condoms out of sheep guts.
In each of these shows, the core team, including Ruth Goodman, a self-taught domestic historian, and the archaeologists Peter Ginn and Alex Langlands, purport to live on site for a year while demonstrating the sorts of knowledge that would be workaday for normal people living during the featured period: for example, how to make medicine, brew beer, stuff a mattress, and make sanitary pads.
I've watched all of the shows—some of them many times over—and found the attention to detail and craft especially rewarding when I was living in the UK and writing my debut novel. But my history with these shows went further back than that.
A YouTube recommendation first brought Victorian Farm to my attention soon after it aired in 2009. Immediately it brought me back to when my Girl Scout troop visited Old Sturbridge Village in Massachusetts and watched "Josiah" set type in the print shop or "Constance" braid straw. While some of the other kids yawned through the demonstration, I loved the gritty, overlooked bits of domestic life such as how a traditional mince pie was made or wool was spun.
I grew up on farmland that my grandparents had owned and that was quickly turning into suburban cul-de-sacs, and yet still the remnants of domestic farm life remained in evidence: my grandmother had a wooden butter churn and a spinning wheel in the living room, while out in the backyard a rusted combine gradually disappeared under a multiflora rose bush.
It wasn't just the practical nature of building or unbuilding a home that appealed to me about the farm series, though. It was the cast members total commitment to their cause…
On the historic farm shows, Ruth is in her early forties when the first series commences. She brings a passion for domestic history that bleeds into her everyday life, which we learn when we meet her young daughter Eve, who has become a world-leading expert on Elizabethan finger loop braiding, or Ruth's husband, who is a Tudor reenactor. Ruth is practical, chirpy, and direct, with the air of a camp counselor who has a magical pocket which holds every size of tampon, a fold-out map, tissues, and a handful of Jolly Ranchers.
Alex and Peter, in their twenties in the first series, are opposite forces: Peter is made in the cozy, rumpled mold of Mole from The Wind in the Willows, while Alex, insofar as there is a historic farm pin-up, is probably it. The shows adhere to sex-based divisions of labor which are accurate for the periods they cover. Ruth reigns inside the house: getting the coal fire working, salting butter, and mixing 15th century detergent, while Alex and Peter approach the farm work with the vim of puppies let loose from their pen in the morning. The programs give equal importance to the indoor or "women's" activities and the outdoor labor that is usually carried out by men, though the team repeatedly makes the point that running a working farm required everyone to pitch in to grueling and physically demanding tasks.
Stuart appears only in Tales from the Green Valley, though later, in Tudor Monastery Farm, there's a guy called Ronald who has strong Stuart energy. If you've met a historical reenactor, particularly of the battlefield variety, you know exactly this type: brusque, middle-aged, detail-obsessed, likely to tell you that the generally accepted interpretation of such-and-such battle is untrue, and might he share his conclusion on why the American Civil War was not really about slavery at all? The historic farm series is not really for or about the Stuarts. It's for the rest of us, the ones who want to see how to hand paint wallpaper or make a 15th century cake.
When I was writing my novel—about an impulsive young woman who decides, for reasons which aren't clear even to her, to dismantle her family home by hand—I had very little to go by in way of practical knowledge. Like any New England child of divorced parents, my siblings and I watched about a thousand episodes of This Old House after staying over at my dad's house once a week. And yet, all the useful memories of Bob and Norm's techniques have vanished over the years.
Before starting the book, I spoke to Brad Guy, an architect who specializes in dismantling homes for environmental re-use purposes, and he told me that the sort of house I was looking to disassemble—a 19th century farmhouse—would likely have been built by a family or even an individual, and certainly could be dismantled by one. When I leafed through Brad's instructive manual on dismantling houses and the period farmhouse database he pointed me to, I saw in the hand-painted wallpaper and the horsehair plaster evidence of people like Peter, Alex, and Ruth, doing it themselves with whatever materials they could access in their local communities.
It wasn't just the practical nature of building or unbuilding a home that appealed to me about the farm series, though. It was the cast members total commitment to their cause, despite the discomfort they faced, or that they undoubtedly were the weird (and possibly not very popular) children on their own school tours of their regional equivalent of Old Sturbridge Village.
The last series with the core cast members aired in 2016. In an interview, Ruth said that the most modern program, 2012's Wartime Farm, left her feeling "ground down," and she preferred a Tudor-era program where she rubbed herself with a linen cloth instead of bathing. She's gone on to write bestselling books about domestic life, such as How to Be a Tudor, while Alex is an history professor who pops up on various history and archaeology documentaries, and Peter has written a book about slow technology.
"There's something about making things that's good for the soul," Ruth said in a 2013 interview. About building and maintaining a home, it's true. And about writing a book, it's true as well.
__________________________________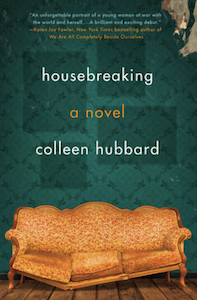 Colleen Hubbard's novel Housebreaking is forthcoming in April 2022 through Berkley.
---