Why is Writing About Art So Difficult?
Sara Woster on Finding the Words We Need
My creative life began in the dilapidated art building of a Midwestern, Big Ten college with a busted up Coke machine in the lobby and the smell of plywood and burning metal in the air. I didn't often have to write about my art, but I was occasionally forced to find the words to defend my artistic choices in harrowing classroom critiques. The language I used in those critiques was carefully defined by the current art school trends. Words like "process" and "derivative" and "lexicon" were acceptable in the early 1990s, words like "I like" or "I feel" were not.
But once an artist leaves art school the language we apply to our artwork focuses on trying to convince gallery owners and curators of group shows that our work is sellable, that we are of the zeitgeist, that our paintings aren't actually terrible, they are merely ahead of their time. This marketing speak focuses on movements, materiality, structuralism, fragments of meaning, material invention. It is often, quite honestly, a lot of blah, blah, blah.
After I left art school I expanded my creative practice into writing, fiction mainly, but some nonfiction, too. I almost never wrote about art until I was recently given the opportunity to write an entire book about painting, both how to make a painting and why you should. I imagined that it would be simple enough to take my fiction writing skills and apply them to writing about art. It turns out, it is incredibly hard. You must establish both the visual presence of an artwork and the heart and soul, and intention, of the artist. And you often must describe the visual presence of an artwork to a reader who can't see it.
The use of words to explain an image always reminds me of Raymond Carver's short story "Cathedral," where the narrator attempts to explain a cathedral to a visually-impaired man, a scene that encapsulates one of the main challenges of writing about art: What information is necessary to be passed along? And I don't know of any other passage in literature that leans into the idea that there are limits to our vocabulary in such a way as when the narrator struggles to find the right words to create the image of a cathedral.
The English vocabulary is especially limited, with only 170,000 or so words in an English dictionary. What does this mean to the art writer trying to capture a brushstroke? You fall back on tried and true descriptors like lush, bold, tentative, delicate. We are left with sculptures that are sophisticated, quiet, warring. Compositions are balanced, wild, courageous, gutsy. The artist is sympathetic, critical, brave.
We need more words to write about the jarring physical reaction we can have when face to face with a great work of art.
Would a writer writing in Korean, a language with ten times as many words as English, fare better? Or an Arabic art writer with that language's famously endless ways to say love and camel at his fingertips? How many adjectives are there in English? And can we get some more, please?
We need more words to write about the jarring physical reaction we can have when face to face with a great work of art. Painter Amy Sillman wrote of going to a Cezanne drawing show and feeling like she was 'dosed'. I've never taken LSD but I have stared at Faith Ringgold's "Die" and felt something akin to pharmaceutical discombobulation as I stared at the geometry of the akimbo legs and faces. That sensation was followed by a mild heart palpitations at the brilliance of the color placements and the Guernica-like composition of energy and violence.
What about a few more words to capture the emotional impact of art? A recent Edvard Munch show left me bereft. Karl Ove Knausgard wrote an entire book about the emotional impact of the work of his compatriot, So Much Longing in So Little Space. In it Knausgard describes the emotional impact of a Munch painting he loves, Inger in Black. "I am filled with something resembling happiness when I look at it. Something unconditionally good. I think it has to do with dignity. And thereby with hope."
we need vocabulary for the stories we make up when we look at an artwork, too.
And can I have some more words to describe the artistic heart and soul of artists who make us feel these many things? Like Joan Mitchell, an artist who moved past the belief that she was capable of missteps. That arrogance resulted in an economy in her marks; she was too cool for bells and whistles. She was also so cool that she could make entire paintings using only orange and blue, the simplest, complimentary color combination that I first introduce my new painting students to.
More words to describe how Jackson Pollock's paint moves from thick blobs to seemingly accidental, tiny drips. And words for the complexity of his use of black to create an epoch depth, as if we are looking at tears on the surface of a black hole. And, of course, those tread marks all over the place now allude to the eventual, screeching halt of his life in a drunk driving car crash.
We need vocabulary to establish those types of personal narratives embedded in a work of art. And we need vocabulary for the stories we make up when we look at an artwork, too.
Artist Glenn Ligon's text for Lynette Yiadom-Boakye's show at the Serpentine Gallery is among my favorite pieces of art writing. In the essay "On the Hour, On the Times," Ligon writes of Yiadom-Boakye's An Afternoon on Wednesday, a portrait of a man wearing a French-style black and white striped shirt that Ligon says is reminiscent of James Baldwin, James Dean, Jean Seberg or Edie Sedgwick. "Or prisoners in early movies, sledgehammers swinging in unison at the edge of a country road, or sailors, who, if they have fallen overboard, are more easily spotted in stripes than navy solids. This one is not overboard, in that dark brown sea, but he is awaiting rescue."
I'll never again see that painting without thinking of the times I have been rescued.
Great art writing requires that agility in making connections as you link the artist's color choices with the goals of the painting. You connect the biography of the painter with the objects in their painting. Consider Philip Guston's canvases full of trash and the fact that when his Ukrainian family immigrated to the US his father found work as a junkman before committing suicide when Guston was just ten years old.
Even if I had a bunch of new words I know that in a book about painting I could not possibly write in depth about the act of painting without alienating the reader because the process is so tedious. I mix some paint, I snack, I stare at the work. 90% of my job is staring and who wants to read a book about people staring?
But what is important for the reader to understand is why all of that staring at the work is happening. They need to know that artists look and look in order to discover what lies in wait in the underbelly of their materials. Readers need to know that the singular job of the artist is to peel back everything. This is especially true of painting, which might seem to be an art of addition as you layer paint, but painting might actually be closer to marble sculpting and be an art of subtraction, of revelation. I tell my students to take their work home and hang it up where they will encounter it at random moments throughout the day. The hope is that in passing by the work in progress as they walk to the fridge for a Crystal Light or into the bedroom to fold socks that they might catch a glimpse of the beating heart of their artwork, the thing to be revealed. It has happened to me countless times.
That is what I really wish I had more words for, the mysticism that is the creation of a visual artwork that results in the emergence of something more powerful than the earthbound materiality of the art supplies. Something that Susan Rothenberg, who I suspect was an actual magician or a witch because she called forth so many beings through that materiality, said that her paintings "are like prayers, relating to wishing for something beyond everyday life."
But if you think writing about visual art is limited by our words, imagine trying to write about prayers. What words are needed to write about faith? What words would help us write about that beating heart in an artwork? That's the true challenge of the finite nature of language. Without an infinite language, how can we ever hope to find the words to write about that supernatural thing?
__________________________________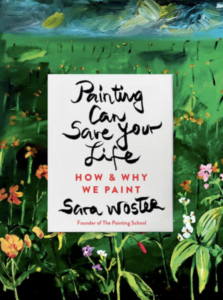 Painting Can Save Your Life: How and Why We Paint by Sara Woster is available via TarcherPerigee.
---