Why Does This Small Vermont Town Have So Many Olympians?
"I don't know if it's the well water or what."
Tucked between two interstates in the northeastern United States is a pocket square of a place that has become an unlikely Olympic pipeline. Near the 89 and 91 interchange lies the town of Norwich, a hilly and wooded family-oriented farming community in rural Vermont. With a main street lined with white clapboard colonial buildings and a landmark steepled church, Norwich could be a set designer's rendition of a small New England village. It is a cartographer's challenge, barely registering on the map with its roughly 1,440 single-family households, including mobile homes, and a musty gymnasium contained within a brick meetinghouse. What it has in abundance is room to roam; Norwich is about a four-hour drive from New York City and two hours from Boston, but it's not all that popular as a second-home destination—the people who live there really live there.
Yet despite its apparent ordinariness, Norwich is home to a probabilities puzzle for the statistics students at Dartmouth College, less than two miles away as the hermit thrush flies.
This town of roughly three thousand residents has accounted for three Olympic medals, and, since 1984, has put an athlete on every US Winter Olympics team except two. Like a groundhog poking its head out of its burrow each February, every four years the Norwich athletes leave the cozy, caring cocoon of their small town for the glare of the world's grandest sporting stage.
The town doesn't lie fallow once the snow has melted; it has also sent two athletes to the Summer Olympics—and could send a third, in cycling, to the 2020 Tokyo Games. In all, Norwich has produced eleven Olympians—an even dozen if you count the snowboarder Kevin Pearce, and the townspeople would never dream of overlooking Pearce, who sustained a career-ending head injury a little more than a month before the 2010 Winter Olympics, where he was expected to contend for a gold medal. To put Norwich's bountiful harvest in perspective, consider that Spain, with its population of 46 million, has won two Olympic medals in winter sports since 1936. New Zealand, home to 4.7 million people, majestic mountains that served as a backdrop for the Lord of the Rings film trilogy, and a wide range of adventure sports, has earned one Winter Olympics medal. In 2010, the freestyle skier Hannah Kearney became the first Norwich athlete to strike Olympic gold when she won the women's moguls in Vancouver. With her milestone achievement, she supplanted Bob Keeshan, the actor who played Captain Kangaroo on the eponymous children's television show, as the town's most celebrated resident. "Supposedly, one out of every 322 residents is an Olympian," Hannah said during those Winter Games. She added, "I don't know if it's the well water or what."
"Supposedly, one out of every 322 residents is an Olympian," Hannah said during those Winter Games. She added, "I don't know if it's the well water or what."
The well water in Norwich is perfectly delicious, but the town's outsize success in Olympic sports has more to do with the way it collectively rears its children, helping them succeed without causing burnout or compromising their future happiness. It's how harried parents across America would like to bring up their children if not for the tiger moms and eagle dads in their midst. The town has much to teach us about ensuring that our children grow up to live meaningful lives in both victory and defeat.
But before exploring the phenomenon of Norwich, let me make one thing clear: The town is not representative of the country as a whole. It is overwhelmingly white and mostly middle class, with a median household income of eighty-nine thousand dollars, well above the national average of fifty-six thousand. With its population of professors and doctors, Norwich has the demographic—the wealth and the driven personalities—to be at the vanguard of the helicopter-parenting movement. And yet the town has largely opted out of the athletic and academic arms races being waged elsewhere.
*
Jim Kenyon, a columnist for the local Valley News, described Norwich to me as "Disney World with maple trees." He would know. He brought up his family in town, and though he is no longer bound to the place by his children, now grown, Kenyon continues to live in Norwich, where his neighbors run the spectrum from mansion owners to yurt dwellers. That he pokes fun at the place but is in no hurry to leave is telling, as is the fact that the town's unofficial den mother is neither a coach nor one of its celebrated athletes. Her name is Beth Reynolds, the children's librarian at Norwich Public Library who tailors reading recommendations to each youngster's personality and whims. Even more than the athletes who compete all over the globe, it is Reynolds who opens new worlds to the children of Norwich.
Yet as extraordinary as the town seems, the seeds for its success can be planted and cultivated anywhere.
Norwich started producing Olympians at the advent of the television age. A young woman named Betsy Snite won a silver medal for America, and Norwich, at the 1960 Olympics in Squaw Valley, California, the first Games to be televised live in the United States. CBS aired thirty-one hours of coverage over the eleven days of competition. In 2014, when the most recent Norwich Olympian, Hannah Kearney, competed in her third and final Games, in the Black Sea resort of Sochi, Russia, NBC showed fifteen hundred hours over eighteen days. The town has had a front-porch seat to the rise of the commercialization and professionalization in the Olympic movement. Betsy retired from skiing shortly after the 1960 Olympics, and only then was she able to endorse and promote skiwear without fear of losing her amateur status. By the time Hannah arrived on the scene some forty years later, the model had changed. She was paid as a product endorser for clothing and ski equipment while she competed, but most of her sponsorships dried up after she retired.
Television turned out to be the Games changer. The exposure from global broadcasting partners attracted transnational corporate sponsors, which turned competitors into commodities and muddled the original message of the Olympics as a worldwide celebration of sport. By 2014, as I muddled through the mess that was the Sochi Olympics, with its displaced citizenry, disappearing dogs, dilapidated accommodations, and distressing price tag, my emotional tether to the competition was fraying. It was my ninth trip to the Olympics—tenth if you count the 1984 Summer Games in Los Angeles, where I volunteered as a hostess—and it was hard not to feel as if I was witnessing a grande dame's last, gasping breaths. The Sochi Olympics rolled up a record tab of $51 billion and required a large army of police to secure. Russia gave the world an Olympics characterized by human-rights violations and a systemic doping program by the host country. The Games were also marred by a handful of serious injuries to participants who were encouraged to take on ever-higher degrees of risk for the entertainment of the viewers.
I was reminded of how much the Norwich model matters when I returned home from covering the 2016 Summer Games in Rio de Janeiro. Several of my friends told me they hadn't bothered watching the competition. They were over the Olympics as must-see TV and were talking about the event as if it were a reality show they had once enjoyed immensely but now found fraudulent. So many unsympathetic characters! So many farcical story lines! How could they root for athletes with cartoonish muscles who were likely to win medals only to later fail tests for performance-enhancing drugs? They expressed a nostalgic longing for the star swimmers and runners of their youth, who seemed more accessible and personable and less greedy and entitled. The consensus was that the Olympic movement was buckling under the weight of its excesses.
Norwich is why all is not lost. How can you not root for the ski jumper Mike Holland, who progressed from "a flying sack of potatoes"—a label slapped on him when he was an ungainly young jumper—to a two-time Olympian? Or Andrew Wheating, who found his way to the track as a high school senior and less than three years later ran in the Summer Games in Beijing? And what about Hannah, who overcame her aversion to backflips to become a trailblazing moguls skier? Mike, Andrew, Hannah, and the other Norwich Olympians went for broke in their sports but didn't get rich—and they didn't much care. The sports enriched their lives, and that was what drove them.
*
NORWICH by Karen Crouse, is now available in paperback.
____________________________________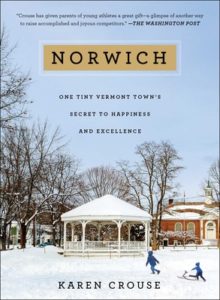 Adapted from the prologue from NORWICH by Karen Crouse. Copyright © 2019 by Karen Crouse. Reprinted by permission of Simon & Schuster, Inc, NY. 
---