On the Absurdities of Law on the US-Mexican Border
"I tried to imagine what heritage a border could have."
There are, generally speaking, two areas of immigration law practice: one is in the interior of the United States and the other is along its border. Common strains run through each, but their physical location is the least of their differences. They are, for the most part, distant cousins.
In the interior of the United States, depending on which state we are talking about, injustice is rampant to varying degrees. Before the Trump Administration, however, there were some possibilities of successful outcomes. In New York, for example, where I began working as an immigration lawyer, I could count on an asylum grant rate of over eighty percent. Yet in Georgia, the number is closer to ninety percent—but for denials. The location of the immigration court in the interior of the U.S. decides a case as much as anything else.
The U.S.-Mexico border, however, like its terrain, is a rugged, unforgiving area for immigration law. It is, within immigration law, the closest we get to the Wild West. Among advocates, unlike the state-specific interior immigration law practice, there is little delineation between cities or states; we speak of the border as uniform. "I used to work along the border," or "I volunteered on the border for a few weeks," is enough of a declaration from one colleague to another. No further questions will be asked because the understanding is complete. Instead, if we wish to be more specific, we do not turn to traditional geography, but name detention centers. "Tornillo", "Dilley" or "Karnes" are not towns in Texas to us.
This was the transition I found myself struggling to adapt to—going from the interior to the border—in early 2016. It was only for two weeks on this visit, and yet after one week, I had barely slept and felt myself developing claustrophobia from the cold, hard walls of the Karnes County Residential Center. The mothers and their children detained there who I was representing, no different than my own wife and young daughter in New York, stuck deeply into me, as if I'd ran full speed into one of the cacti scattered in the desert near the detention center.
On my one morning off during the two-week stint, I got in the car and drove towards Mexico, though I knew I was driving away from something.
Saturday, Week Two
Kennji departed early in the morning. We had a beer each at a bar the evening before he left, but he also had to get things in order for the next fellow, so we returned to our rooms early. I stayed up as long as I could working on briefs for the following week. Kennji was right, though, I was burning myself out. After six straight days bustling between Karnes City Detention Center and immigration court in San Antonio, I had reached our one day off. Though I needed to be here when the next fellow arrived, that wouldn't be until the midafternoon. With half the day to myself, I decided against Kennji's suggestion to head to Austin and instead planned a drive to see the actual border with my own eyes. Despite a short night of sleep, I rose early and was at a brunch spot by 8:00 a.m., eating a breakfast sandwich and washing it down with a virgin Bloody Mary. I'd have to do without the kick of alcohol for now. Instead I grabbed a cup of coffee to go, got into my car heating under the morning sun, put "Laredo" into Google Maps, and entered onto the nearby I-35 freeway for a nearly three-hour journey through southwestern Texas to the end of America.
In the weeks before coming to Texas, I had binge-read border novels by writers like Cormac McCarthy and Larry McMurtry, which had given me a visual idea of the region. To see its rich detail as I drove toward Laredo, though, was at times unexpected and mesmerizing. In some aspects, southwestern Texas was a continuation of the cattle country that surrounded Karnes, yet the landscape itself was distinct from it. For much of the drive, the only upright things in sight were prickly pear cacti and old fence posts with rusted barbed wire that rolled along the khaki and orange dirt occasionally interrupted by wisps of green earth. They reminded me most of the setting of McMurtry's famous border novel Lonesome Dove.
In place of the cowboys who roamed on horseback over the romantic, unsettled lands of the West were small towns like Falls City, which I'd miss if I blinked. Yet I'd learned by then that a small town didn't necessarily mean big things couldn't hide there. An hour outside of San Antonio, I passed the exit for Dilley, a small Texas town once locally famous for its enormous watermelons. Since 2014, however, its name had become notorious in immigration rights circles for housing the largest family immigrant detention center in the United States. Dilley is by all standards a prison that houses up to 2,400 immigrants, many of whom are mothers and their children. The "private rooms" where they are housed are cells that cram in multiple families. And like the Karnes Residential Center, it was given a cheery name fit for a retirement community: the South Texas Family Residential Center. The branding of immigrant detention was no different than any other polemic issue in American politics, but no matter what you called a turd, you still couldn't polish it.
The branding of immigrant detention was no different than any other polemic issue in American politics, but no matter what you called a turd, you still couldn't polish it.
Though Dilley and Karnes were pretty similar their differences were notable, the main one being that the latter was a licensed childcare facility while the former was not. Nor is Dilley a GEO-run facility, rather it is owned and operated by Corrections Corporation of America (CCA; renamed Core Civic in 2016), another billion-dollar company thriving off the privatization of prisons and their government contracts. The icing on that cake was that Dilley was not the only immigration detention facility in America to illegally house children.
Pro-immigration and children's rights advocates had been vocal for years in demanding these family detention centers be shut down, and one of the main arguments they used was through the Flores settlement, which barred undocumented youth from being held for more than twenty days in secure detention facilities without trying to place them with a legal guardian and that such facilities must meet child welfare standards, meaning they must be licensed. The Obama administration had decided not to separate families during this time period and was thus keeping them detained together for indefinite periods of time, well beyond the limits in the Flores settlement, and they were being detained in unlicensed and secure facilities.
Though children being detained with their mothers were not technically unaccompanied, in July of 2015, lawyers for the Flores settlement argued that they should be protected in the same manner—and a federal judge agreed, finding that the Flores settlement applied equally to unaccompanied minors as well as children detained with their parents, meaning that those children in Karnes and Dilley still had rights to be housed in the "least restrictive setting" (a description that no person would ascribe to Karnes or other family detention centers). The fact that a judge could make this finding and issue an order, however, is never a guarantee that the government would fully comply with it.
An hour later, the ranches disappeared and in their place were signs of more recent molding by human hands. Large warehouses and industrial parks were the first to appear, until finally the landscape burst forth with a miracle mile of American franchises and excess—Walmart, Olive Garden, Target, Best Buy, Fuddruckers, Ford dealerships, Best Western, Western Sizzlin'— a long, deep-fried American goodbye that escorted you right into downtown Laredo, where the franchises abruptly ceased and Mexico began. I wondered how often Mexicans had easily come in the other direction, whether they had felt that the United States had placed before them a welcome mat of corporations that made millions selling people things they didn't need, and whether they too would get to partake in the hedonism.
I-35 ended near the Juarez-Lincoln International Bridge, which crosses the border at the Rio Grande. I parked near the Greyhound bus station and made my way down to the river. The entire downtown area seemed to be under construction, for sale, or occupied by discount vendors. Bulk deals were everywhere for knock-off brand apparel, sports gear, electronics, and personal-care products; signs for mayoreo (wholesale) and menudeo (retail) filled dozens of shop windows. I wandered in the direction of the Rio Grande, passing a direction sign for the Laredo Border Heritage Museum. I tried to imagine what heritage a border could have, but before I could dwell on it, I came to the river, which was much bigger, browner, and faster than I had expected. Yet it wasn't wide enough to make Mexico seem all that far—about half the distance than Brooklyn was from Manhattan. But it felt different—I could see a Gateway to the Americas Duty-Free shop adjacent to a security crossing, a line of cars waiting to be inspected and checked, and, in a riverside park, a basketball court so close to the river that people on its opposite banks could enjoy a game.
That was what the border represented to so many people—one side was seen to offer a sunnier life than the other, even if it rained on both.
I spotted a man who resembled a young Nicolas Cage, mustache and all, in a border patrol uniform slowly pacing the park. I wasn't sure why he was there, perhaps to guard it from anyone who might try to swim across the Rio Grande, or maybe just to take a break from his work. Still, I wandered over to him and instinctively asked in Spanish for taco joint recommendations.
Ever since I stepped out of my car, all I had read and heard had been in Spanish, and not surprisingly, he gave a fluent reply, boasting of the tacos at a stand only a couple blocks away. The irony of having addressed in Spanish a white American tasked with keeping out brown-skinned Mexicans about where to find the best tacos did not immediately strike me, but when it did, it only furthered my belief that borders were illusory, particularly when it came to food.
The taco stand, which took five minutes to reach and five minutes more to find, was a storefront, with two windows, one of which was partially blocked by a Coca-Cola vending machine. Only the lime-green menu, painted on the storefront had given it away. Feeling a little overwhelmed by the selection—over a dozen taco options, a few platillos, and a selection of licuados—I asked the man taking orders what's good and he recommended something not on the painted menu: a spicy mess of meat, chili, potatoes, and refried beans. I ordered four along with a bottled water, then took my lunch to a nearby plaza, with the large San Agustin cathedral in front of me and the Spanish colonial splendor of La Posada Hotel behind me.
After I ate, I decided to set out for the Border Heritage Museum, which, like the taco stand, took only a few minutes to reach. The museum was small, a single room that occupied an old merchant's home. The exhibits displayed copies of documents and photographs regarding the history of the U.S.–Mexican border, as well as a map that shows the extent of Mexico before it ceded half of its land to the United States, a time when the Mexican-American border was not south but west, reaching as far north as Oregon and as deep as Wyoming. While I didn't have time to take it all in, the historic relationship between Laredo and Nuevo Laredo caused me to linger.
When the Mexican-American War "officially" ended on Groundhog Day of 1848 with the signing of the Treaty of Guadalupe-Hidalgo—or, as it is officially and absurdly titled, the Treaty of Peace, Friendship, Limits and Settlement between the United States of America and the Mexican Republic—many border towns were given the option to remain or leave the United States. At the time of the treaty and due to its proximity to the Rio Grande, however, Laredo had been occupied by a U.S. military garrison, making the town American by defacto. A petition by its residents to return Laredo to Mexico was met with deaf ears. This prompted a sizeable amount of the town's populace, who wished to remain Mexican, to cross the river and found Nuevo Laredo in May of that same year.
My final plan of the day was to cross the border on foot and walk around Nuevo Laredo, comparing the new with the old, two cities unilaterally connected despite the natural boundary of a water line. Wallet and passport in hand, I began the walk toward the checkpoint on the nearby bridge. I was about halfway through, when I noticed the charcoal-colored clouds that seemed to be churning above me. Drops of rain started pelting the corrugated steel covering the walkway, until they pounded it with violence. I heard thunder, saw a flash of light, and became mindful of lightning striking the metal. I looked toward Nuevo Laredo growing hazy in the torrential downpour. I glanced back at Laredo and saw the same image. Cars on both sides flapped their windshield wipers. Guards ducked for cover. Below me, the Rio Grande bulged with water, incorporating the ceaseless raindrops into its flow. Because mother nature did not discriminate based on political boundary, no side seemed any more likely to break with sunlight than the other. And yet that was what the border represented to so many people—one side was seen to offer a sunnier life than the other, even if it rained on both.
__________________________________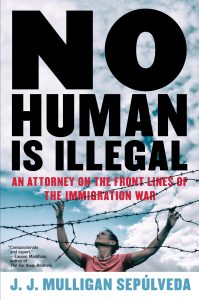 From NO HUMAN IS ILLEGAL by J. J. Mulligan Sepúlveda, courtesy Melville House. © 2019, J. J. Mulligan Sepúlveda.
---