Why Do We Still Buy Mass-Produced Souvenirs?
Rolf Potts on Tourism, Kitsch, and the Eternal Tchotchke
At Par'ici, a souvenir shop located at 52 Rue Mouffetard in Paris, almost every item on offer has something to do with the Eiffel Tower. Here, in 270 square feet of cramped showroom space, with Charles Trénet and Édith Piaf tunes warbling in the background, one can buy Eiffel Tower T-shirts and Eiffel Tower snow globes; Eiffel Tower whiskey flasks and Eiffel Tower oven mitts; Eiffel Tower bottle openers and Eiffel Tower ashtrays. The music boxes here come with Eiffel Towers engraved on the outside; berets come with Eiffel Towers silhouetted in sequins.
For unexpected weather, Par'ici sells Eiffel Tower-themed umbrellas, sun hats, and scarves; for amusement, it sells Eiffel Tower-embossed soccer balls, poker chips, and Rubik's Cubes. Several dozen types of Eiffel Tower miniatures are also on offer, from inch-high plastic key chains that cost 0.50 euros, to bronze lawn ornaments that stand four-and-a-half-feet tall and sell for 890 euros each. The store also offers a fair selection of items that don't allude to the Eiffel Tower (Mona Lisa shot glasses, plastic cancan-dancer figurines, ballpoint pens in the shape of baguettes, etc.), but for the most part Eiffel Tower products dominate.
A central irony here is that 52 Rue Mouffetard is not particularly close to the Eiffel Tower. One cannot glimpse the Tower from any point along this cobblestoned thoroughfare, and a pedestrian would need to walk west for one hour to reach the monument on foot. It is because of this seeming anomaly—not in spite of it—that Par'ici feels like a fitting place to begin our investigation of souvenirs.
In French, the word souvenir is commonly used as a verb, and means "to get back to myself," or "to remember" (from the Latin subvenire, "to come to mind"). In English "souvenir" is a noun—an object through which something (a place, a person, an experience) is remembered. This English definition dates back to the 1700s, though it didn't come into widespread use until the late 19th century—about the same time mass-market travel gift shops first began to pop up in places like Paris.
I've been teaching creative writing at the Paris American Academy each summer since 2002, and I often pass by Par'ici on my way to or from school. Rue Mouffetard, an Ernest Hemingway haunt back in the 1920s, is a lively pedestrian street full of atmospheric restaurants and cafés. Though popular with tourists during the summer months, Rue Mouffetard is not, by Paris standards, a major tourist area. Nonetheless, Par'ici is one of two shops plying the souvenir trade along this short thoroughfare. Its competitor, Obj'Ai Trouvé, located just seven storefronts away, also features an abundance of Eiffel Tower-themed trinkets.
Both of these stores sit in the heart of the city's Fifth Arrondissement, a one-square-mile Left Bank district that, at the time of this writing, is home to 33 distinct tourist-market gift shops (with names like Au Chic Souvenir, Paris Smile Souvenirs, Paris Star Souvenirs, Rose for You, and Gift Paradise). More than a dozen Fifth Arrondissement newsstands also sell tourist knickknacks, as do museum shops in the Jardin des Plantes and the Musée national du Moyen Âge. Add in the souvenir items on offer at the various antique stores, bookshops, jewelry boutiques, and art galleries—as well as the green-box bouquinistes vendor-stalls along the Seine—and one can scarcely walk three blocks in the Fifth Arrondissement without being presented with dozens of souvenir-buying options.
This is all more remarkable for the fact that the Fifth Arrondissement isn't among the top five tourist districts in Paris—not when compared to the First (home to the Louvre and the Tuileries), the Fourth (the Notre Dame and the Pompidou), the Eighth (the Champs-Élysées and the Arc de Triomphe), or even the Eighteenth (Montmartre and Sacré-Cœur). The Seventh Arrondissement features the Eiffel Tower itself, which attracts so many souvenir vendors that a 2011 attempt to evict unlicensed salespeople from the area required a deployment of riot-control police (three of whom were injured when the besieged tchotchke-peddlers began hurling rocks and bottles). The following spring French customs police busted the street vendors' Paris-based ringleaders, seizing 13 tons of unlicensed miniature Eiffel Towers in the process.
When I first learned of this—13 tons of contraband Eiffel Tower kitsch!—I found it hard to believe that Par'ici, a shop three miles away, in a much quieter part of the city, could stay in business. Eventually curiosity got the best of me, and I introduced myself to the store's 59-year–old owner, Désirée Taieb, who runs Par'ici with her son Sebastian. Her shop, she told me, dates back to 1992, and she set it up with the help of her sister, who peddles similar merchandise just up the block at Obj'Ai Trouvé. Désirée has, in the past, dabbled in more traditional fare (such as handmade porcelain dolls in French peasant costumes), but ultimately tourists are more inclined to buy mass-produced bijouterie. "We sell Eiffel Tower things," she told me, "because people want Eiffel Tower things."
*
While Paris is one of the most heavily touristed cities in the world, the market for travel souvenirs has also seeped into the planet's most desolate and remote corners—a fact I was reminded of during a recent journey to Namibia's Skeleton Coast in southwestern Africa. This desert-parched, rock-strewn stretch of Atlantic coastline south of the Angolan border has an end-of-the-earth feel; 16th-century Portuguese sailors called it "The Gates of Hell," while Namibian Bushmen called it "The Land God Made in Anger." Apart from a smattering of picturesque sand dunes and scientific research outposts, the only tourist draws here are the bleached whalebones and rotting shipwrecks that litter the coastline. Still, it is difficult to drive the length of the Skeleton Coast without spotting a few Damara tribesmen selling polished rocks along the roadside.
"Like all souvenirs, the object's personal meaning gains potency as it moves away from the place that imbues it with objective meaning."
By African souvenir standards, polished rocks are something of a novelty. Visit any tourist-town craft bazaar in southern Africa—in the Namibian coastal resort of Swakopmund, for example, or in Cape Town's sprawling Pan-African Market—and the offerings are consistent to the point of being standardized. Much like Parisian gift shops focus on Eiffel Towers and Mona Lisas, African souvenir-market stalls carry some combination of hardwood serving bowls, safari-animal figurines, tribal-ceremony masks, beaded bracelets, engraved ostrich eggs, warthog-tusk bottle openers, and hand-dyed batiks. Ask African market-vendors why these particular items are on sale, and you'll get an answer similar to the one I got in Paris: years of trial and error have shown that these objects—which evoke a romanticized, if faintly generic, vision of the African continent—are what tourists want.
Curiously enough, market demand is also what has drawn Damara rock vendors to the forlorn highways of the Skeleton Coast. Historically, the Damara were among the original inhabitants of what has now become Namibia, and their Khoekhoe language features clicking sounds distinctive to the region. The arrival of powerful Bantu-speaking tribes (and, later, German colonialists) in the 19th century pushed the Damara out of their traditional hunting and grazing regions and into a desolate, mountainous area in the northwestern part of the country. Though water was scarce in this part of Namibia, the mountains yielded semiprecious stones—turquoise, amethyst, garnets, tiger's eye, tourmaline—that were prized by German and Afrikaans settlers. The stone trade proved so profitable that the Damara, who had typically lived as subsistence pastoralists, began to travel out of the mountains to sell rocks along Namibia's major roadways. As the country's tourist infrastructure grew over the course of the twentieth century, the roadside rock trade grew with it.
I learned all of this from Johannes !Hara-ǀNurob, a 41-year-old Damara elder who hawks semiprecious stones on a beach near the Zeila shipwreck, 35 miles north of Swakopmund. Though Johannes plies his trade more than 7,000 miles away from Paris, his no-nonsense pragmatism reminded me of Désirée Taieb and Par'ici. Shipwrecks are major tourist attractions along the Skeleton Coast, so when the Zeila (an Angolan fishing boat) ran aground here in 2008, Johannes was one of a dozen Damara vendors who turned up to sell rocks to sightseers. The Damara work the beach in teams of three, taking turns as each new tourist car arrives; on a good day, a three-man team can split $50 worth of sales—though it's not uncommon to sell no stones at all when tourist traffic is light. Johannes and his colleagues live on the beach near the Zeila full-time between November and February, returning in the off-season to their home villages, where they spend time with their families, raise cattle, and dig for more rocks up in the mountains.
When I asked Johannes what traditional Damara life was like before the stone trade, he told me that he wasn't sure—that, for him, Damara tribal identity is inseparable from selling souvenirs. "For as long as white people have been coming to Namibia we have been selling them rocks," he said. "My father sold rocks, and my grandfather too; I grew up doing the same. To me, this is traditional Damara life."
*
I should probably point out that the very definition of what constitutes a souvenir can be a slippery concept. Some people who buy, say, a chunk of rose quartz from Johannes on the Skeleton Coast might display it back home as a reminder of Namibia; others might resell it at a profit without taking much interest in what it represents at a personal level. On that same token, many people collect non-travel objects—mementos, keepsakes, heirlooms, trophies, antiques, memorabilia—that have souvenir-like qualities while not being souvenirs in the literal sense. In the interest of simplicity, I'm going to focus on objects that are collected for personal reasons during the course of a journey.
Academic researchers have pinpointed five different categories of souvenirs that people seek out in their travels. The stones sold by Johannes and other Damara vendors in Namibia are considered "piece-of-the-rock"—physical fragments of the travel destination or experience itself. This time-honored souvenir category encompasses everything from pebbles and seashells, to ticket stubs and emptied wine bottles. Usually this type of souvenir is found or kept at no extra cost, though (as is the case with Namibian turquoise, Latvian amber, or chunks of the Berlin Wall) it is sometimes collected and sold by enterprising vendors. A second souvenir category, "local products," includes everything from Uruguayan leatherwork, to Mozambican piri-piri sauce, to the Parisian fashion designs found in the boutiques along Rue Mouffetard.
While these first two souvenir types predate the tourism industry, the final three souvenir categories encompass the mass-market objects one finds in places like Par'ici: "pictorial images," which includes postcards and posters depicting local iconography and attractions; "markers," which includes T-shirts, coffee mugs, and other products branded to the location; and "symbolic shorthand," which includes miniaturized Eiffel Towers and Notre Dames. Since these three types of souvenirs can be manufactured in bulk and shipped most anywhere within the globalized economy, they tend to represent just how abstracted the relationship between souvenir and place has become in the 21st century.
In Par'ici, for example, Désirée has set out small signs indicating specific items that were made in France—but this only underscores the fact that a majority of the souvenirs sold here (and indeed in most Paris gift shops) were manufactured in distant Chinese factories. Moreover, thanks to Désirée's tech-savvy son Sebastian, one need not even visit Paris to purchase these souvenirs, since the Par'ici website, souvenirparis.com, features an online store that includes international shipping, a blog with virtual tours of the city, and a link to the store's Instagram account (@souvenirparis, which boasts more than 10,000 followers from around the world).
When one ponders the prospect of going online and ordering a Guangzhou-made miniature Eiffel Tower and having it shipped from Paris to Dubuque without the need to set foot in France, it is tempting to write off the souvenir ritual as an exercise in postmodern absurdity. Yet, while each Eiffel Tower tchotchke displayed on the shelves of Par'ici enters the store with generic commercial value, it exits the store as part of an individualized narrative (even when Sebastian wraps it up and mails it to a place like Iowa). Like all souvenirs, the object's personal meaning gains potency as it moves away from the place that imbues it with objective meaning.
In a sense, souvenirs are a metaphor for how lived experience can endow most any object with personal significance. To understand how even mass-produced kitsch can become rich with meaning to the traveler who collects it, we must first hearken back to the earliest recorded journeys, when travel was difficult, and the objects one collected on a journey were considered sacred.
__________________________________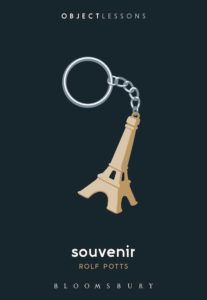 From Souvenir. Used with permission of Bloomsbury. Copyright © 2018 by Rolf Potts.
---