Why Do We Refuse to Believe Climate Change is Happening?
Jonathan Safran Foer on Humanity's Struggle with Apathy Bias
In 1942, a 28-year-old Catholic in the Polish underground, Jan Karski, embarked on a mission to travel from Nazi-occupied Poland to London, and ultimately America, to inform world leaders of what the Germans were perpetrating. In anticipation of his journey, he met with several resistance groups, accumulating information and testimonies to bring to the West. In his memoir, he recounts a meeting with the head of the Jewish Socialist Alliance:
The Bund leader came up to me in silence. He gripped my arm with such violence that it ached. I looked into his wild, staring eyes with awe, moved by the deep, unbearable pain in them.
"Tell the Jewish leaders that this is no case for politics or tactics. Tell them that the Earth must be shaken to its foundation, the world must be aroused. Perhaps then it will wake up, understand, perceive. Tell them that they must find the strength and courage to make sacrifices no other statesmen have ever had to make, sacrifices as painful as the fate of my dying people, and as unique. This is what they do not understand. German aims and methods are without precedent in history. The democracies must react in a way that is also without precedent, choose unheard-of methods as an answer . . .
"You ask me what plan of action I suggest to the Jewish leaders. Tell them to go to all the important English and American offices and agencies. Tell them not to leave until they obtain guarantees that a way has been decided upon to save the Jews. Let them accept no food or drink, let them die a slow death while the world is looking on. Let them die. This may shake the conscience of the world."
After surviving as perilous a journey as could be imagined, Karski arrived in Washington, DC, in June 1943. There, he met with Supreme Court Justice Felix Frankfurter, one of the great legal minds in American history, and himself a Jew. After hearing Karski's accounts of the clearing of the Warsaw Ghetto and of exterminations in the concentration camps, after asking him a series of increasingly specific questions ("What is the height of the wall that separates the ghetto from the rest of the city?"), Frankfurter paced the room in silence, then took his seat and said, "Mr. Karski, a man like me talking to a man like you must be totally frank. So I must say I am unable to believe what you told me." When Karski's colleague pleaded with Frankfurter to accept Karski's account, Frankfurter responded, "I didn't say that this young man is lying. I said I am unable to believe him. My mind, my heart, they are made in such a way that I cannot accept it."
Frankfurter didn't question the truthfulness of Karski's story. He didn't dispute that the Germans were systematically murdering the Jews of Europe—his own relatives. And he didn't respond that while he was persuaded and horrified, there was nothing he could do. Rather, he admitted not only his inability to believe the truth but his awareness of that inability. Frankfurter's conscience was not shaken.
So-called climate change deniers reject the conclusion that 97 percent of climate scientists have reached.
Our minds and hearts are well built to perform certain tasks, and poorly designed for others. We are good at things like calculating the path of a hurricane, and bad at things like deciding to get out of its way. Because we evolved over hundreds of millions of years, in settings that bear little resemblance to the modern world, we are often led to desires, fears, and indifferences that neither correspond nor respond to modern realities. We are disproportionately drawn to immediate and local needs—we crave fats and sugars (which are bad for people who live in a world of their ready availability); we hyper-vigilantly watch our children on jungle gyms (despite the many greater risks to their health that we ignore, like overfeeding them fats and sugars)—while remaining indifferent to what is lethal but over there.
In a recent study, the UCLA psychologist Hal Hershfield found that when subjects were asked to describe their future selves—even a mere ten years from now—their brain activity on fMRI scans bore more resemblance to what appeared when they described strangers than to what appeared when they described their current selves. When subjects were shown images of themselves in which their appearance had been digitally aged, however, this disparity changed, and so did their behavior. Asked to allocate a thousand dollars among four options—a gift for a loved one, a fun event, a checking account, or a retirement fund—subjects who saw their aged avatars put nearly twice as much money into their retirement accounts as subjects who didn't.
It has been widely demonstrated that emotional responses are heightened by vividness. Researchers have described a number of "sympathy biases" that generate concern: the identifiable-victim effect (the ability to visualize the details of the suffering), the in-group effect (the suggestion of social proximity to the suffering), and the reference-dependent sympathy effect (the presentation of the victim's condition as not merely dreadful but worsening). One group of researchers conducted a direct-mail fundraising experiment with about 200,000 potential donors. If the mailing featured a named individual as opposed to an unnamed group, donations increased by 110 percent. If the donor and the target belonged to the same religion, donations increased by 55 percent. If the target's poverty was presented as newfound instead of chronic, donations increased by 33 percent. Combining all these tactics led to a 300 percent increase in donations.
The problem with the planetary crisis is that it runs up against a number of built-in "apathy biases." Although many of climate change's accompanying calamities—extreme weather events, floods and wildfires, displacement and resource scarcity chief among them—are vivid, personal, and suggestive of a worsening situation, they don't feel that way in aggregate. They feel abstract, distant, and isolated rather than like beams of an ever-strengthening narrative. As the journalist Oliver Burkeman put it in The Guardian, "If a cabal of evil psychologists had gathered in a secret undersea base to concoct a crisis humanity would be hopelessly ill-equipped to address, they couldn't have done better than climate change."
So-called climate change deniers reject the conclusion that 97 percent of climate scientists have reached: the planet is warming because of human activities. But what about those of us who say we accept the reality of human-caused climate change? We may not think the scientists are lying, but are we able to believe what they tell us? Such a belief would surely awaken us to the urgent ethical imperative attached to it, shake our collective conscience, and render us willing to make small sacrifices in the present to avoid cataclysmic ones in the future.
Belief can't be willed into being.
Intellectually accepting the truth isn't virtuous in and of itself. And it won't save us. As a child, I was often told "you know better" when I did something I shouldn't have done. Knowing was the difference between a mistake and an offense.
If we accept a factual reality (that we are destroying the planet), but are unable to believe it, we are no better than those who deny the existence of human-caused climate change—just as Felix Frankfurter was no better than those who denied the existence of the Holocaust. And when the future distinguishes between these two kinds of denial, which will appear to be a grave error and which an unforgivable crime?
*
A year before Karski journeyed from Poland to inform the world that the Jews of Europe were being slaughtered, my grandmother fled her Polish village to save her life. She left behind four grandparents, her mother, two siblings, cousins, and friends. She was 20 years old and knew only what everyone else knew: the Nazis were pushing east into Soviet-occupied Poland and were only days away. Asked why she left, she would say, "I felt I had to do something."
My great-grandmother, who would be shot at the edge of a mass grave while holding her stepdaughter, watched my grandmother pack her things. They didn't speak. That silence was their final exchange. Knowing no less than her daughter, she didn't feel that she had to do something. Her knowledge was only knowledge.
My grandmother's younger sister, who would be shot trying to trade a trinket for something to eat, followed my grandmother out of the house that day. She took off her only pair of shoes and gave them to my grandmother. "You're so lucky to be leaving," she said. I've been told that story many times. As a child I heard it as "You're so lucky believing."
Maybe it is just luck. If a few factors had been different around the time that my grandmother left—if  she had been ill, or if she had just fallen in love with someone—maybe she would not have been lucky to be leaving. Those who stayed weren't any less brave, intelligent, resourceful, or afraid of dying. They just didn't believe that what was coming would be so different from what had already come many times. Belief can't be willed into being. And you can't force someone to believe, not even with better and louder and more virtuous arguments, not even with irrefutable evidence. As the filmmaker Claude Lanzmann puts it in his spoken prologue to The Karski Report, a documentary about Karski's visit to America:
What is knowledge? What can information about a horror, a literally unheard-of one, mean to the human brain, which is unprepared to receive it because it concerns a crime that is without precedent in the history of humanity? . . . Raymond Aron, who had fled to London, was asked whether he knew what was happening at that time in the East. He answered: I knew, but I didn't believe it, and because I didn't believe it, I didn't know.
I sometimes daydream about going from house to house in my grandmother's shtetl, grabbing the faces of those who would stay, and screaming, "You have to do something!" I have this daydream in a house that I know consumes multiples of my fair share of energy and I know is representative of the kind of voracious lifestyle that I know is destroying our planet. I am capable of imagining one of my descendants daydreaming about grabbing my face and screaming, "You have to do something!" But I am incapable of the belief that would move me to do something. So I know nothing.
The other morning, on the drive to school, my ten-year-old son looked up from the book he was reading and said, "We are so lucky to be living."
One piece of knowledge I don't have: how to square my own gratitude for life with behavior that suggests an indifference to it. My grandmother took her winter coat when she left home, even though it was June.
____________________________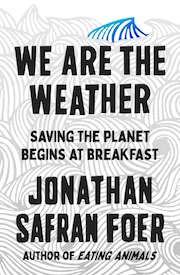 ---