Wear Your Stillness As Disguise: On Sitting Still in Nature
Simon Barnes and the Rewilding of the Self
Bushbucks are small, handsome antelopes: a deep orange­-brown broken up with white dots and dashes. They're about the size of large dogs. They're browsers (as opposed to grazers, eating the leaves of trees in preference to grasses) and you find them in thick bush, rather than out on the open plains. They're mostly solitary.
I was in an ebony glade in the Luangwa Valley in Zambia, sitting with my back to an ebony tree. I had been sitting there for an hour, scarcely moving. When I raised my binoculars, I did so in slow motion, as if I was doing tai-chi, and lowered them with as much care.
It was a favorite sitting place. Every time I went there, events followed the same pattern. When I entered the glade, every bird in the place would take to the wing and vanish, shouting alarm calls, and the impalas—more antelopes, grazers, usually seen in gatherings of at least 20—would bark their own alarm call and vanish. I had emptied the place in an instant. I had broken it.
The spell for mending was all in the sitting.
Bit by bit, life would reassemble itself all around me. Soon, birds would be foraging through the leaf litter at my feet; the impalas would drift back. It was as if I was slowly becoming invisible: my human nature drifting away into the landscape or being absorbed by the tree. And after a while my invisibility began to make other creatures visible. I was ceasing to matter.
And then came the bushbuck. A male: antlered, very dapper, and normally very wary. But—nibbling a bit from a bush here and a bit from a bush there—he eased his way closer and closer. And I just sat. Sometimes the most dramatic action of all is perfect stillness. We reached a point when the bushbuck was browsing less than five paces from my tree. His eyes passed over me once, perhaps twice, without seeing me: perhaps my spirit was absent. It helped that my outline was broken up by the trunk of the tree, and that I was wearing bush colors: khaki trousers, green shirt.
There was a long, perfect moment of impossible closeness—followed by the most colossal double-take in history. The bushbuck suddenly saw me for what I was and uttered a great, glade-filling bark of horror. He turned on his haunches and was gone. Everything else in the glade responded to the alarm, the birds fizzing up into the branches, the impalas vanishing. It was like being a leopard, suddenly spotted mid-stalk. I found myself laughing a little: what took you so long, all you brilliantly adapted, hyper-alert creatures of the bush? Where are all your super-senses? A stratagem as simple as sitting still had for a while confounded them.
No hide, no cover of any kind: our only disguise was our own stillness, and it worked triumphantly.
And that's the spell. Sitting still. We humans are busy creatures, always getting on with something, always moving or talking or checking our phones. We have a terrible fear that if we stop for a moment we will miss something. The exact opposite is true.
Here's a little more from that Kipling tale quoted above, a story from The Second Jungle Book: "Nearly all hermits and holy men who live apart from the big cities have the reputation of being able to work miracles with the wild things, but all the miracle lies in keeping still, in never making a hasty movement, and, for a long time, at least, in never looking directly at a visitor."
The bottomless sit is best performed alone, which gets rid of the temptation to talk. But it can be done in the right company—the company of those who know how to keep still and silent. I remember sitting for a good two hours with a great lady called Margaret Grimwade, who was from the Suffolk Wildlife Trust, and my son Joseph. Sitting still for two hours is a hard thing to ask of a twelve-year-old, but he was up for the challenge. And eventually—eventually—our reward came along. It did so with striped noses and that glorious waddling gait: badgers, of course—what else? Margaret had placed us adroitly, with the breeze blowing from the badgers to us, so the badgers couldn't smell us. They were genuinely unaware of us: all we had to do was not move. And we didn't. So the badgers foraged and sniffled and snuffled and toddled and waddled, and we sat still, moving only our eyes—and neither Joseph nor I will ever forget it. No hide, no cover of any kind: our only disguise was our own stillness, and it worked triumphantly.
The spell of the bottomless sit works well when combined with the spell of the magic waterproof trousers, of course, but you don't always have them to hand. So here's a tip: put a plastic bag in your pocket. An ordinary supermarket carrier bag will do, but you can do better. In the pocket of my down waistcoat I keep a dry-bag, the sort of thing you use in various hearty outdoor activities when you want to keep precious stuff dry. But it's equally handy when the thing you want to keep dry is your bum. It's harder to sit for a long time when you have rising damp in your underclothes.
Introduce yourself to the bottomless sit by easy stages: after all, you're enjoying yourself, remember. At the start of every sit—especially when you're new to it—you will get fed up and restless pretty quickly: how long have I been sitting here . . . Seems like hours. Whose idea was this? I thought there were supposed to be birds here? You may find your hand creeping towards your phone; you've just remembered something frightfully important and incredibly urgent.
Once you've had enough practice at sitting still, you learn to care and not to care.
But there's a moment when you go through a door. The urge to move decreases. Your eyes follow the birds, which are usually the most obvious bits of wildlife. The common birds hold your attention as they seldom do when you're walking: after all, there's not much else to look at. And—suddenly but subtly—you realize that time has changed gear on you. You're no longer waiting; you're just sitting, and you're not sure whether that's ten minutes you've been sitting or twenty, or maybe even more. You still hope that something fabulous will turn up, but you're far less bothered by this than you were when you first sat down.
I have had some remarkable sits. On the edge of a dyke near my home in Norfolk, a kingfisher once perched just behind me. I was able to keep him in sight by a very small movement of my head and by swiveling my left eye so far round it almost slid beneath my ear. I kept the bird in sight while it fidgeted, briefly preened, and then settled down for a good old stare at the water surface. Had I been double-jointed, he would have been within an arm's reach. Eventually he decided to change his hunting perch, as this one was doing him no good, so he flew past my head, wings not quite brushing my hair, the blue of his back so bright it might have damaged my retina, and assumed a new perch ten yards off.
On another occasion at the same spot I heard a splashing up the dyke. I was so used to the discipline of stillness that I even stilled the smile that was sneaking up the corners of my mouth as I anticipated what would happen next. And it did: a great bow-wave that reached both sides of the dyke, and, pushing it, a pointed furry head, hair combed back like a boy-racer and with the most expressive whiskers on the planet. An otter, no less.
These fabulous and privileged sightings are the point of this sort of sitting, and yet they're not the point at all. "Teach us to care and not to care," wrote T. S. Eliot in "Ash Wednesday." "Teach us to sit still."
Once you've had enough practice at sitting still, you learn to care and not to care. Of course you care about seeing the next otter, the next kingfisher, the next badger, but on the other hand, you don't really care if you don't see one at all. Being there is what counts.
Partly there's a meditation thing going on. Good sitting, sitting with a quiet mind, is a valuable thing that we seldom appreciate in the West. Maharishi Mahesh Yogi tried to get us to embrace his instant version of meditation; people seek it in yogic exercises in every church hall in the country—and yet inner quiet is a hard thing to find. But it's easier in a wild place.
Perhaps a quiet mind is easier to find when you're not seeking it for its own sake. If you seek the wild world, if you seek to rewild yourself by means of the bottomless sit, then you're probably seeking a kingfisher or some other special treat. The quiet mind is a by-product. Or is it?
Not every sit ends in a rarity. Many a sit will bring only the ordinary everyday wild things—but you find that you have moved a little closer to all wild things than you were before. You are becoming less an observer of the wild world than a living part of it. You're less of an outsider than you were before—and that's as good as seeing a kingfisher, maybe even better. It's not something you can look up in a field guide, or find on the website of your county wildlife trust. It's for you alone, and it's for doing, not for telling.
Save here. It's a secret and perhaps a slightly embarrassing one, but it's one that most people who love wildlife learn sooner or later. You tell yourself that you're out to hunt for this rarity or that, this charismatic species or another, but the truth of the matter is that it's wildness you're seeking. Not just the wildness you can see and hear and smell in all kinds of places, even in city parks. But also the wildness in you. The wildness that comes in the waiting. In the sitting.
_____________________________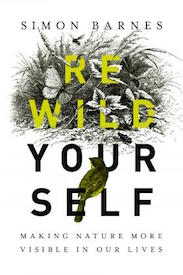 Excerpted from Rewild Yourself by Simon Barnes, published by Pegasus Books. Reprinted with permission. All other rights reserved.
---