Why Babylon 5 Nearly Didn't Make It Onto TV
The Creator of the Landmark Sci-Fi Series Almost Lost It All
For nearly five years, Doug Netter, John Copeland, and I had been pitching Babylon 5 to every network, studio, and production company in town, only to be told there was no room for a space-based science fiction series other than Star Trek. We even pitched the show to Paramount, which was still producing Star Trek: The Next Generation, giving them the pilot script, series bible, and concept art. This led to a flurry of phone calls intimating that a deal was possible. Then the studio abruptly went radio silent and the door closed.
Not long afterward we booked a meeting with Evan Thompson, head of Chris-Craft Television, a consortium of independent TV stations. Rather than creating their own programs, syndicated stations traditionally only bought reruns of established series, but we'd heard that they might be interested in developing some original series, so we decided to take the shot. If he didn't buy the show, we'd have to give up because there was literally nowhere left to go. By now I'd gotten used to pitching the show to execs who didn't get it, and as we trudged down to the Chris-Craft offices in Beverly Hills I assumed this would be no different.
But Evan—tall, lean, and soft-spoken, with bright, inquisitive eyes—got it immediately. His excitement grew as I explained the concept of a five-mile-long space station in neutral territory between several civilizations, a home to a quarter million humans and aliens attempting to find peaceful solutions to their problems.
When pitching the show to other executives, I framed it as Casablanca in Space, but Evan didn't need any sort of high-concept shorthand. "I really like this," he said. "We've got something in the works, I can't tell you what it is right now, but it may represent a way for us to do this show. Let me continue with that process, see where it goes, then we'll touch base when I know if it's actually going to happen."
A few weeks later news broke that Warner Bros. had partnered with several station groups—of which Chris-Craft was the largest—to create the Prime Time Entertainment Network (PTEN). Evan Thompson was co-chair of the network alongside Dick Robertson, the highly regarded head of WB Domestic Television Distribution, whose sole mandate previously had been to license syndicated reruns of series produced by Warners.
PTEN would debut with two original series airing one night per week, then gradually expand into more programs over more nights. Babylon 5 was being considered for one of those first two slots, but there were other shows also in contention. The final selections would be made during a week-long series of meetings at Warner Bros., during which the station managers would hear pitches from various creators.
I would have less than an hour to explain to these executives, most of whom had never bought an original series before, why they should pick up Babylon 5. It would have to be the performance of a lifetime given what we were trying to achieve, and what we weren't telling them.
At this time in television, everything to do with space—starships, bases, planets—was done with miniatures and motion-control photography, which were limited in use and expensive to produce. Star Trek: The Next Generation was the costliest dramatic series of its time at an average of $1.3 million per episode. PTEN's shows, on the other hand, were budgeted at between $600,000 and $800,000. There was no conceivable way we could hit that number using conventional models and motion control.
So we decided that Babylon 5 would use computer-generated imagery on a scale never previously attempted in television. The risks were substantial since CGI was still in its infancy, used mainly to create video transitions and primitive 3-D shapes; pulling this tech into actual production would mean rolling the dice on a new and unproven technology. So Warners was justifiably skeptical of our claim that we could make a science fiction show with a large cast, heavy prosthetics, big stunts, and tons of special effects for a PTEN budget.
I'd gone in to pitch Casablanca in Space, but for all I can recall I might have pitched Gunsmoke at the Bottom of the Sea.
It didn't help that no American space-based science fiction series other than Trek had lasted more than three seasons in 25 years. They were even more dubious when I said that our goal was to tell one big story across five years.
And there were my own shortcomings to consider. Traditionally, TV writers spend years moving up the ladder from story editor to co-producer, producer, supervising producer, and then executive producer before being allowed to create their own series.
This gives the networks a degree of confidence that you know what you're doing. Since I'd never been more than a co-producer, some of the executives at Warner Bros. felt that I was too inexperienced for the job, especially given that the PTEN shows would be straight-to-series orders. Instead of shooting a pilot and losing only $2–3 million if I screwed up, commissioning a full season meant risking $12–15 million on an untested showrunner.
To reassure the execs about using CGI for our effects, we commissioned a 30-second demo from budding special-effects wizard Ron Thornton that featured a wide shot of a starship approaching the station from a distance of several thousand miles that turned into a close-up of the station as the ship docked, all in one continuous shot. Dramatic angles like that could never be done with models and miniatures on a television budget.
We lobbied successfully to make our presentation on the first day, when the station executives would be fresh and excited. As we waited outside the conference room for our turn to pitch, I paced back and forth, grinding my teeth nervously. Suddenly I felt a sharp snap! as a molar cracked lengthwise. The pain was excruciating.
"We have to get you to a dentist," Doug said. "You can't go out there like this."
I refused. If we left, they'd have to squeeze us in during the last day. By then the station owners would have heard a dozen different pitches; they'd be numb, dazed, and jaded. We had to hit them right out of the gate with something they'd remember the rest of the week. It was now or never. So I grabbed a tumbler of ice water and poured it into my mouth. The pain when it hit the exposed nerve was indescribable. I saw colors I hadn't seen since somebody dropped a tab of acid into my coffee. Just as the tooth went numb, we were summoned into the conference room. As Dick Robertson began his introduction I was secretly biting down on another shard of ice, hoping to sustain the numbness.
Then it was my turn to speak. The moment I'd been working toward for five years.
"Hello," I said, "my name is Joe Straczynski, and this is my series, Babylon 5."
At least that's what I intended to say. What I actually said—not having counted on the ice giving me a massive case of rubber tongue—was closer to "He'o, muh nham ith Doe Thuzinski, ah zis ith mah theries, Ba'alon Fie." Wanna buh suhchoklutburrs?
Had there been a gun nearby I would've shot myself in the head, but since no one had thought to bring one I was forced to continue.
To this day I don't remember what I said. I'd gone in to pitch Casablanca in Space, but for all I can recall I might have pitched Gunsmoke at the Bottom of the Sea. As we were ushered out of the conference room, Doug, John, and Ron said soothing things, but I knew I hadn't done the job I wanted to do. This was our last chance to sell Babylon 5, and the thought that I might have screwed it up was more than I could bear.
After several weeks of waiting, the PTEN execs gave production orders to Time Trax, a weekly series about time travel; The Wild West, a limited-run documentary series from Doug Netter; and a revival of the Kung Fu series. We were told that the station owners liked Babylon 5 but didn't believe we could do it for the available money. We were dead in the water.
Then, at the eleventh hour, Evan and Dick prevailed upon the station owners to give us a chance to prove ourselves, and greenlit production of a two-hour Babylon 5 pilot movie. "You won't have to wait for focus groups or ratings or any of that bullshit," we were told by our Warners liaison, "just show us that a series this big can be done for the money, and we'll pull the trigger on the series order."
It wasn't what we'd hoped for, but it was a start, and in November 1991 Babylon 5 was announced as one of four projects for the Prime Time Entertainment Network. And we immediately almost lost it all. I'll let Kathryn tell this part of it.
"I was in the last couple weeks of my term as a paid writer's intern with Star Trek: The Next Generation, and looking forward to being picked up for a second, longer internship (which usually led to writing scripts for the show), when we were all called in to a meeting with Executive Producer Michael Piller to finally learn something about the new, super-secret TNG spin-off show.
"That I was called into this meeting says two things: one, that it was expected that I would still be working there when the spin-off show started; and two, that no one in that room had any idea that the premise of the spin-off would be a problem for me. But in the first minute of the meeting, when Michael said that this new show—to be called Deep Space Nine—would be about a space station, I shot out of my seat before I could hear anything else, and said, 'I can't be a part of this meeting any longer because my husband is also developing a space station show.'
"There was general surprise, but everybody agreed that this was the right thing for me to do, and I left the meeting. I then immediately called you and told you what had happened. It was clear from that moment that my short career at TNG was over. I finished out my final couple of weeks, but studiously avoided any meetings or conversations about Deep Space Nine.
"When I took the job at TNG, I had made a point of saying up front that my husband was developing a science fiction show, but I never discussed the premise and certainly never said 'space station,' only that it was a very different kind of show than TNG. I am 100 percent confident that before I stood up in that meeting and excused myself from the room, Jeri Taylor and the writing staff had no idea that the show you were developing and the spin-off show were both about space stations. And from the fact that Michael even had me in the meeting, not to mention the look on his face when I stood up, I am confident that neither did he. As for other Paramount executives? I couldn't possibly say."
All the elements from our show had been mysteriously beamed into Deep Space Nine, which was announced right after our show was picked up.
Since the Star Trek and Babylon 5 universes were nothing alike, I clung to the hope that any resemblance between the two shows would be strictly superficial. This lasted right up until I received a call from Walter Koenig, a friend who had played Chekov on the original Star Trek.
"I have bad news," he said. "I just had lunch with [Trek fan liaison] Richard Arnold, and he gave me some details about the new show. I think this could be trouble for you." How could it be trouble? For 30 years, the various Star Trek series had been set aboard starships. That's the textbook definition of a trek, a journey from here to there.
By contrast, the Babylon 5 pilot was about an Earth-sponsored space station, identified by a name and a number, located in neutral territory, that served as a meeting place for alien races and diplomats, with a bar, a casino, a female second-in-charge, and a shape-changer (in the pilot).
Walter took a long breath, let it out. "Joe, it's about an Earth-sponsored space station, identified by a name and a number, located in neutral territory that serves as a meeting place for alien races, with a bar, a casino, a female second-in-charge, and a shape-changer." And that's when it clicked.
During the five years spent pitching Babylon 5 we'd given Paramount all of our development material. This led to several discussions with the executives that seemed to be going in a positive direction when suddenly they went radio silent. It never occurred to us that someone inside Paramount might have looked at that material and thought, Hmmm . . . a companion series to Next Gen about a space station, that's a great idea. But why do we need these guys?
More similarities emerged in the coming weeks. Like Babylon 5, Star Trek: Deep Space Nine was a diplomatic and commercial outpost, a circular space station, with representatives from various races, a male war hero commander . . . all the elements from our show had been mysteriously beamed into this one, which was announced right after our show was picked up.
The timing felt far from coincidental. Paramount was putting together a syndicated network of their own that was competing with PTEN for the relatively small number of independent TV stations, so they had every reason to co-opt Babylon 5 or sink it by doing something nearly identical under the Star Trek brand. To drive the knife deeper, Paramount would spend $12 million on their first two-hour TV movie, as opposed to our $3.5 million.
The reaction from Warner Bros. was both immediate and predictable. "One of the reasons we hesitated to approve Babylon 5 to series is that we weren't sure the syndication market could sustain two space-based science fiction shows, this and Next Generation," we were told. "But now it's worse. Can the market sustain two science fiction shows set on space stations that are nearly identical in every way, one of which has the Star Trek brand, while the other is an unknown? We don't know."
Over the next several weeks the pilot came within inches of being canceled. I implored Warners to take legal action, but they declined, explaining that studios rarely sue each other, and that prolonged litigation might kill both shows. With some effort Dick and Evan convinced Warners to let us keep moving ahead with the pilot, but being outspent and outgunned by Star Trek made the prospect of going to series highly doubtful.
For the next few months I divided my attention between working on Murder, She Wrote and prepping Babylon 5 for production. When it became apparent that I couldn't do both as well as they needed to be done, I asked Angela if I could be let out of my contract. She didn't want to lose me but knew what this opportunity could mean for my career, and we parted with her best wishes for the future.
__________________________________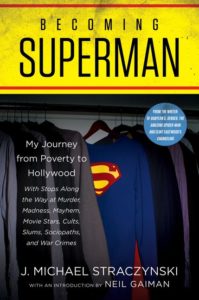 From the book Becoming Superman: My Journey From Poverty to Hollywood by J. Michael Straczynski. Copyright © 2019 by J. Michael Straczynski. To be published on July 23, 2019 by Harper Voyager, an imprint of HarperCollins Publishers. Reprinted by permission.
---