When Plastic Grew on Trees
Is It Ivory? Is it a Nut? It's Tagua.
In the mid–19th century a notice appeared in a directory from Portland, Maine, advertising the material as "the greatest curiosity of the age: Nature and Art Combined." Creamy white, dense, and smooth, this curiosity—commonly known as tagua—could have passed for bone, antler, or ivory. Its cellulose, arranged in concentric circles, was similar to the ivory of hippopotamus teeth. Back in the 19th century, only a dab of sulfuric acid could have distinguished tagua from ivory, for on contact with the acid, tagua cellulose will turn pink, whereas ivory remains white. Even today, it is hard to distinguish the two. Fourier Transform Infrared Spectroscopy, a form of chemical and infrared analysis developed in the 1950s, is the most effective test.
The advertisement described the curiosity as "ivory that grows on trees" rather than on an elephant or hippopotamus. Tagua is in fact a nut from a palm—Phytelephas (literally "elephant plant" in Ancient Greek)—found mostly in northwestern South America. In this case, it's likely that the curiosity came from one particular species of this palm, Phytelephas aequatorialis, which is endemic to western Ecuador. Growing up to ten meters high, it has large feathered leaves, similar to those of a coconut palm, which spring from its thick trunk. The fragrant blossoms of the female palms develop into fruits, which, clustered together, eventually form clublike burrs or infructescences, each about the size of a human head. Within their fibrous, warty walls are twenty to forty tagua seeds that over a year turn from a milky liquid into balls the size of hens' eggs, which are almost as dense as copper. Once ripe, the burrs fall to the ground, bursting open. Wild hogs, squirrels, and other rodents rush to devour the thin, oily orangey mesocarp that covers the nuts.
In the mid-1800s, when European rubber gatherers first came across the burrs lying on the ground in northern Ecuador, they called them "negritos," curiously believing that they resembled "in form and color the miniature head of a Negro." Initially, it must have been hard to know what to make of tagua; the rock-solid mature nuts cannot be eaten or easily burned as fuel. According to one tagua producer, German merchants first used them as ship ballast, a suitable replacement for sand, on which they had previously relied for their voyages from South America to Europe. It is said that when mounds of tagua ballast piled up in Germany's ports, an artist from Hamburg found that the nuts could be easily carved into figurines, toys, and buttons. German businessmen soon saw commercial potential in the nut and by 1895 had set up the first tagua trading post and company in Manta, on Ecuador's coast, Tagua Handelsgesellschaft m.b.H. The tagua crop—or button harvest, as it was known—became an important part of Ecuador's economy, rivaling rubber and cacao as an export.
Buttons, handles, and other small objects in the nineteenth century were made chiefly out of elephant ivory, whose trade was famously destructive. "Every tusk, piece and scrap of ivory in the possession of an Arab trader has been steeped in human blood," wrote Henry Morton Stanley, the explorer, in 1897. "Every pound weight has cost the life of a man, woman, or child; for every five pounds a hut has been burned; for every two tusks a whole village has been destroyed; every twenty tusks have been obtained at the price of a district with all its peoples, villages, and plantations. It is simply incredible that, because ivory is required for ornaments or billiard games, the rich heart of Africa should be laid to waste." I found a beauty in the idea of tagua substituting for this illicit commodity, of a bloodless harvest in the place of distant slaughter. When billiard players struck ivory balls, they might expose bullets or deformities born of violence, but tagua remained untouched by bloodshed.
Thousands of tons of nuts passed through the Pacific port of Esmeraldas on their way to the United States and Europe. By the mid-1940s there were in the New York area more than twenty-five factories fashioning tagua into buttons and toys. The largest of these, the Rochester Button Company, employed five hundred people at its peak and produced 3.6 billion buttons a year. "We may not make the world go round," the firm asserted in the mid–twentieth century, "but we button up more garments than any other company, anywhere." Indeed, the tagua business was so good that in 1948 one of Ecuador's most renowned naturalists, Misael Acosta Solís, warned of the need to protect the nut from overexploitation: "It does not matter to the negro or to the 'montuvio' [coastal Ecuadorean] whether the forests are destroyed or not; the only thing that interests him is to collect the tagua and get money for his expenses and vices."
The history of materials is largely one of continual replacement. Then the development of plastics heralded the end of material history.
His concern, however, would prove unfounded. During World War Two, thermoplastics substituted natural materials such as tagua and rubber, which could no longer be produced to meet rising demand. As trade in the nuts then plummeted, the Ecuadoreans turned to banana plantations—and, later, to oil—to bolster their economy.
I thought back to the decline of sea silk in the twentieth century in Taranto and Sant'Antioco. It was a gradual decline, a silent disappearance that affected only a handful of women in schools in Sardinia and the Italian mainland. Like sea silk, tagua declined in the postwar era, unable to find a place in the evolving material landscape, but its disappearance was more dramatic, almost tragic, in comparison to that of sea silk. Once the source of countless jobs, an entire culture, this huge export commodity was suddenly relegated to a curiosity, a fringe product, by plastics. In place of tagua palms, the Ecuadoreans encouraged Standard Fruit, the American firm, to clear much of its forests to make way for banana plantations.
The history of materials is largely one of continual replacement: rubber for leather; polyester for wool. Tagua, after all, had replaced other materials, such as horn and mother-of-pearl, and perhaps it was inevitable that its dominance would fade, too. And yet tagua's replacement by plastic was different from previous acts of creative destruction. The word plastic derives from the Ancient Greek plastikos, which means "able to be molded." Unlike any other natural material, from byssus to the endosperm of a palm, plastic could be shaped to fit our own desires, shedding our attachment to natural structures. "We divorced ourselves from the materials of the earth, the rock, the wood, the iron ore," wrote Norman Mailer in the 1960s, "we looked to new materials which were cooked in vats, long complex derivatives of urine which we called plastic." There was a permanence to the arrival of plastic, signaling the end of previous ways. If Western liberal democracy apparently heralded the end of political history, relegating any alternatives to the fringe, then the development of plastics heralded the end of material history.
*
I first came across tagua as I wandered through a market in Quito, Ecuador, during my late teens. I saw carved tagua animals, tagua jewelry, and, most beautiful of all, creamy-white pebbles of tagua, pleasing to hold in your hand. Balancing one of these pebbles in my palm, I felt disoriented: for all its beauty, it must have been extracted from the flesh of a distant or fantastic animal. Some three million years ago a land bridge appeared connecting North and South America, two landmasses that had hitherto remained separate since the Jurassic era. An array of great beasts headed south: Hemiauchenia, the ancestors of today's guanaco and vicuña; horses; saber-toothed cats; and gomphotheres, elephant-like giants with four large tusks. There is little trace of these great creatures today: they had all disappeared by around ten thousand years ago, possibly killed off by human activity or climate change, but these white seeds, for me, evoked the gomphotheres that once roamed the land.
I felt nostalgic for this world that I had never experienced, a time when touch might have connected us to nature.
When I got home to England, I'd wander through charity shops trying to find tagua buttons on old suits and clothing from the pre-plastic age. Slightly faded, perhaps they were harvested in Ecuador before World War Two, shipped off to a factory in New York state, and then sewn onto a coat. When writers of fiction imagine time travel, the transportation of a character to the nineteenth century, they tend to focus on the sights of the Victorian age: early motorcars; steam engines; neo-Gothic architecture; revival stained-glass windows. But the world would have felt different, too: the bristles of a badger against one's skin while shaving; the scrape of a condom sheath made of treated animal bladder or intestines; the feel of shoelaces actually made of leather; the smooth contours of a button made from a seed. Touching these tagua buttons, I felt nostalgic for this world that I had never experienced, a time when touch might have connected us to nature.
One day I ordered some tagua buttons online, and they arrived in a small plastic bag. I opened it and played with them in my hands, rubbing their smooth surfaces and inspecting their patterns. Unlike the tagua buttons I had seen on secondhand clothes, these were not faded but creamy and new, fresh off the palm. From the label on the packet, I saw that the buttons in my hand were produced by a firm named Corozo, one of a number of companies that had sought to reintroduce tagua. Drawing on techniques from the nineteenth century, the firm had harvested nuts, cut them to make buttons, and marketed them to clothing manufacturers in an attempt to break the monopoly of plastics.
This idea of resurrecting a material from the historical dustheap intrigued me. I took out the vegetable-ivory buttons and put them next to the plastic buttons on my shirtsleeves. How different these buttons were from plastic, whose uniformity defies any attempt to read its history, to fathom its past or origin. Seeds, or their derivatives, surround us, as Thor Hanson points out in his book The Triumph of Seeds: lecithin, from soybeans, is used as an emulsifier and appears in anything from margarine to ceramics; guar gum, from the bean of the guar plant, is used in fracking fluid. Yet there is something different about finding buttons fashioned from raw seeds, their dense cellulose transformed into a fastener. Looking at my tagua buttons, I could see small swirling patterns, which spoke of their origins as a liquid hardening on a palm.
Whenever I held a plastic object, I experienced a light anxiety, tied to the concept of time, the knowledge that it might end up in a distant garbage heap or a raft of floating waste in the ocean. By comparison, these tagua buttons felt light in my hand. Unlike plastic—which may take hundreds of years to decompose, if ever—tagua is biodegradable, its cellulose breaking down on contact with moisture. Like other natural materials, from bamboo to hemp, it offers the possibility of a different relationship with our surroundings: throw away tagua buttons and they will eventually disappear. You need not worry that, by tidying your own home, you are contributing to a garbage pile elsewhere, or that your own true legacy might not be your labor, children, or writing, but the thin layer of plastic each of us leaves in our wake.
Whenever I held a plastic object, I experienced a light anxiety, tied to the concept of time.
At the level of production, tagua had something to teach us, too. The plastic buttons on my clothing came from heavy oil, though it is nearly impossible to know from where. Through my own buttons I could be connected to the tar sands of Canada, the Safaniya oil field in the Persian Gulf, or a gusher in Texas. To relate the ecological destruction of oil extraction is almost to repeat a mantra, a predictable history that has been recounted a thousand times, but tagua's history is anything but predictable. Unlike the stem or heart of a palm, tagua can be harvested without damaging the tree to which it belongs. It is a seed, its cellulose serving as a lunchbox for a future palm, but its removal need not spell the end of a line of trees: as the palms produce many nuts in large burrs, it's possible to harvest a portion while allowing for future reproduction. "It is a product that has such potential for sustainable use and production if it's managed correctly," Henrik Balslev, a Danish botanist, told me. "That we like as botanists. We like to demonstrate that nature has something to offer and you can use it without destroying it."
Henrik's enthusiasm for tagua was just part of a surge in interest among botanists and development experts for the harvest of "non-timber forest products" (NTFPs), which dates back to the 1990s. If local people could make money from harvesting fruits, seeds, flowers, leaves, roots, bark, latex, or resins, it was argued, they might have an incentive to conserve forests. Instead of felling trees for timber, they could forage, prune, clip, or crop, much like the eiderdown farmers or vicuña shearers. Inspired by research on NTFPs, Conservation International, a nongovernmental organization, set up a program in early 1990 to increase the harvest, export, and marketing of tagua. According to its figures, over a three-year period in the 1990s, the initiative led to sales of 850 tons of tagua in Ecuador and the export of 40 tons to the United States and Japan, generating at least $1.5 million in button sales. Firms like Patagonia and Smith & Hawken started putting the buttons on clothing to reduce their use of plastics.
According to the World Wildlife Fund (WWF), the greatest cause of species loss is not the illegal wildlife trade (although that is significant), but habitat loss: the encroachment of agriculture, industry, pipelines, housing, and roads on forests, lakes, swamps, and plains. I saw this in Borneo's caves, which are being quarried for their limestone; in Java, where oil palm has replaced primary forest; and in the puna, where large trucks routinely mow down vicuñas on their way to Cuzco or Lima. It bothered me that none of my objects addressed this fundamental issue: that one could create incentives for protecting vicuñas or civets, but if their habitat, the grassland of the puna or highland forests, were developed, it could threaten their survival. Unlike the other objects, tagua, it seemed, addressed this problem head-on, offering to save more than itself; the palms could house or nourish many species, from insects to deer to squirrels.
As I read about tagua, I became more and more enchanted by its possibilities, my enthusiasm rekindled to eiderdown levels. I looked upon this marble pebble as my own bird's nest, an antidote to all our ills, from deforestation to elephant poaching to the obscene accumulation of plastic waste in landfills and oceans. In fulfilling this purpose, I hoped, it might go beyond itself, undermining the linear conception of our own material history: the maxim that all natural materials would be substituted by the monolith of plastic. Learning from tagua's example, we might return to other materials and, in so doing, regain a sense of history, craft, and our place in the world. It was buoyed with this enthusiasm, with tagua on the brain, that I traveled to meet Corozo's founder, an Ecuadorean businessman named Klaus Calderón, in Manta, the onetime heart of the tagua trade.
__________________________________________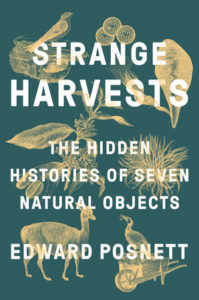 From Strange Harvests by Edward Posnett, published by Viking, an imprint of Penguin Publishing Group, a division of Penguin Random House, LLC. Copyright (C) 2019 by Edward Posnett.
---