Why Are People So Drawn to the Legend of Chapo Guzmán?
Alan Feuer on How a Culture of Celebrity Feeds Criminal Power
Twenty years ago, in what now seems like a wholly different geologic era, I was having coffee at the Park Plaza Diner, near the courts in Brooklyn Heights, with an aging mob boss and his lawyer. We found ourselves, in the way of such discussions, debating what struck us as a philosophical question: Why were people so obsessed with the Mafia?
"Isn't it obvious?" I said. "It's the violence."
"No," the old man shook his head. "The Russians are much, much worse."
"What about omertá?" said the lawyer. "Honor, the code of silence."
With a deadpan look, his client waved him off.
Finally the capo gave his own explanation and it took us by surprise.
"Food and family," he told us with a sip of his espresso. "We're relatable. We're just like anyone else—until we're not."
Antiheroes change with the times, and these days, it appears, Mexican drug cartels have eclipsed the Five Families as the public's favorite villains. Joaquín "El Chapo" Guzmán has by now replaced John Gotti as the world's most famous criminal. Instead of The Sopranos we have Narcos.
It is, in short, a matter of money—lots and lots of money. Never before in the history organized crime has a black market business been as lucrative as smuggling narcotics. Loansharking, bookmaking, prostitution, labor and protection racketeering—all of them pale in terms of profits compared to illegal drugs.
As I learned while researching my book, El Jefe: The Stalking of Chapo Guzmán, the Mexican drug trade has for years ranked among the country's top three earners, more or less on par with the national petroleum and tourism industries. Billions of illicit narco-dollars regularly slosh through Mexico's financial system and pour across its borders in Lear jets, pickup trucks and mobile homes. La pista secreta—or the secret path, as the drug empire is known—has long supported thousands of employees in the country, a standing army of drivers, pilots, killers, gunsmiths, accountants, couriers and lawyers.
Well before his final arrest, in early 2016, it was possible to find on eBay baseball caps emblazoned with the No. 701, Guzmán's onetime ranking on Forbes magazine's annual list of billionaires.
At its height, Guzmán's organization, the Sinaloa drug cartel, was capable of logistical triumphs that only global companies like FedEx or Amazon could equal. Sourcing their cocaine in the jungles of Colombia, Guzmán and his partners were able to move their product north in tuna trawlers and merchant ships, unload it on to speedboats at sea, ferry it to vehicles on land, sneak it over international borders then sell it on the streets of New York or Toronto for markups of as much as one thousand percent. The wealth they amassed from all of this was practically unfathomable. By his early thirties, Guzmán was earning up to twenty million dollars every month, much of it reinvested into his enterprise. He plowed the rest into beach homes, private planes, pleasure boats, zoo animals and trips to Thailand, Aruba and Macau.
Large swaths of Mexico, including his home state of Sinaloa, on the country's western coast, had been prepared by history to accept—even embrace—such criminal excess; indeed, from a Mexican perspective the tolerance toward underworld success helps explain the current narco-chic.
For more than a hundred years, Sinaloa was ruled by a caste of powerful caciques, local strongmen who nominally ran the region for the federal authorities but were in practice more like feudal lords. As the state industrialized in the mid-1800s, the leaders' plunders of the poor triggered the emergence of an outlaw class that often conflated profitable brigandage with political rebellion. Much like Robin Hood skirmished with and stole from the landed gentry of Nottinghamshire, men like Heraclio Bernal (1855-1888) and Felipe Bachomo (1883-1916) robbed and revolted against the nobles of Sinaloa. Over time, these real-life radical bandits coalesced in the state's imagination into the single mythic figure of Jesus Malverde, the so-called narco-saint.
Even now, as he serves life in an American federal prison, his family has launched a lifestyle brand based on his notoriety, starting with an "El Chapo" line of beer.
The legend of Malverde, though historically unverified, is revered in Mexico today and is still handed down from fathers to their sons. Born in 1870, Malverde was said to have been raised in the region when it was under the thumb of Governor Francisco Cañedo who carried out a repressive agenda of expansion for the ruthless dictator Porfirio Díaz. Malverde's parents were apparently so penniless they starved to death, leaving young Jesus to fend for himself in an immiserating job on the Mexican railroads. Looking for a better life, and perhaps for vengeance, he moved to the mountains with a band of hardy thieves who joined his quest to rob from the rich and give to the poor. But Cañedo put a bounty on his head, and one of Malverde's men eventually betrayed him. After his capture in 1909, Malverde was put to death, either shot by a firing squad or hanged by the police.
More than a century later, until his conviction at a trial last year in Brooklyn, Chapo Guzmán, like many narcotraffickers, was able to trade on the story of Malverde to justify his own business model of stealing, as he saw it, from the drug-addled gringos in the north and repatriating the profits back to Mexico. It further fed his myth that he, too, was a master of elusion, one who lived for decades on the run and twice escaped from Mexican prisons. In a country skeptical of centralized authority and already inclined toward Malverdean heroics, Guzmán's Houdini act thrust him into the exalted realm of folklore. Well before his final arrest, in early 2016, it was possible to find on eBay baseball caps emblazoned with the No. 701, Guzmán's onetime ranking on Forbes magazine's annual list of billionaires. Even now, as he serves life in an American federal prison, his family has launched a lifestyle brand based on his notoriety, starting with an "El Chapo" line of beer.
Guzmán's legend, much like the narco's international allure, is rooted in this culture of celebrity, which is itself a function of how drug kingpins in Mexico serve to expose and embody one of the country's favorite subjects: the systemic corruption of the government. Every time that Guzmán managed to be there one minute, gone the next, it reinforced a preexisting belief that the country's rulers were precisely the fools that everyone assumed them to be. Every dollar that Guzmán and his colleagues spent on bribing the Army or the federal police had kind of a double purchasing power: it served not only to protect them and their interests, but to prove again—as if more proof were needed—that the guardians of the nation's body politic were unworthy of its trust.
The American obsession with the narco has a related but slightly different origin. The northern gaze peering south across the Rio Grande has, after all, always resembled the pitiable stare of a man watching his cousin die of cancer. The irony, of course, is that the gringo looking on often does so without quite understanding that he himself is the source of the disease.
The sorrow, outrage, helplessness and morbid fascination that characterizes the American response to the drug war in Mexico is due in no small part to the fact that the chaos roiling at the border has long unfolded in a web of shadows that has grown both larger and immeasurably dense over time. The Mexican situation tends to come to its English-speaking neighbors through a maze of secret deals, black ops, political machinations, poor reporting and wild conspiracies so snarled with inconsistencies that nothing about it can ever quite be trusted. For those with a stake in Mexico, this lack of trust is maddening. But to the casual observer, a hall of mirrors is the perfect place to see anything one wants.
So it was that Narcos: Mexico, the second season of the Netflix series, was nominally about the birth of the Guadalajara drug cartel, but was in fact more focused on a long-running Washington conspiracy: namely, the question of how deeply the Central Intelligence Agency was involved in the death of a US federal agent. Over and again, the American public's interest in the story of the narco has been based on its air of intrigue, its endless ambiguities, its inherent inscrutability. Officials here have been of little help in this regard. While the drug cartels have no equivalent of the National Archives of the Federal Records Act, US law enforcement has gone to tremendous length to hide what it knows about the groups behind a veil of official secrecy. In working on my book, I clawed my way through hundreds of court files connected to Guzmán and his colleagues. Thousands, if not tens of thousands, of documents remain under seal today containing what amounts to the secret history of the drug war.
Which brings me back to the old man in the diner. It occurs to me now he was willing to entertain me and my questions largely because we were not a threat to him any longer. He could afford to indulge in a pleasant conversation near the courthouse. At that point in his life—and the life of his organization—his stories weren't secrets anymore. They were only stories.
__________________________________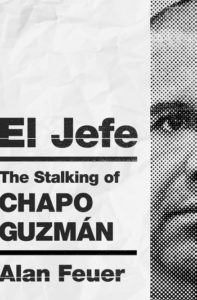 El Jefe: The Stalking of Chapo Guzmán by Alan Feuer is available via Flatiron Books.
---