Whose Lives Can We Plunder? Or: How to Base a Character on Yourself
Jincy Willett on Writing From Life Without Betraying Anyone
"Where do you get your ideas?" Writers sigh when asked this because we are clueless. I certainly am. The subconscious is in charge of all that, and the subconscious, for all its wonders, is hardly an organizing genius. Plots, themes, settings for stories and novels can arrive all at once (so I've heard), but mostly they're lobbed over the transom at any time of day or night in discrete packets of varying size and worth, and we piece them together as we stare for hours at blank pages or screens. Chasing down and making use of ideas is a messy process. A much better question: "Where do you get your characters?"
F. Scott Fitzgerald famously bragged that no matter their sex, age, social standing, "All my characters are Scott Fitzgeralds." I've always admired that claim and hoped it was true of my own fictional characters.
If you Google "basing fictional characters on real people," you'll get a lot of advice about avoiding lawsuits, but legal issues are not the point. The point is betrayal of trust. If you use people in your circle—family members, friends, friends of friends, whoever has let you into their lives and been let into yours—in such a way that they are easily recognizable to themselves, to others, then you've invaded their privacy.
Say you have a sister. Of course you can write about sisters, imagined sisters. But if your real sister once secretly sabotaged a romantic rival's "Story of the Amazing Human Brain" middle school science fair project, you have no right to use that. (FYI, I don't have a sister, and I've never heard of a case of science fair project sabotage, although I did get a science fair honorable mention for a Story of the Amazing Human Brain exhibit.) Your sister's dark deed belongs to her; it is not yours to use, at least not without her express permission. This, to me, is bedrock.
Of course, plundering public figures is a different issue. Fictional people may be Ripped from the Headlines: Dreiser based Clyde Griffiths and the hapless Roberta Alden on a real social-climbing murderer and his pregnant victim. In choosing public life, politicians and other celebrities are there for the taking. Muriel Spark's satiric Abbess of Crewe was inspired by the Watergate scandal and features nuns (two clearly based on Kissinger and Nixon) who bug the poplar trees in their abbey's Avenue of Meditation. And sometimes real celebrities don't mind being ripped off: Alexander Woollcott enjoyed Sheridan Whiteside so much that he played him on stage. What concerns me is the practice of ripping off people who know and implicitly trust you.
I've never inhabited a character so fully, which has made her fictional construction quite straightforward.
At an Authors Guild symposium, Cynthia Ozick remarked that writers are cannibals: "I think it's a terrible thing to be a friend of, an acquaintance of, a relative of, a writer." David Leavitt, who got into real trouble for appropriating recognizable bits from the life of Stephen Spender (Leavitt's novel was pulped before release), has gone so far as to claim that novelists never make things up. Dickens, Tolstoy, Flaubert ruthlessly exploited the women in their lives. The poet Robert Lowell used lines from his estranged family's anguished letters in The Dolphin, prompting Elizabeth Bishop to chide "Art just isn't worth that much." I so agree, though it helps that Lowell's sonnet series isn't considered his best work. Suppose it were; suppose that, by plundering the inner lives of the family he was abandoning, he had fashioned something perfectly essential? Writers need to think about that.
Which brings me to Amy, the character I came up with years ago for the first of what turned out to be an accidental trilogy. I had made use of myself before, parts of myself, in fashioning characters both male and female, young and old, but Amy was so much easier, because Amy is me, an aging writer who, in the first book, teaches fiction workshops, and who in the others continues to write fiction. I've never inhabited a character so fully, which has made her fictional construction quite straightforward. I don't have to worry about her being self-consistent over the years, since I must assume that I too have remained so.
To avoid making use of the others in my life, her biography is different from my own in ways small and large. She was born in a different state, a year and a half after I was. She had a cousin who went to my high school, but the only time Amy ever visited Rhode Island was to attend a party at Brown, my own alma mater. She lives in my city in a house much like my own, with a different street address. She is, like me, a widow, but her husband bears no resemblance to my own, and she has no children. These two most vital distinctions have allowed me to use my own personality, or what I understand of it, without fear of betraying anyone.
A hermit, she must be dragged to social occasions. She shares herself generously only with her dogs. (I feel absolutely justified in using my own dogs in fiction, since they don't read. The easiest passages to write in the first two books focused on my basset hound, who had died shortly before I began The Writing Class. Bringing him to life on the page was a great pleasure, even a comfort.)
Amy looks rather like me: As we age, we lose weight, we slow down, we become less emotionally guarded, more aware of our own mortality. We both write fiction that's somewhat similar thematically, although she got published earlier, in her twenties. I wrote a novel entitled Winner of the National Book Award; Amy was actually nominated for one. Really the only challenge in writing about her has been skirting the fact that she is a better writer than I am; I've tried to do this by summing up her stories instead of writing them out.
The greatest danger in using yourself as a main character may seem to be in assuming that you're interesting enough to occupy the center of a novel. But this assumption not arrogance. I believe, I know, that it is true. Every human being who ever lived is every bit that interesting. The challenge is, as always, in the writing.
__________________________________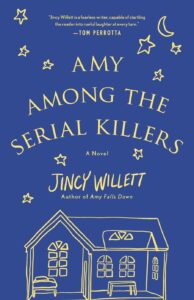 Amy Among the Serial Killers by Jincy Willett is available via St. Martin's Press.
---