When Your Book Finds a New Voice, 50 Years Later
Alix Kates Shulman on a Revitalized Feminist Movement
Half a century ago, in the early, explosive days of women's liberation, I wrote my darkly comic novel Memoirs of an Ex-Prom Queen to demonstrate why, given society's treatment of girls and women, a feminist movement was necessary. A sardonic portrayal of one middle-class, white, Midwestern girl's coming-of-age, the novel takes a wry look at a range of experiences treated back then as either taboo or trivial: violence; rape; illegal abortion; the sexual double standard; job discrimination; the frantic quest for beauty; the double binds of marriage, motherhood, and love—all business-as-usual between the sexes.
Today, many of the predicaments in which the titular ex-prom queen Sasha Davis found herself have a powerful, emotionally charged name: "sexual harassment"—a term not coined until well after I wrote the novel.
In the three years between proposing my book and the novel's 1972 publication, enough people were touched by feminist ideas to create a hunger for a new view of women's experience and so make Memoirs a bestseller. My proposal had earned a token advance, but well before publication the book began to take off. The galley proofs, which as a matter of course circulated among the paperback reprint houses, became hot items, passing quickly from hand to hand among the secretaries (a word that had not yet been replaced in publishing by "editorial assistant"); Publishers Weekly, the trade journal that reviews books six or more weeks before publication, announced that "this book already has a substantial underground reputation." Publishing executives—all male in those days when newspapers' want ads were still unabashedly headed "Help Wanted, Male" and "Help Wanted, Female"—were mystified by the book's pre-publication buzz and took me aside to ask what its secret appeal could be.
Nevertheless, on the day reprint rights were auctioned, not only did every major house enter the bidding, but the winning bid established a new record for paperback rights to a first novel. A pittance compared to today's prices, perhaps, but still enough to ensure that I could continue to write my books and to enable me to send checks of gratitude to every feminist journal that had taken the early risk of publishing me—audacious journals with names like Up from Under, Women: A Journal of Liberation, and Aphra, named in honor of Aphra Behn (1640–1689), known as the first Western woman to earn her living by writing.
The word "feminist," so long disdained, is again respected, and media that formerly ignored or scorned women's work now regularly cover it.
While early reviewers found the novel "shocking," "astonishing," even "traumatic," women readers responded with recognition. Feminists laughed out loud as they read it, prospective feminists cried, others were puzzled or outraged—like the young man who wrote to me, soon after the novel was published, blaming me for his wife leaving him and taking their baby with her after reading Memoirs of an Ex-Prom Queen. "Don't you think," I wrote back to the fellow, "you might have had something to do with it?"
As the women's movement continued to spread, turning its ideas from "shocking" to widely accepted, the novel, with its pre-feminist setting, was elevated to the category "feminist classic." This kept it ever in print in the United States, even as the anti-movement backlash gained such force that young women spurned the label "feminist" while embracing the many benefits the movement had won for
them. As the book enjoyed a 25th anniversary edition, a 35th anniversary edition, and a 40th anniversary e-book edition, Sasha and her author celebrated, but with mixed emotions, knowing that the social movement that had inspired the novel was moribund.
Then I was as surprised as anyone by the grave political upheavals that recently rendered Sasha's daily struggles baldly contemporary and the subject of fierce political action. #MeToo. #TimesUp. A revitalized women's movement, diverse and determined, marching through the world in protest. The word "feminist," so long disdained, is again respected, and media that formerly ignored or scorned women's work now regularly cover it; at the same time, the revivified right-wing backlash against feminism hovers over the present like smog. Along with other feminist "classics," Memoirs of an Ex–Prom Queen, which dramatizes and satirizes every sort of sexual harassment, is being read with new eyes. Sasha Davis, the pre-feminist prom queen, may be seen as a harbinger of today's outraged women, and her story a measure of both how far we have come and how far we still have to go.
__________________________________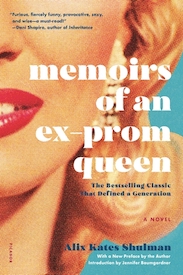 From Memoirs of an Ex–Prom Queen by Alix Kates Shulman. Used with the permission of Picador. Copyright © 2019 by Alix Kates Shulman.
---