When You Just Need a Good Cry: A Reading List
Kristan Higgins Recommends Joan Didion, Paul Kalanithi, and More
Crying over fictional characters is safe; in real life, in times of sadness, we have to take care of others, we need to keep things together, we need to manage the details. But in a book, we're free to let go. Sobbing over a book can be cleansing and cathartic, a much-needed release of emotion.
I want my readers to "Laugh. Cry. Laugh again." In my new novel, Pack Up the Moon, I want readers to have the full gamut of emotional experiences. The story follows Joshua and Lauren Park, a happily married couple with a golden life spreading out in front of them . . . until Lauren is diagnosed with a terminal disease. As she comes to accept that her life will be short, she also vows to make the here-and-now more important, more joyful and more interesting than what's to come. She knows Josh will be devastated by her death, so she writes him twelve letters, one for each month of the first year after her death, guiding him with small (and large) tasks as he navigates the complexities of grieving. Without Lauren, without his role as husband and caregiver, friend and lover, Josh is lost. Between his particular type of neurodiversity and solo work as a medical engineer, he's never had a lot of people anyway. Without Lauren, the sun has fallen from the sky. Only her letters keep him going and get him out into the world. It's a story of a happy marriage, a giant swerve, and a map of getting through the most difficult time imaginable. It's the profound statement that love wins the day, no matter how short the life.
Grief is one of the purest signs of love, crushing and wrenching though it is. It's the other side of joy, of the bright happiness you once had with this person. Layered, complicated, primal and unpredictable, grief is one of the most fascinating and relatable experiences a person will have. We will all lose someone we love. We'll all have to mourn.
Here are some other books about grief and love and reinvention that I highly recommend.
*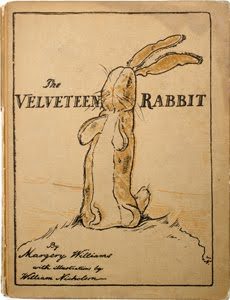 Marjorie Reynolds, The Velveteen Rabbit
(Doubleday)
If you have a beating heart, this book will make you cry every time. The Velveteen Rabbit must learn that love takes a toll . . . his fur will be rubbed off, his eyes will fall out, but it's worth it. Love hurts, and it changes you by making you your most authentic, real self, and in that way, you attain a sort of immortality.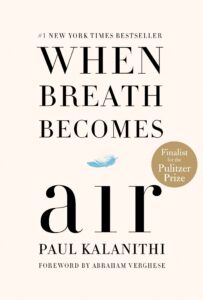 Paul Kalanithi, When Breath Becomes Air
(Random House)
A brilliant surgical resident discovers he has lymphoma at the point in his career when he is poised for greatness. This beautiful memoir is all the more poignant and deep because Dr. Kalanithi is all too aware of the way the body functions, fights and fails. His love for his wife, family and daughter is devastatingly beautiful, and his determination to finish his book so that he might help others facing a terminal diagnosis, is nothing short of incredible.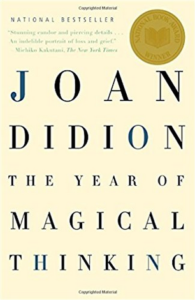 Joan Didion, The Year of Magical Thinking
(Vintage)
Perhaps the most influential book about loss written in modern times, The Year of Magical Thinking walks us through renowned author Joan Didion's horrible losses—her husband and daughter die unexpectedly within weeks of each other. Even the title sums up what so many of us do to cope…the what-if scenarios that would change the outcome, the stories told by our hearts and minds to comfort us in the darkest moments, and that surreal state of living when your entire world has changed. So many of us have been comforted by this book, as Ms. Didion eloquently and gracefully gives words to what is indescribable.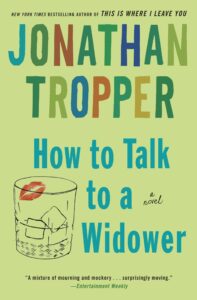 Jonathan Tropper, How to Talk to a Widower
(Bantam)
Mr. Tropper has long been a favorite author of mine, the king of lad-lit in the United States. In this story, Doug Parker is widowed at age 29, inherits his wife's 16-year-old son and has his twin sister forcibly move in with him. It is heartfelt and hilarious—impotent rage, a weird celebrity status because of his wife's death, dealing with a stepson who seems determined to ruin his and Doug's lives. One of the best examples of a very sad story that will make you laugh till you cry.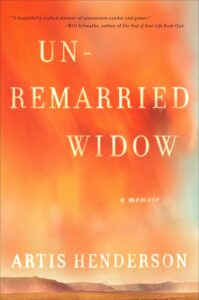 Artis Henderson, Unremarried Widow
(Simon and Schuster)
This is the memoir of a woman who loses her husband in a helicopter crash when he's deployed in Iraq. Artis never imagined she'd be a military wife, moving from station to station, trying to make friends with other military wives. She's given up a lot to marry Miles, and on the bases, she always feels like an outsider—she wanted to be a writer, she didn't have kids. The title refers to the military term for Artis's situation. Thoughtful, intelligent and frank, it shows a young woman in modern times, forced into a role she never wanted and always feared, and how she finds support from the community she didn't think she was a part of. "Military wives are tough," Ms. Henderson said in an interview. "I mean, they have to be."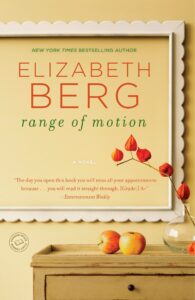 Elizabeth Berg, Range of Motion
(Ballantine)
When a sheet of ice falls from a building and hits Lainey's husband, he falls into a deep coma. It's almost funny, Lainey says. How Jay would laugh at this. This is a book about grieving what may be lost, but also about hope when there seems to be none. Lainey refuses to give up on her husband, despite his prognosis, and brings him things from home, hoping to reach him. One of my absolute favorite moments was when the head nurse seems to doubt that Jay can recover—all the evidence points to the opposite, in fact. Lainey tells the nurse, "… I'd like you stay out of his room."
"I'm the head nurse here, Mrs. Berman. I go into every patient's room, every day."
"Well, don't talk to him,' I say. 'Don't touch him."
I actually owe Ms. Berg a debt here, because when my son was in the hospital and a nurse expressed her doubts about him leading a normal life, I told her that only positivity was allowed, and fired her from his care, asking another nurse to take over. (Ms. Berg, my son is healthy and wonderful and just graduated from college. Thank you.)
__________________________________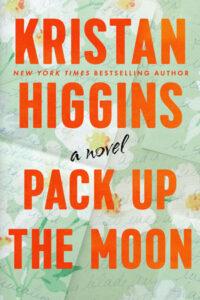 Pack Up the Moon by Kristan Higgins is available now from Berkley.
---