When Scientific Data Shapes Climate Literature
The Art of Science Seeps Into Plot, Structure and Style
For decades now, adventurous artists and scientists have found common ground where their respective forms of curiosity and exploration can merge. Numerous artistic-scientific endeavors (Leonardo, for example) have removed the wedges that separate creative minds based on the degrees they hold.
It has typically been easier for the sciences to enter the arts than the other way around. Artists have been working with scientific materials and methods for centuries, from the naturalist illustrations of John James Audubon to "bioart" by The Tissue Culture and Art Project and others that employ genes and living tissue as raw materials. Scientific organizations are catching up to artists. National laboratories like NASA and Los Alamos now have artists-in-residence who not only take inspiration from climate models and astromaterials but also inspire new ways of accessing, visualizing, and embodying natural phenomena.
In a sense, these efforts attempt to recapture a synthesis that was lost in the West when educational systems and funding structures differentiated and segregated forms of knowledge. However, this synthesis has long endured within creative writing, a point I pursue in my new book, Infowhelm: Environmental Art and Literature in an Age of Data. In literature, art is made of language, and that language can be sourced from as many domains as the writer can range.
Environmental writing is a crucible for the literary fusion of art and science.
Science fiction is the most obvious home for experimentation with literary and scientific invention, whether in early variants like Mary Shelley's Frankenstein; or the Modern Prometheus (1818) and Begum Rokeya's Sultana's Dream (1903) or, more recently, in Marge Piercy, Octavia Butler, and Ursula Le Guin's feminist alter-worlds.
In addition to science fiction, there's also a fiction of science, in which the worlds of the laboratory and the field energize plot, character, and setting. Hanya Yanagihara's The People in the Trees (2013) and Amitav Ghosh's The Hungry Tide (2005) come to mind, as do most of Richard Powers's dozen novels.
Article continues after advertisement
Environmental writing is a crucible for the literary fusion of art and science. In Infowhelm I show the many ways the divide dissolves as contemporary artists seek ways to represent and respond to the damages of climate change, extinction, and overdevelopment. I discover that scientific information itself has become an aesthetic resource for today's writers.
Data on everything from butterfly migration to annual rainfall weave into family dramas and speculative urban fictions. Scientific methods of classification and data collection become the raw material for experimental poetry. In these works, some of which I visit below, experience and emotion entangle with environmental information to spark ways of perceiving and responding to a changing planet.
*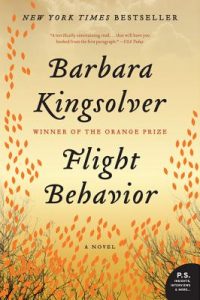 Flight Behavior, Barbara Kingsolver
Kingsolver's bestseller is undoubtedly the most well-known example of climate data propelling plot and character development. In Infowhelm I characterize it as a "coming-of-mind" tale. As in the coming-of-age novel, Flight Behavior shows a woman's process of maturation, but it focuses on an intellectual transformation that takes place through environmental observation and data collection.
Dellarobia Turnbow is the center of Kingsolver's realist novel set in the fictional town of Feathertown, Tennessee, during the economic recession in 2011. When a colony of monarch butterflies lands in the nearby woods like a throbbing mass of color and a Jamaica-born lepidopterist comes with his team to study the errant migration, Dellarobia begins an education in butterflies and climate change that puts her at odds with her husband and her community and leads her to change her life's course.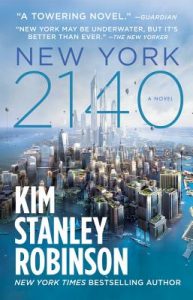 New York 2140, Kim Stanley Robinson
Robinson has been a master of science fiction steeped in scientific data since the 1980s. Set in the titular year of 2140, this novel doesn't take us to colonies on Mars or far-off star systems as many of Robinson's do. Instead it lands readers in New York City following two calamitous climate "pulses" that have transformed the city into an "aquatropolis": the High Line is an oyster bed, lower Manhattan a "SuperVenice," midtown an "intertidal" zone.
The time for climate mitigation has passed; the question now is what architecture, infrastructure, financial systems, and cooperative ways of living might emerge to create equitable communities rather than vicious competition. Nine characters take turns narrating the antics and detective plot that keep readers captivated. The tenth, dubbed "the citizen," serves as an omniscient source for data dumps on topics spanning geology, hydrology, economics, literature, and urban history.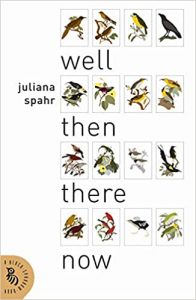 well then there now, Juliana Spahr
Before Jenny Offill's Weather took reviewers and readers by storm (apologies) this year, poet Spahr was exposing the lived experience and emotional tensions of data deluge. Along with Flight Behavior, Spahr's collection well then there now exemplifies the use of climate information as the raw material for creative writing.
Take, for example, "Unnamed Dragonfly Species." The 20-page prose poem dramatizes the emotional stings of climate data many of us can access at any moment. An unnamed "they" start an information binge after seeing videos of a calving Antarctic glacier and discover that "there was more to read than ever before and it was easier than ever before to acquire as it came through their computers and all the time the computers had newer and better search engines making more and more specific information easier to find."
As they seek data about climate crisis, a bolded alphabetical list of threatened and endangered species interrupts the lines as if reminding readers of how scientific data can intrude on our days unbidden. They are left feeling a mix of curiosity, confusion, apathy, concern, and denial as they take in data and go "on living while talking loudly. Worm Snake."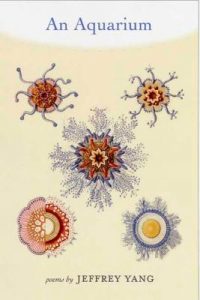 An Aquarium, Jeffrey Yang
Yang's poetry collection is as indebted to scientific information as Spahr's and shares her interest in testing the limits of poetic conventions. An Aquarium extends that debt back to the 17th century and the birth of the Western scientific revolution. Most of the poems' titles alternate between sea creatures—abalone, jellyfish, white whale—and the microscopic organisms that live on and with them—dinoflagellate, foraminifera, zooxanthellae.
At times the speaker assumes an explanatory role, offering that "The humuhumunukunukuapua'a / is Hawaii's native triggerfish," while at other times its role is incantatory—"Vishnu preserver, sustainer, absolute"—or sentimentally reflective—"Impossible to doubt / the lobster's sorrow." As these poems encompass species, cultures, and epochs, Yang muddles understandings of what "science" even means given, in Francis Ponge's words, "l'amphibiguité de la Nature."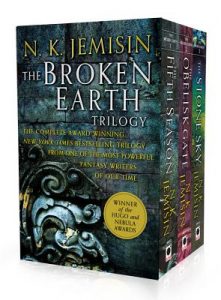 The Broken Earth Trilogy, N.K. Jemisin
Aside from being a revelation to me as someone shy of fantasy, Jemisin's trilogy is a unique addition to this list because it acknowledges both its origins in and departures from science. She explains in the acknowledgments that the series "was partially born in space. . . . The germination point for this idea was Launch Pad, a then-NASA-funded workshop" whose aim was to teach journalists and creative writers astronomy so they'd get it right in their stories. Jemisin wryly remarks, "by pairing astronomy with sentient rock people, I'm not so sure I'm doing the world's best job of delivering accurate scientific information."
Perhaps not. But these novels do one of the best jobs of using geology and astronomy to conjure a world at a slant from Earth's workings. From this angle, the three books explore what radical planetary upheaval looks like; what it means to live in ruins while harnessing powers to contain future crises; and how oppressive categories of humanness, race, and gender operate amidst geophysical tumult.
__________________________________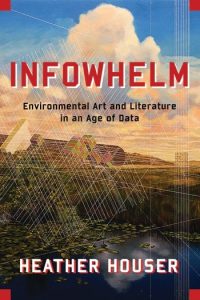 Heather Houser's book Infowhelm is available now.
---