When Rob Reiner's Alter Ego (Harry) Met Nora Ephron's Alter Ego (Sally)
Kristin Marguerite Doidge Reveals the Real-Life Anecdotes Behind the Classic Rom-Com
It was October 1984 when Nora turned down Rob Reiner's idea before they even placed their lunch orders. Coming off the success of This Is Spinal Tap, Rob and his producing partner, Andy Scheinman, requested a lunch meeting to go over a script idea they had for a movie about a lawyer.
"No," Nora said. "Sorry, I'm not interested."
"I should've at least waited until we ate a little bit and were having our coffee," Rob said later of his embarrassment.
But as the men shared the goings-on of their respective love lives as single guys on the dating scene, Nora became intrigued. And disgusted. This is really what men think?
Scheinman and Reiner regaled her with real-life tales from bachelorhood. It wasn't so much that the things flying out of their mouths were shocking but that they were, as Nora put it, a woman's worst nightmare of what a typical heterosexual guy might put her through out of a seemingly instinctual fear of commitment. Rob, who'd been out of the game for ten years while he was married to director Penny Marshall, suddenly found himself right back in it in 1981. It was rough, to say the least.
Some months passed before Nora and Rob met up again, but this time, he presented Nora with an idea she could get behind: it was the story of two friends who, at the end of the first major relationship in each of their lives, decide not to have sex because it will ruin the friendship—and then they have sex and it ruins the friendship.
Nora modeled Harry after Rob, who was "funny but extremely depressed," and made Sally a sort of sunnier (and blonder) version of herself.
Nora immediately began to visualize how the script would come together. On her cab ride home, she could see that there was a clear beginning, middle, and end, and that "it started before it really started."
"It would be a couple that kept bumping into each other at all the wrong moments," she explained.
As ever, Nora took notes. From her notebook on February 5, 1985: "This is a talk piece," Rob said. "There are no chase scenes. No food fights. This is walks, apartments, phones, restaurants, movies . . . we're talking about a movie about two people who get each other from the breakup of the first big relationship in their lives to the beginning of the second."
Nora modeled Harry after Rob, who was "funny but extremely depressed," and made Sally a sort of sunnier (and blonder) version of herself. Rather than use the trope commonly associated with the "Christian" version of romantic comedy, in which there's an obstacle that keeps the couple apart, Nora settled on leaning into the neurosis of the male character like Woody Allen in Annie Hall a decade earlier.
When Nora met up with Rob and Andy for lunch for the fifth day in a row, she ordered the way she always did.
"I'll have the avocado and bacon sandwich with sprouts, please," she said. "But I'd like the mayonnaise on the side, the bread toasted and slightly burnt, and the bacon crisp."
The two men looked at each other.
"What?" she said. "I just like it the way I like it." It was written into the movie.
Once when Nora was on an airplane home from Europe, she provided her precise order instructions in her trademark unique way. The flight attendant was reminded of Sally and asked, "Have you ever seen the movie When Harry Met Sally . . .?"
Nora owned Sally, and Rob owned Harry, and that meant they could both be invested in their story.
In the years that passed, Rob went off to make two cult-classics: Stand by Me (1986) and The Princess Bride (1987). Nora worked with Nichols on making Heartburn the movie in 1986.
For Rob and Nora, it was a lot of hurry up and wait for a number of years.
Like their protagonists, getting the timing right was key.
Just as Nichols had done, Rob invited Nora to be a part of the production process. Casting was difficult. In the beginning, she recalled, Sally was to be Jewish and Harry was to be Gentile, but then "Rob fell in love with [pre–Downton Abbey Elizabeth McGovern] so Elizabeth McGovern was going to play it," Nora said. That's when they switched the characters' last names and made him Jewish and her Gentile instead.
As for Harry, a long line of popular young actors at the time turned down the role, including Tom Hanks, Albert Brooks, Michael Keaton, and most painfully, Richard Dreyfuss.
Hanks felt he couldn't relate to the character's suffering after his marriage ended. In real life, Nora realized he'd actually been happy when his first marriage ended. "I don't think Tom ever regretted not doing it, because he just never knew how to play it," she said. "That part really was very much out of Rob's own kind of Jewish self-obsessed thing that I don't think Tom has a clue about."
As for Dreyfuss, Nora was there when he said to Rob, "God, it's too bad you don't want to direct the movie I really want to do—Let It Ride. It's the opposite of this situation. That [film] has a great script and no director."
Reiner dismissed the actor's comments, and they moved forward without him.
"We fought bitterly about lots of stuff that's in the movie, and, as a result, the fights are in the scenes."
In the first draft of the script, Harry and Sally weren't meant to end up together, but rather they'd "nurse each other through breakups of their first big relationships to the beginnings of their second."
Back at lunch, Rob was interested in what Nora could tell him about women.
"We've told you all this stuff about guys, why don't you tell us something we don't know about women?" he said, almost daring her to say something shocking. The implication was, there's no way we don't already know everything.
Nora took a beat.
"Women fake orgasms," she said.
"Not with me," Rob and Andy both said. "Yes, with you," she said.
"No, no, no," they said.
Rob was flabbergasted. He stormed out into the Castle Rock bullpen and corralled all the women into the conference room.
"Is this true?" he asked, demanding an answer.
"Well . . ." the women each replied, slowly, ". . . yes." They added it to the script.
When Rob returned from making Stand by Me, he and Nora decided the pair would have to end up together. They'd come to new conclusions about Harry and Sally's fate with time and life experiences.
Nora had married the greatest love of her life, Nick Pileggi, in 1987, and Rob had met his future wife, photographer Michele Singer, whom he married in 1989. They were both changed, and the ending of the movie reflected that. Nora wrote a second draft, and Rob directed The Princess Bride. Together, they worked on five more drafts.
From Nichols, she had learned that the words in a screenplay are sacred—a theater director would never change a word of a play; rather, "we honor the script and we rehearse the script," Nora explained.
But with Rob, it was a whole new world. He'd come from television, where the script is always changing and evolving as actors try new lines in real time during filming, often with a live audience. Playing Michael "Meathead" Stivic from 1971 to 1976 on the most watched television series of the time, Norman Lear's All in the Family, Rob followed in the footsteps of his comedian-actor-producer father Carl Reiner and actress-singer mother, Estelle. (Aside from his directing and producing credits, Nora would later convince him to appear as Tom Hanks' friend in Sleepless in Seattle in 1993 and in a small role in Mixed Nuts, and he eventually had a recurring role in Liz Meriweather's Fox television series New Girl.)
"The director is constantly trying to screw the writer out of the things that mean the most," Nora said later. "Every script I've done, my favorite scene was on the floor, except of course the ones that I have directed . . . there is the pretense that there is collaboration, but the truth is the director has all the power and you have none."
In early previews, the women in the audience were laughing so loud that the song in the next scene could barely be heard. The men were silent.
But this project was different. Nora owned Sally, and Rob owned Harry, and that meant they could both be invested in their story. "It was as much fun as I've ever had," Nora said. "Rob's so funny. He's also very combative. We fought bitterly about lots of stuff that's in the movie, and, as a result, the fights are in the scenes."
The New Year's Eve finale is perhaps the most visible example. "We had a huge battle," she said. "Rob wanted him to basically say, 'I've been thinking it over and I love you.' I wanted him to talk about her."
"This guy has been a narcissist for the entire movie," Nora told him. "It's time for him to talk about what it is about her that's important."
The result? The iconic final scene that has both.
Another point of contention was the title. Rob loved When Harry Met Sally . . . , but Nora didn't. (He was especially passionate about the three ellipses.)
But by 1988, the script was finally ready, and shooting began in August in New York—nearly four years after that first lunch meeting.
Billy Crystal signed on to play Rob's alter ego, Harry. Meg Ryan, who'd been chosen to play Sally, was fearless in her approach to the role. She suggested that rather than just talk about it, she should actually act out the fake orgasm—while Rob thought it should occur somewhere surprising, like at a deli. At first, Meg was timid and unsure of how to do it. But after Rob showed her how it was done (literally, with his fists pounding on the table), she got into the rhythm and ended up having to do it over and over and over again all day through multiple takes.
Billy suggested that a patron at the next table should say, "I'll have what she's having."
Rob said, "And I know just who to ask to say the line: my mother, Estelle Reiner."
Still, they didn't know if the scene would work. If it didn't, Rob wasn't sure if he'd be able to keep the line in the final cut.
"It's OK," Estelle told him. "At least I got to spend the day with you—and I can get a hot dog at Katz's while I'm there."
Cut to a couple of decades later: "It ended up being the funniest line in the movie and the funniest line in any movie I've done," Rob said. The line is part of the American Film Institute's list of the 100 top 100 film quotes, and in Estelle's New York Times obituary, she was referred to as the woman "who delivered one of the most memorably funny lines in movie history."
In early previews, the women in the audience were laughing so loud that the song in the next scene could barely be heard. The men were silent.
"It's hard to imagine that that was a genuine secret from half the population," Nora said later. "But it was."
One of those women giggling was the late Princess Diana at the London premiere of the movie. She leaned over to Billy Crystal, who was seated next to her in the theater.
"I would be laughing a lot more, but I know people are looking at me," she whispered. Later, she asked to have the film shown at Buckingham Palace with her girlfriends so she could fully enjoy it.
_____________________________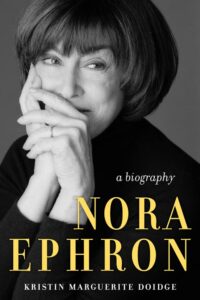 From NORA EPHRON: A Biography by Kristin Marguerite Doidge. Copyright © 2022 by the author and reprinted with permission of Chicago Review Press.
---