James Patterson Remembers the Time James Baldwin Fought Norman Mailer
"They were arguing loudly, fists clenched, looking like they were ready to rumble."
My first New York literary party taught me that, like a lot of secret societies, the inner world of literary people was borderline crazy and completely overrated.
That first lit party was at the home of Jay Acton, the editor who had helped me with but then rejected The Thomas Berryman Number. Jay and I had stayed friends and I liked him tremendously.
(Years later, the weirdest thing happened to Jay. He'd switched over to being a literary agent, and one of his clients was bestselling romance writer Helen Van Slyke. She was a friend and also a big moneymaker for Jay. Then Jay got the terrible news that Helen had died, suddenly and apparently without much warning. Next, Jay got some very different news. Helen Van Slyke had left Jay pretty much everything. Suddenly he was rich. I think he bought a minor-league baseball team and a radio station.)
I remember sitting in Jay's living room the night of that party. It was before Berryman was actually published. I was in the middle of a conversation with Wilfrid Sheed, whose novel People Will Always Be Kind I'd read and loved.
Sheed was, well, kind.
He gave me the best advice as I waited for The Thomas Berryman Number to be published. "Write another book. Start tonight. You can—" We were interrupted midsentence by some kind of hubbub happening elsewhere in the apartment. People were filing back into a rear hallway. I excused myself and followed the noise and the crowd.
I entered a large bedroom.
The room was packed with people. Noisy people. Sweating people. Tense people. Fight fans!
In the middle of the room stood these two small men. They were arguing loudly, fists clenched, looking like they were ready to rumble. The bedroom had become a pint-size boxing ring.
The men were Norman Mailer and James Baldwin. Two little guys who looked about as athletic as French poodles. Especially Baldwin. I remembered that Mailer had actually done some prizefighting, but he didn't look like much of a fighter to me. The two men were squared off at center ring.
Mailer and Baldwin were arguing about what should be considered good literature and what shouldn't. It seemed clear they weren't big fans of one another. Weird, because I was a fan of both of them, especially James Baldwin.
You could not have dragged me out of that noisy, stuffy, overcrowded bedroom. No fisticuffs yet, but lots of heated words. The literary crowd gathered in the room was abuzz. The pugilists were circling, looking for an opportunity to pounce, maybe throw the first punch, but definitely win the war of words.
I have to admit, I found the whole thing hilarious. But I knew I would never forget that scene, and obviously, I haven't.
It set the tone for the absurdity of literary warfare—which I've tried my best to avoid.
Wilfrid Sheed may have written People Will Always Be Kind, but I learned that wasn't always the case.
____________________________________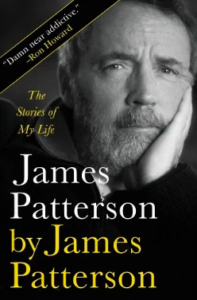 Excerpted from James Patterson: The Stories of My Life, by James Patterson. Published by Little, Brown and Company. Copyright, 2022 James Patterson. Reprinted with permission. All rights reserved.
---