When Rick James Fought to Get Black Artists on MTV
Ramon Hervey II on a Lesser-Known Moment in Music History
A few months after Street Songs went platinum, a new rock 'n' roll music network emerged, MTV (Music Television). It officially launched on August 21, 1981. MTV announced its programming format would be AOR (album-oriented rock), and would include hard rock, new wave, and heavy metal videos (Paul McCartney, Adam Ant, Phil Collins, Bryan Adams, the Pretenders, Blondie, Eurythmics, Tom Petty and the Heartbreakers, Culture Club, Duran Duran, Van Halen, Bon Jovi, Def Leppard, Metallica) running 24/7 with five rotating VJs, including one Black VJ, J. J. Jackson.
He was the only visible Black person on the network. A Black woman, Carolyn Baker, who became a longtime friend, was part of the founding group of executives and served as the original head of Talent and Acquisition.
Rick was one of the first Black artists from Motown to fight for the right to shoot videos. His brother LeRoi, who had taken over his management, convinced Motown to allocate a six-figure video budget in his recording contract that the label had previously refused to make available to him. Due to the success of Street Songs Motown finally agreed to fund videos for "Give It to Me Baby" and "Super Freak." Rick wanted MTV to air both videos, even though at the time they weren't airing any videos by Black artists.
I wanted to position Rick as an ambassador and concerned Black artist and creator of Black music—and put a little pressure on MTV to publicly address their stand on playing Black videos.
He conceptualized his video concepts and collaborated with veteran director Nick Saxton to bring them to life. Saxton directed "Give It to Me Baby" and "Super Freak." He had also directed Michael Jackson's "Can't Stop 'Til You Get Enough" and Pat Benatar's "You Better Run." He was white and MTV-friendly, which Rick hoped would be assets to getting MTV to play his videos. Rick later used him direct videos for two of the Mary Jane Girls hits, "Candy Man" and "Boys."
Nancy Leiviska headed up video at Motown and was instrumental in bringing his videos to fruition as well. I found out there was a Billboard Music Video Conference being held in New York. A panel would discuss the influence of video in the music biz, and Gail Sparrow, a vice president of MTV, was on the panel. I called to see if there was an artist slot available and proposed that Rick fill it, and they agreed to add him. The plan was simple. I suggested Rick just pose a couple of questions that would hopefully spark a dialogue. Does MTV have a mandated policy against broadcasting videos featuring Black artists? And do they have any plans to air them in the future?
I wanted to position Rick as an ambassador and concerned Black artist and creator of Black music—and put a little pressure on MTV to publicly address their stand on playing Black videos. Not to Rick directly, but to all Black artists, record executives, and creatives who supported the broader commercial exploitation of Black music. Rick would get credit for opening a constructive dialogue within the industry and ultimately with the public, which might cause MTV to reconsider their programming format.
I stressed that he could not pontificate, advocate, mention his videos, or attack MTV. I consulted with LeRoi and Rick simultaneously to go over all the potential fallout and liabilities if Rick turned this into a personal vendetta against MTV. We didn't want to give them any added ammunition not to play Rick's videos or to make Rick a martyr. If handled correctly, it would generate some positive and meaningful mainstream media coverage. Crossing-over Rick into mainstream media was our shared goal. Rick said he was up to the task, understood the potential collateral plusses and damages, and promised to stay on script. We agreed to take the risk.
*
The panel discussion was well attended. The moderator introduced everyone and handled the sequencing of when each panelist would speak. When it came time for Rick to speak, he started out on point, but within a few minutes went off script and pointedly attacked MTV's programming format for being discriminatory and racially biased. He took the exact stance we had told him to avoid, and his comments created a media firestorm contrary to my vision.
However, Rick knew he had touched a nerve and was reveling in the attention he was getting. In an interview with the Los Angeles Times shortly after the conference, he further accused MTV of being racist. By this time MTV had officially passed on playing his "Super Freak" video. In the same article, Bob Pittman, the founder of MTV, explained, "Rick James is great. So is Parliament Funkadelic, but we turned down Rick James because the consumer didn't define him as rock." He added, "But we do play black artists, Joan Armatrading, Gary US Bonds, and Jimi Hendrix, because they fit in with rock 'n' roll. So, it has nothing to do with race, but with sound."
The New York Times Sunday Magazine interviewed Rick along with a consortium of industry representatives for a piece they devoted to the issue.
Rick was also part of a group interview on ABC-TV's Nightline with Ted Koppel. But the more he talked about it, the more it became a personal vendetta for him against MTV. Behind the scenes he tried to rally support from other Black artists, but no one wanted to jeopardize their chances of getting their videos played on the network. He later made incendiary statements condemning Michael Jackson and Prince for not endorsing his efforts.
At one point, Gail Sparrow, MTV's VP in Talent and Acquisition, called to tell me that if Rick continued his public onslaught against them, they wouldn't consider programming any of his videos or airing the videos they had already passed on. Once he stopped, they would revisit airing Rick's videos in the future. As much as I wanted to silence Rick, I couldn't endorse her veiled threat. It was too late, and it made no sense to silence him and get nothing guaranteed in return.
Behind the scenes he tried to rally support from other Black artists, but no one wanted to jeopardize their chances of getting their videos played on the network.
The deeper concern for Rick and other Black artists was that the industry felt MTV had the power to revolutionize how music was being consumed. Being on MTV, as Rick pointed out, might generate thousands more record sales for him. By 1982, BET (Black Entertainment Television) was the only other option for Black artists, but it had only two million subscribers, just 20 percent of MTV's. And according to the RIAA (Record Industry of America Association), which maintains statistical data on the record industry, Black music (or urban contemporary music) only accounted for 2 percent of all record and cassette sales in the US.
Rick had sparked a controversy that spread throughout the industry and ensued for several years. MTV continued to hold its position and refused to play videos by "urban contemporary" Black artists in heavy rotation.
In 1983, the iconic rocker David Bowie was the first major Black or white artist to support Rick's views (without endorsing Rick), in an MTV on-air interview with VJ Mark Goodman. Bowie noted, "It occurred to me that, having watched MTV over the last few months, that it's a solid enterprise and it's got a lot going for it. I'm just floored by the fact that there are … so few Black artists featured on it. Why is that?" Then he pressed, "There seem to be a lot of Black artists making very good videos that I'm surprised aren't being used on MTV." Bowie used the same tone and sentiments I had scripted for Rick and was commended for speaking up.
Rob Tannenbaum and Craig Marks, in I Want My MTV: The Uncensored Story of the Music Video Revolution, chronicled the Goodman-Bowie interview. They also revealed that MTV's lone Black executive, Carolyn Baker, took credit for rejecting Rick's "Super Freak" video. She pointedly said, "It wasn't MTV that turned down 'Super Freak.' It was me, I turned it down. You know why? Because there were half-naked women in it, and it was a piece of crap. As a black woman, I did not want that representing my people as the first black video on MTV." Carolyn and I were friends, but at the time, I had no idea she had fought vigorously to block Rick's access to the channel.
Rick served as a sacrificial lamb in the fray, but his voice brought attention to the elephant in the room. Finally, it took Walter Yetnikoff, president of CBS Records, who was infuriated by MTV's rejections, to program Michael Jackson's videos, including one of his biggest hits "Beat It" (released in 1982). So, when CBS released Michael's #1 hit, "Billie Jean" he threatened to pull all CBS artists off the channel if they didn't change their policy and add "Billie Jean." He further declared, "I'm going to go public and fucking tell them about the fact you don't want to play music by a black guy." On March 10, MTV played the "Billie Jean" video and put it in heavy rotation.
Ironically, Michael's megastardom and worldwide fame as a Black artist revolutionized MTV's power and influence on contemporary music and culture. Other Black superstars, particularly the emergence of Black hip-hop superstars, helped to keep them relevant. In the years that followed, it remained challenging for R & B artists who weren't superstars to get their videos played on MTV.
______________________________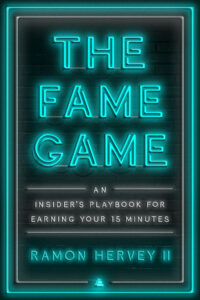 Adapted from The Fame Game by Ramon Hervey II and reprinted with permission from Amistad, an imprint of HarperCollins Publishers. Copyright 2022.
---