When Plants Attack! Benjamin Percy on the Terror of Green Things
The Author of The Unfamiliar Garden Shows His Work
As is the case with every novel I write, I do as much research as I can to authenticate a speculative story with a kind of slippery science.
There is the accidental research I bring to the page. I grew up in the Pacific Northwest and my mother is trained as a botanist and worked for the Forest Service, so I have some base knowledge already at hand when it comes to the mycology at the gray heart of The Unfamiliar Garden.
There is the intentional research I chase—such as sitting down with biology professors, reading academic articles, taking a class on fungus at an environmental center.
And then, of course, there's the artistic research I chase. The stories that have, well, planted themselves in my brain and helped inspire The Unfamiliar Garden.
Another author once told me they avoid all narratives that bear any resemblance to their own, because they want to avoid being influenced. I can't imagine thinking that way. I want to gobble up everything that might be in the same vein, because the critical comparisons will be inevitable, and I want to be in conversation with those who share the same shelf.
Some of my favorite narratives rely on comets as a supernatural device, an instigator of change.
The novels in the Comet Cycle are triggered by an age-old sci-fi concept: a comet comes streaking through the solar system, the planet spins through the debris field, and new elements are introduced to the world. These elements upend the laws of biology, geology, physics; they create chaos in the geopolitical theater; they shake up the energy and weapons sectors; and they—in a very Marvel-y sort of way—create a new dawn of heroes and villains.
Some of my favorite narratives—including John Carpenter's The Thing and HP Lovecraft's The Colour Out of Space and Arthur C. Clarke's The Hammer of God and George R.R. Martin's A Clash of Kings and George Romero's Night of the Living Dead—rely on comets as a supernatural device, an instigator of change. So I'm certainly aware of them when it comes to the overall design of this series.
But to get even more specific: each of the three books concerns a different element and takes place at the same time in a different part of the world. So you can read them in any order, making The Unfamiliar Garden a standalone novel, even though it's the second book in the trilogy.
The Pacific Northwest—namely Seattle, Puget Sound, and the Olympics—is the setting. What better place for alien fungus to spread? The dampest corner of the country, where the air is so moist that breathing sometimes feels like drinking and you can practically shove your hand through concrete and pull out a squirming mess of worms.
And here are some of the stories—about dangerous plants—that seeded the growth of my own novel: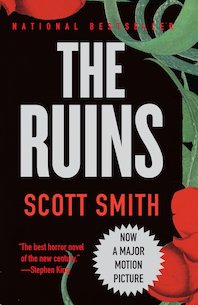 Scott Smith, The Ruins (2008)
A Simple Plan stands out as one of my favorite modern crime novels. In it a plane packed with four million in cash crashes in snowbound Ohio, and the men who happen upon the wreckage slowly destroy themselves with their conniving greed. Smith channels the same clean prose and ruinous characterization and steadily deepening dread into The Ruins, but replaces the frozen north with the sun-drenched tropical locale of Cancun. Here a group of reckless, pleasure-seeking twenty-somethings enjoy a vacation south of the border. They treat the country as their playground, disregarding laws, disrespecting local customs, and ignoring the very real dangers of the jungle, which makes them frat boy colonialists in the same tradition as Alex Garland's The Beach. They're punished for their behavior when they stumble upon some Mayan ruins. "The vines covered everything… layer upon layer, forming waist-high mounds, tangled knoll-like profusions of green. And everywhere, hanging like bells from the vines, were those brilliant bloodred flowers…" And this flora has a sinister appetite. As a group, they're trapped in the ruins—and then, one by one, they're infected and consumed.
At a glance, it's a seemingly simple story, like A Simple Plan, but once again Smith masterfully explores the inner lives of his characters as they desperately struggle to survive. And this is where the substantial work is done in any horror story. There is the outside scream and the inside scream. The outside scream is cheap and fleeting; it's what escapes you when something leaps out of a closet or reaches from under a bed. But the inside scream? It endures, echoing through the blood-lit chambers of your heart and mind, steadily poisoning you with its dread. The Ruins offers plenty of thrills and scares, as vines darkly twist beneath skin and flowers bloom with blood, but it's the inside screams—of these complicated, indelible characters—that continue to resonate so many years later.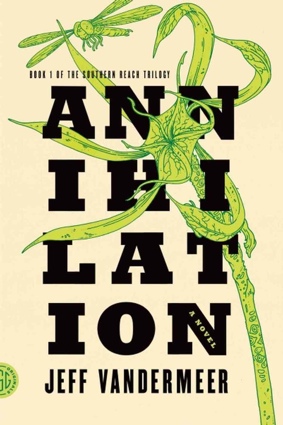 Jeff VanderMeer, Annihilation (2014)
Setting is the principal character in Annihilation. VandeerMeer was inspired by the impossibly rich and diverse ecology of the 68,000-acre St. Mark's Wildlife Refuge in Florida's panhandle, and his love for the location is infectious. Literally. Every character who enters Area X becomes a kind of bio-experiment, cross-pollinated with the fecund environment. There are deer with flowering antlers. Animal and human bodies that muck together in a kind of fungal bloom. A "shimmer" surrounds the swamp. Imagine a dome that swirls with the same sort of light you see in a sunlit bubble or an oily rain puddle in a parking lot. Its circumference is ever-expanding, threatening the government lab erected outside of it. Several teams have been sent inside the shimmer. Radio contact spritzes out. Their fate remains unknown. We follow a team of women—each with their own secrets—into this uncanny patch of real estate, where something is hunting them and you can't trust anyone (even yourself).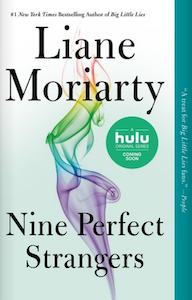 Liane Moriarty, Nine Perfect Strangers (2018)
Microdosing psychedelics is thought to be medicinal and therapeutic by some, but in this novel, the patients at a health resort are dosed up on hallucinogenic mushrooms without consent—and the results are nightmarish. Tranquilum House is a wellness retreat where people begin again. Every one of the titular nine perfect strangers is at a breaking point, many reeling from professional and personal loss, and under the guidance of the strikingly beautiful and self-assured Masha, they're offered a chance to heal and grow. At great financial and emotional cost of course. They participate in rituals and challenges that grow steadily more upsetting. Like all good gurus, Masha is secretly sinister and just as messed up as her clientele. She mad-scientists their chemical cocktails and manipulates them into unnerving situations.
The overall effect of the book, which shuttles compellingly between the perspectives of the characters, is that of an Agatha Christie novel: a fishbowl environment where things go terribly wrong. Now before all of you science nerds out there write a smarmy letter to the editor, we know: fungi are not plants. In fact they show more of a relationship to animals. This will be surprising to many, and this whole notion—of not knowing where one belongs or who one might be—is central to the conceit of the novel.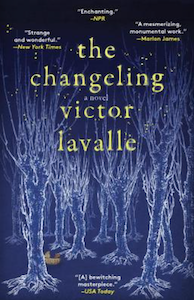 Victor LaValle, The Changeling (2018)
There is a maxim among writers. You want to create instant suspense? Put a kid in danger. That's the hook of Victor LaValle's brilliant and eerie urban fairy tale. A couple is struggling after having their first baby. Maybe post-partum depression is to blame. Or maybe the mother is right. Maybe this… thing… is not actually their child. Maybe it's not human at all. To prove her theory, she shackles up her husband and forces him to watch as… well… we won't get into that here. Let's just call it an unspeakable act of violence that turns out to be entirely justified. Because their actual baby has been stolen and replaced by a root-tangled, mud-packed infant-shaped creature. A Changeling. The wheeling paranoia that leads to agonizing despair and then startling realization add up to one of the most powerfully staged sequences I have ever read. And the enchanted journey that follows is equally unforgettable.
Jack Finney, The Body Snatchers (1955)
This seminal work of science fiction has—fittingly—been replicated many times over, so much so that you might not be familiar with the original work of fiction by Finney. Aliens walk invisibly among us. They are your neighbors, your friends, even your family members. The original human is replaced when a giant goopy seed pod grows and blooms a replicant. The book was immediately understood as an analogue to McCarthyism and the Red Scare. And in this time of both infection and political division, the paranoid themes of the novel resonate more profoundly than ever.
________________________________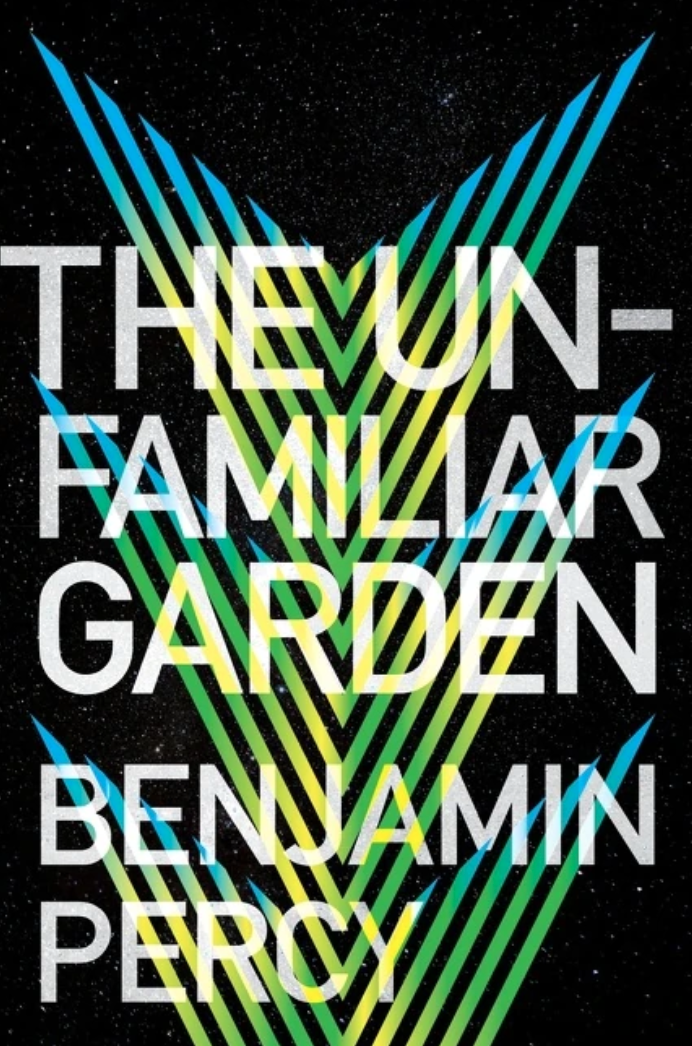 The Unfamiliar Garden, by Benjamin Percy, is out now from William Morrow.
---