When Amy Hempel's Dog Was Briefly Reincarnated as a Bear
On an Unexpected Visit Under a Freakish White Rainbow
People are getting away with murder, but I can't get away with having a glass of water in bed. I trade sides with my dog, who won't feel what I spilled anyway.
From this side of the bed, I see the moon through the window. It's a full moon with—something extra. I've heard about this, but not in upstate New York—in Africa, where the mist from Victoria Falls on the night of a full moon can cause a rainbow to form, a white one: a moonbow. People book vacations to see it.
I head downstairs and out to the small backyard. Who else is seeing this? And then I see who else: a small brown bear, or maybe it's black. I freeze, trying not to look scared because that's when they attack, I'm told. A bear is moving calmly from the neighbor's yard into mine. He looks up at the moon; we look at it together. The bear drops to the ground and then stands up pawing a ball. It belonged to my dog, the other one, who died the month before. The bear sees the dog's water bowl that I keep filled from habit or hope and helps himself to a drink. He wraps himself in the rope from the old tie-out. He swipes at the gone dog's favorite plush toy, a damp, matted lamb with the squeaker torn out.
The bear rolls on his back under the freakish white rainbow, kicking his feet like one other creature I knew. "Logan?" I ask, moving a step closer. "It's all right."
I tell him what has happened since I lost him, and assure him that I approved of his valedictory bite, that awful deliveryman who had it coming. I tell him that the deli has gone up for sale, that another antiques store has opened, that I hate my haircut, that I have not thrown anything away, that the water in the kitchen has developed a metallic aftertaste.
And then the bear is leaving. On his feet and moving to the back of the yard, he stops by the old rope swing. I think he's going to put his legs through the tire and push off toward the moon, but then I see he's got the rope between his teeth. He chews and shakes his head until he has chewed through the rope and the tire falls to the ground where the bear kicks it out of his way as he tears off through the woods.
*
Amy Hempel is a longtime animal rights advocate and encourages readers to support animal charities, such as bestfriends.org.
__________________________________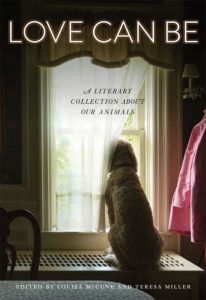 From Love Can Be—A Literary Collection About Our Animals. Reprinted by permission of the Kirkpatrick Foundation and Amy Hempel. Copyright 2007 by Amy Hempel.
---