What's So Bad About Being Bored at Work?
Looking at Life at the Office in a Whole Different Way
We were talking about work, naturally. The table was littered with beer bottles and the view out the plate-glass restaurant window was of a street in Kansas City, but it could have been a street in any number of towns. Our conversation was as typical as our surroundings, down to Nate summing up his job in the pharmaceutical industry with "Yeah, I'm bored at work all the time."
There are few more ordinary sentiments. Over 70 percent of Americans, and 80 percent of people worldwide, are bored with or actively dislike their jobs. None of us sitting around the table that night knew this statistic, but we did know plenty of people, which amounted to more or less the same thing. Nate said he could "count on one hand the people I know who bounce out of bed excited to go to work."
One of them was his wife, Amy, sitting next to him in a crisp, white collared shirt even though it was a Saturday (Nate wore a faded Royals T-shirt). Amy had decided she wanted to be a lawyer when she was twelve and never wavered, even during her Alice Cooper years—which was how we'd met, because her skull-and-crossbones T-shirt and my patchwork corduroys were the only non-pantsuits at a Women in Leadership seminar we both attended in college. Amy no longer dyes her hair black but she's still on the same path, still corresponds with the seminar speakers; less than a decade after the seminar, she is a woman in leadership, with an in-house counsel gig at a global bank. Meanwhile, I'd burned through more careers than Nate, which, he agreed, was saying something.
It worried me, this restlessness, so much so that I'd begun studying boredom itself in hopes of finding answers. I didn't know until that night in Kansas City that Nate was similarly concerned, and that he'd also been talking and thinking quite a bit about boredom as a result. "Most people are relieved when I bring it up," he told me. "Like, Oh, thank god, someone I can talk to about this. So now I'm more comfortable with talking about boredom than I used to be, and that helps a lot. Because, you know, boredom doesn't mean it's not a good job. I'm busy. I make a living. I just don't know if I'll ever be that into work. Which feels weird to say." Amy scooted closer to him, and he put his arm around her and smiled at his driven wife, with whom he raises chickens and dogs, plays video games, and attends Royals games. "But I have other things I do care about," he added. "At the end of the day, I have to ask: What's really so shitty about being bored at work?"
The question nagged me all the way back to New York, back to the fifth-floor walk-up where I live with my boyfriend, our fingers perpetually crossed in hopes that our landlord won't raise the rent. What's really so shitty about being bored at work? It takes two jobs to cover my portion of rent: working as a writing associate at a college and as a researcher for private clients, which is kind of like being a private detective, without the danger and sex. Most of my work is done in libraries—from the dim stacks of Columbia to the tourist-crammed halls of Schwarzman, with its grand columns and stone lions—though sometimes I also conduct interviews. Once I interviewed a real private detective, a former city cop who'd quit the force, moved to New Jersey, and found detective work a nice change of pace. He explained how he tails people on the subway ("you never get in the same car as your mark; it's too obvious") and described a stakeout: sitting awake and alert in his car throughout the night, no radio, no book or TV, resisting the urge to look at his phone because "if you miss that moment"—usually the moment the adulterer leaves the hotel—"you don't get paid."
I envied his single-minded focus. We both enjoyed our work, the detective and I, and both felt lucky to be doing what we were doing, but for some reason I was still restless, easily distracted, checking my phone or the fridge or jolting back into work mode after finding myself knee-deep in a daydream, even while working under multiple tight deadlines. It bothered me, this restlessness; made me wonder if something was wrong with me. But Nate had a similar experience, and so, I was finding, did many other people. The more I asked around, the more common this restlessness seemed to be. Even friends who always complained about job stress and heavy workloads confessed to checking Facebook multiple times a day, or keeping up running conversations on Slack or Gchat. It seemed that nobody was always fully engaged in what they were doing, a trend I'd assumed was obviously bad, a sign of something awed in our generation or our culture or our moment in time, until Nate's question, What's really so shitty about being bored at work?
Maybe nothing. As the light shining through the apartment window began to fade, I studied the growing piles of books referencing boredom, from academic studies to novels, that had come to dominate the living room as I embarked on a self-assigned study of the enemy, like Sherlock's obsession with Moriarty (though again, less dangerous). I picked them up, put them down again, looked out the window at the clouds, which scudded across the pinkening sky in a way that called to mind the easily forgotten fact that New York is a seaside town, which in turn reminded me of Melville and the "insular city of the Manhattoes, belted round by wharves as Indian isles by coral reefs." My mom used to paint pictures of the sea, and the sunset was always the first thing on her list of reasons why not to be bored. "How can you be bored in a world with sunsets?" she'd ask, a trace of desperation in her voice, a hint of Oh, man, you kids have no idea, and anyway, aren't you supposed to be the ones reawakening our sense of childlike wonder? Boredom when we were kids was a problem to be solved, with craft projects or books or playing with our friends or TV if nothing else. It was worrying to find that these solutions just amounted to procrastination in the working world, where being busy didn't necessarily mean not being bored, not by a long shot. Friends my age were all a little bit worn-out and weary and slightly shocked, still, nearly ten years after college, by the realization that this was it: these offices were where we would spend most of our waking lives. But few people (Nate excepted) seemed to want to talk about it at length, and there were never any real solutions presented for adults, besides Be grateful for what you have and Only boring people get bored, which didn't scrub away the feeling, just coated it in a fine sheen of self-reproach. Nate's attitude seemed more reasonable: boredom wasn't the problem-to-be-squelched I'd grown up thinking it was—it was normal. Which maybe meant it wasn't worth thinking about so much. I could ditch the books and stop worrying about why things are the way they are.
A phone conversation with my cousin Connie only strengthened these misgivings. Connie works in an orange juice concentrate factory, an experience I'd imagined as like that of the former autoworker Ben Hamper, who wrote in his memoir Rivethead: "Car, windshield. Car, windshield. Drudgery piled atop drudgery. Cigarette to cigarette. Decades rolling through the rafters, bones turning to dust, stubborn clocks gagging down flesh, another windshield, another cigarette . . ." (except juice instead of cars, and no cigarettes, since food-producing factories have to be more hygienic). I expected boredom, and I expected complaining. All seemed promising at first: when I asked if her job was interesting, Connie chuckled and answered, "Not really." But when I asked if she liked it, it was as if she'd never even considered the question. "Do I like it?" she repeated. There was a moment of silence on her end. "Well, it's regular work. And I don't have to deal with people. I wish they'd let us have music, but nobody minds if I sing. And I have a lot of time to think and plan things. Yeah, honey, it's a fine job. Why, are you looking for one?"
"No. Thanks, though," I replied, glancing at the books piled on the ottoman, spilling onto the floor, which I noticed could use a cleaning. I had plenty of work. I was looking for answers.
Through the books on the ottoman I'd learned that workplace boredom hasn't been around that long, at least not the way it's understood today. In the preindustrial era "sons simply did the jobs (or, higher up the hierarchy, moved into the positions) that their fathers picked for them," according to the historian Thomas Lutz. There would have been no point in labeling a job boring or interesting, because there weren't any alternatives. So useless would these words have been that they didn't exist in English until the 1800s, after the Industrial Revolution created loads of new jobs and thus introduced the workforce to the novel idea of options.
Now we have the language to make comparisons between boring and interesting work, plus an unprecedented ability to compare. The Internet and mass media shape our worldview to such a degree that the ethnographer Martin Demant Frederiksen—who's studied boredom and depression among young men in the Republic of Georgia—told me he couldn't imagine what his study would have looked like without them. "The Internet especially had a massive impact in terms of the men realizing how marginal Georgia is in relationship to the world," he explained. "It made it much more obvious to them how boring a city they lived in."
When my sister and I complained about how boring the town we grew up in was, tucked away as it was in industrial northern Indiana, our mom, a nurse, would say that comparisons were odious, and our dad, a preacher, would remind us that covetousness was a sin. Do not covet thy neighbor's Disney vacation, for example, or thy neighbor's Barbie car. As an adult, try not to covet thy neighbor's globe- trotting job or thy neighbor's seeming sense of abiding purpose. Our parents were just being parents, giving advice they hoped would shape us into functional expectation-managing adults. But over the years I've wanted, and watched them want, enough things to wonder if wanting not to covet things was just another want, another not-good- enough pang, like coveting Connie's sense of chill or Nate's ability to manage his expectations or a 17th-century farmhand's vocabulary, lacking the word for boredom along with any notion of its being shitty or not.
I can't be someone else, or live in a different era. What I can do is research. With a deep sigh (what my mom—whose own restlessness has led her to explore many alternatives to nursing over the years, including Reiki certification—calls a cleansing breath) I scooped up the books on the floor, straightened them up in two neat stacks on the ottoman, picked an unread one, and settled back on the couch so the lamplight hit the pages.
Long before there was an English word for boredom, a group of men began their workday in silence, a complete and all-encompassing silence, unbroken by traffic or bird-song. Their offices were insulated by miles and miles of sand, valleys and hills and rivers of sand, the uniformity broken here and there by a pile of sand-colored rocks. Singing birds and lowing cattle and barking dogs couldn't live there. Most humans wouldn't attempt it either, which was exactly why these men had set up shop in Egypt's Nitrian Desert. They were the Desert Fathers, and their job was communing with God.
In some ways their surroundings weren't so different from those of a modern corporation. Free from nature noises, the Desert Fathers still had one another's sounds to contend with, pacing and sniffling, throat-clearing and muttering, turning pages, gulping water—repetitive human sounds like those you might obsess over in an equally subdued office, the tick-tick-tick of typing or a coworker's habitual phone-answering cadence. Many of the Desert Fathers also worked in cubicles, more or less, living and praying in tiny side-by-side cells. Other times they shared cells, kneeling in the sand in a dystopian version of the open-plan office.
This particular impression of the Fathers—who are more often remembered as wild-eyed mystics than as proto–office workers—comes from the writings of a 4th-century monk named Cassian, who lived with and observed the Desert Fathers in hopes of creating a similar setup in France. Their biggest challenge was an invisible enemy, Cassian explained, "which we may describe as tedium or perturbation of heart," attacking around noon and inducing "such lassitude of body and craving for food, as one might feel after . . . hard toil . . . Finally one gazes anxiously here and there, and sighs that no brother of any description is to be seen approaching: one is forever in and out of one's cell, gazing at the sun as though it were tarrying to its setting."
Elsewhere in the same essay, he wrote in a more personal tone, "Towards any work that may be done within the enclosure of our own lair, we become listless and inert."
While reading Cassian's words I imagined the characters from the American version of The Office, their desks morphed into cells, the omnipresent clock replaced with the slow-setting sun. I pictured a monk Jim faking a swoon as a visiting nun named Pam explained in a voice-over: "Every so often, Jim dies of boredom." Maybe the Fathers' plight was funnier than they knew, I thought, imagining a Michael Scott monk running from cell to cell, robes flying behind him as he rushed to share bad puns with his fellow monks, all to avoid the small amount of work waiting  in his own cell. Maybe their invisible enemy really wasn't so bad.
Similar logic informed my friend Sonya's therapist's suggestion that she cope with her ultra-boring corporate job by visualizing herself in an episode of The Office. "It's supposed to help me be less annoyed by making me feel like a passive observer," Sonya told me when we met for happy hour on a rainy evening. "I'm supposed to laugh at stuff, let it slide off, instead of thinking, Oh god, this is my life." She'd put a recurring reminder on her calendar, so the words "The Office" appeared on her phone every morning at ten o'clock, but eventually removed it because "it started to feel like second nature."
It helped, she said, but didn't entirely fix things. She was able to laugh at the tediousness and seeming pointlessness of her office, where every project dragged on indefinitely, her work going unread and ignored, everyone around her reading Twitter or the news or watching YouTube videos with headphones on. But she still found the basic acts of waking up, going to work, and making it through the day to feel more daunting than they should have—"It's just work, not war." She might have simply quit, saved some time and annoyance and therapy hours, if it wasn't for the money.
I wonder what percentage of the boredom people put up with is endured for money. It's high, judging by how closely the emotion is associated with work (and school, preparing us for work). If he didn't need money, I'm certain Nate wouldn't work at all—nearly every other facet of his life gives him more sense of purpose than his job.
Even Connie would "love to be retired," but doesn't get paid enough to stop working anytime soon.
Sonya has the opposite problem. She's being paid heaps, and will get a bonus on top of that on her one-year anniversary. All she has to do is . . . nothing. "I come in at ten," she told me, "and I finish all my work by like 10:17. I used to try to supplement that with self-initiated projects, but that just made people angry. Now I watch the clock, or do something non-work-related and feel guilty. So. Just 247 more days of that." She didn't hesitate in calculating the days; like a cartoon prisoner making hash marks on a cell wall, she's been keeping close track.
"I mean, what the fuck," she added. "If I have any perspective at all: it's a year, I do nothing, I make money. How is that so hard?" What's really so shitty about being bored at work? Coming straight from the office, Sonya was able to answer her own question immediately: "It feels hard. It's your time, and it's being wasted. It hurts your soul and your mind and your brain. It's a shitty feeling, especially when you know you're capable of being useful."
When we met seven years ago, Sonya was one of those people who thrived on work. She was the product manager of a tech start-up, and she was constantly needed: answering questions, putting out res, building and refining strategies to make everything run smoother. A mutual friend once caught sight of Sonya leaving a lunch meeting and described her as "like the president in The West Wing": striding down the street, surrounded by a scrum of coworkers asking urgent questions that she answered decisively. She was necessary for the building of a brand-new company, and the confidence that gave her spilled over into the rest of her life. When the start-up was folded into the corporation she works for now, she knew things would be different, but she didn't know how much that would change her. Now, she says, she doubts what she's good at—"Losing that sense of yourself doesn't take long"—and the malaise of the new office has seeped into her life. "I'm exhausted all the time, more than I ever used to be after a day of back-to-back meetings," she told me. "I'm always just straining toward the end of the day."
It was something a Desert Father might have said in confession, except . . . Sonya's eyes were narrowed with anger about her wasted time and her own choice to stay, and I pictured the Desert Father's eyes filled with tears. In my mind the Father looked like my own father, an association not solely based on their identical titles; my dad has always woken up to pray before the sun rises, a ritual of bringing himself closer to God that he's had since before he became a priest, but by nightfall he's inevitably earthbound like the rest of us, so exhausted by disenchantment that he barely has the energy to drink a beer in front of a M*A*S*H rerun. I used to think he was just another guy who didn't like his job, like Willy Loman in Death of a Salesman or Peter Gibbons in Office Space. But now I also have work I wake up voluntarily early for, and I understand that weariness or restlessness experienced while doing something you care about feels different from being bored at any old job. It feels a lot like failing.
For the Desert Fathers, monkhood wasn't just a career; it was a calling—the thing they were born to do, the reason for their very existence. This idea of a calling began in the religious world and spread to the secular as more and more people began to have career choices. If you have more than one option, how do you know which job to pursue? Well, which one calls to you? "Following a calling" lends a pleasing mystical flavor to job selection, and suggests that whatever moneymaking endeavor we spend most of our waking hours doing might also be spiritually fulfilling. It also soothes anxieties over our limited life spans: if we're following a calling then we're spending our time well, using it for something we care about rather than losing it to pointless work.
Over the last decade, the phrase "Do what you love" has appeared on posters and T-shirts and social media. It's become so prominent that it has provoked backlash against the slogan, which seems to snub anyone who can't afford a degree and the time to figure out what they love. Many people now understand it as a classist notion. Yet the idea behind it persists, having been deeply engrained in our culture long before Instagram images of posters in tech offices. "Our work must be the chief natural interest in life," wrote the Jesuit scholar John C. Kelly in 1949. "If our life does not pivot round our work, we can never be at equilibrium."
It's an unbelievable amount of pressure to put on one thing. A period of disinterest, even just an hour, might send the whole thing toppling. How can you claim to love something that has the potential to bore you? How can you make any claim on it at all? Plagued with boredom, the Desert Fathers were also wracked with guilt for feeling bored and doubtful about their calling, which had heretofore been the very reason for their existence. This compound of bad feelings was known as "the 'demon of noontide,'" according to the theologian Michael Raposa, "a powerful boredom that 'besieges' the devotee, resulting in distraction from, sometimes even abandonment of, the spiritual life."
In this light Sonya seemed almost lucky, in the same off-kilter way that Romeo and Juliet were lucky—she'd loved and lost and never risked the possibility that decades of routine might chip away at that certainty. Meanwhile, I still feel lucky to be doing the work I do, talking with students and playing private detective in the library stacks, but every stray moment of boredom feels like a small betrayal I've committed against luck, and a frightening reminder that I might not feel so lucky forever. If Sonya were a character in a book or play I might feel a perverse envy for her, similarly to how people experience Romeo and Juliet as a great love story. But she wasn't a character, she was my friend, and it broke my heart to see my strong friend look at me with fear in her eyes and say, "Honestly, Mary, these past few months are the closest I've ever been to depression."
__________________________________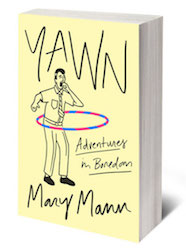 Excerpted from YAWN: Adventures in Boredom by Mary Mann. Published in May 2017 by FSG Originals / Farrar, Straus and Giroux, LLC. Copyright © 2017 by Mary Mann. All rights reserved.
---