What Would You Do Suddenly Adrift in a Lifeboat in the North Atlantic?
On the Dramatic First Day of the Sinking of the John Rutledge
Day one.
They took stock of what they had.
It wasn't much.
A glass demijohn with about a gallon of water in it. A bag of palmsized disks known as ship's biscuits, a simple mix of flour and water baked rock-hard. Some sailors generously called them seabiscuits. More often, they were scorned with names far more accurate, such as molar breakers.
On land, soldiers called them hard tack. About six pounds of them, Nye guessed, maybe a little less. Nye decided to keep his stash of brandy a secret for the time being.
What else?
There was the compass, which was now worthless. The first mate had also tossed in the ship's log before going back to the pumps in some kind of pointless mission to save the ship. But a logbook meant nothing for their survival. It almost seemed a bad sign, if you believed in that sort of thing. Nye didn't. But he could understand how others might look askew at the ledger, as if they were carrying the last testament of the John Rutledge in their little ark in case no one was saved to tell of it.
There was no mast for a sail on the lifeboat. Just four oars to try to keep its bow pointing into the waves. This was crucial. Drifting crossways to the waves was just asking to be capsized. After that, the cold sea would kill you mercifully fast.
After running through the meager list of supplies, they took a hard look at themselves.
Nye and the other two crew members—the boatswain William Ryan and the greenhorn John Daley—were dressed warmly enough. They had been put on duty as the ship was going down and wore their normal deck gear. Nye had gloves, a waterproof hat with a wide brim, and his peacoat over a heavy sweater. He had on a pair of vulcanized rubber boots, which were superb at keeping his feet dry but did little to hold off the cold.
With them were ten passengers: the first mate's wife, Mrs. Atkinson;* the Hendersons and their two sons, Robert and James; Jane Black and Betty; and three others—an Irish couple and a man—whose names have been lost to time.
Some of the passengers were already shivering. They had tumbled up on deck with whatever they were wearing down in steerage or with the few things they could grab. Margaret Henderson said a silent thanks that she managed to get some extra clothes on her children. In the last chaotic moment, she was also happy she pulled down two blankets. She wrapped them around her shoulders. Mrs. Atkinson also had bundled herself in a heavy coat and hat. Her husband knew the ship was doomed before the passengers were told, and that had given her some extra time to prepare.
Her long skirt—like that of all the women and girls—went down to her ankles, just above leather shoes that offered no barrier to the cold. The women tried to cocoon their legs by pulling their skirts tight under them.
The temperature was just above freezing, but steady winds made it seem far colder. That kind of sea chill is hard to keep at bay for long. It snaked down open collars. Slipped up the hems of skirts. Jane Black nuzzled Betty, quietly reminding her that the boy Samuel was fine.
Nye thought about the broken compass. It seemed a major setback the moment he heard the glass breaking. But it was now clear that it would not have been much help. The oars were effectively useless in the open ocean without a specific target within reach. It was senseless to waste energy rowing even if they knew the direction of Newfoundland, the closest point of dry land. The distance was just too great without a sail to help. They were at the whims of the currents. About the only benefit the compass would have brought was knowing which way they were drifting.
It grew dark. In late February off the Grand Banks, the sun slipped away around 5:30 pm.
The passengers looked at Nye and the crew in whatever light was left. The crew looked at each other. Everyone was waiting for someone to step up and take charge. A plan—any plan, from anyone—seemed preferable to being set loose on the cold seas just to wait.
And for what? Maybe they could link up with the other lifeboats. But how would they be in any better position? Possibly more supplies, yes, but those boats were filled with twice as many people, if not more. A scramble for the remaining rations of food and water could get messy.
Their only real hope was that a ship would find them sometime after daybreak. They would have to make it through at least one night. It was far too much to hope that a ship picking its way through the ice in the dark would chance upon them.
One small element was on their side. They were not alone. Four other lifeboats made it off the Rutledge. That multiplied their chances of a ship coming across one of them and then mounting a search for the rest.
Nye expected the boatswain to have exerted some authority by now. Ryan had no problem lording his position over the other crew on board the Rutledge, casting a haughty eye over the rigging, looking for any problems he could report. But Ryan's job also included helping keep track of the supplies. That might be the difference between life and death now.
Instead, he seemed to be struggling with Mrs. Atkinson over something.
What is that? Nye wondered.
The water! someone yelled. They have the water!
*
Every crisis exposes some truths.
It works like a mason's hammer, knocking away whatever façade was there. What was once a moral certainty suddenly is up for question. Perceptions of social rank and gender roles are tossed on their head. Those who are selfish or cowardly show their colors even more. Those with the ability to lead may have their moment.
How it all stacks up in a group—unity versus anarchy, calm versus hysteria—comes to define many survival struggles. Psychologists, military planners, and others pick apart these stories to see what went right and what went wrong. For generations, classroom exercises have tried to game it out. Shipwrecks are a standard crisis setting. First, there are questions about what supplies to bring or leave behind. Then, it gets more interesting because castaways bring unique personalities and inclinations.
It might strike some that diversity is a problem—in other words, the more castaways are alike, the better they will do, avoiding conflicts and agreeing on ideas. But experts suggest there is the danger of "groupthink." A hive mentality drowns out dissenting voices even, in the case of castaways, if wild ideas have the potential to improve the chances of survival.
The straitjacket conformity of groupthink has been blamed for countless tragedies.
But sometimes a far more powerful—and unpredictable—crisis occurs when diversity overcomes groupthink, when people with vastly different experiences, expectations, and motivations are thrown together by tragedy or happenstance. Within this volatile mix, anything can happen when survivors turn against each other.
The John Rutledge castaways seemed to be careening dangerously in that direction.
Gimme that, Ryan growled, trying to grab the demijohn of water from Mrs. Atkinson, who had already taken charge of the ship biscuits.
She was not a small woman and had no trouble fending off the sailor. She popped the cork and gulped down a few quick mouthfuls.
The others on the boat began yelling.
What are you doing? Stop! Ma'am, put it down.
Nye tried to reach her but was blocked by the others also moving in her direction. He didn't want to risk unbalancing the boat and getting hit by a wave at just the wrong moment. Nothing—not even their water being drained away—could be worse than plunking everyone into the sea.
Stop it! Nye yelled. That is our only water.
She didn't stop. She took a few more drinks from the demijohn until Ryan finally wrestled it away.
But something had changed in those few seconds. Ryan clutched the jug tightly to his chest.
Hand it over, Nye urged. We will put it in a safe place.
Ryan didn't budge. He gave a suspicious glare.
If I give the water to you, you have it all to yourself, he said. I see. Is that yer plan?
No, said Nye. Be reasonable. This is all we have. Please, hand it over.
Ryan looked scared. If there was to be a breakdown on the boat, then he wouldn't be the stupid one. He hoisted the water jug and drank deeply. At the same time, he held out a hand to keep Mrs. Atkinson from grabbing it back.
There wasn't enough room for Nye and the seaman Daley to rush their crewmate. They started crawling toward him, pawing over the others and crashing their knees painfully on the lifeboat's inside edges.
Damn it, man. Stop!
Then, as suddenly as he turned rogue, Ryan came back to his senses. Nye and the others didn't know what to make of the switch. Was he only fooling them, clever enough to fake a turnabout? But he pulled the bottle neck from his lips and put the jug down.
I, I, I'm sorry. I, I . . . Ryan said, wiping his mouth with his sleeve.
Nye grabbed away the demijohn. There was about two-thirds of a gallon left. That was something. But days of water rations had been selfishly chugged away in just their first hours off the Rutledge. If this keeps up, Nye thought, we have no chance.
Even as Ryan confronted his guilt, Mrs. Atkinson grew belligerent again. It went from bad to worse fast. If some order was not imposed, they might as well start thinking about the great beyond. They wouldn't last.
She turned to Nye and Daley, but made sure everyone on the boat could hear. I am the first mate's wife, she barked. You will not question me. Do not judge me. You have no right.
Whatever internal forces drove her, they were tone deaf to the moment. As incredible as it seemed, she was trying to stake out some status and deference as the self-imagined highest rank in the dire little band. No one else saw her as a leader. If anything, Nye and the others had been waiting for the boatswain Ryan to step up. But not anymore after his shameless display with the water.
My husband may be dead, Mrs. Atkinson added, with a bit less edge. My husband gave his life so we could get off the boat. Remember that.
This is our only water, Nye fired back. This was our only water. Do you know what you've done?
He stopped short of saying what he was thinking: this might have sealed their fate just hours after abandoning the ship. But he didn't want to scare the passengers, especially the children.
Ma'am, Nye finally said, I can say only this now: pray for rain or snow.
The demijohn was passed around to the others. Each person got a mouthful. No more.
Now what? someone asked. It was Mrs. Atkinson again.
What do you mean? Nye asked, still seething over the water robbery.
She took a deep breath.
I'm asking you, my husband's men, what is the next step? Do we try to find the other boats? Do we have some kind of signal? A whistle maybe?
What we do, the boatswain finally said, is we try to keep this boat afloat. That means—and I'm talking to everyone here—keeping an eye out for waves and ice. Keep them peeled for ships, too. But a ship does us no good if we are sunk.
The most important thing, he continued, is keeping the bow pointed into the seas. If a wave hits us broadside, we can capsize. Does everyone understand?
All nodded. Even the children.
Nye spoke up. My shipmate is right, he said. This boat is our only hope. If it goes over, we are done. Does everyone understand that?
*
The North Atlantic allows precious little room for error. Even close to shore, the winter waters can freeze a life away before rescuers can arrive. In January 1840, the steamboat Lexington was chugging up the Connecticut coast when cotton bales in the cargo hold caught fire. Lifeboats quickly sank or were sucked into the still-churning paddle wheel. Aid was immediately launched from shore. But only 3 of 143 people aboard survived, and they did that by clinging to the floating cotton bales and staying out of the water as much as possible.
That first night off the John Rutledge passed in almost total silence.
The men—the three crew members and two others, William Henderson and one of the men in the stern—took turns at the oars trying to keep the bow of the lifeboat pointing into the weather. The other man on the boat, a bit older than the rest, was too sick and weak to row. He had only a thin jacket and huddled alone in silence during the night. They had no lanterns. The best they could do was pick up the direction of the waves from the boat's movement and steer blindly.
The others each were lost in their own thoughts until blessed sleep came.
From time to time, a bit of drift ice would knock the side of the boat.
At first, the sound jarred people awake. Soon, quicker than they could have imagined, they grew accustomed to the slapping waves and the sounds of the boat: the groan of wood and howl of wind humming through the metal oarlocks.
A harsh sleet fell. It turned to snow for a while, and then a spell of cold rain.
It was miserable. Everyone tried to huddle under their coats. There was one good thing. Nye uncorked the demijohn to catch some of the rain.
*
*Nye's accounts did not mention the given name of First Mate Atkinson's wife, and other documents could not point conclusively to her name. This was complicated by variants in the spelling of Atkinson in record-keeping in the first half of the 19th century. With the goal of being as accurate as possible, and to avoid making an incorrect guess on her first name from incomplete records, she is called Mrs. Atkinson.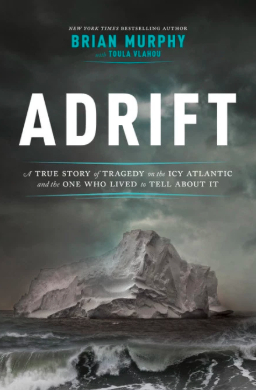 From Adrift: A True Story of Tragedy on the Icy Atlantic and the One Who Lived to Tell About It by Brian Murphy. Copyright ©2018. Available from Da Capo Press, an imprint of Perseus Books, LLC, a subsidiary of Hachette Book Group, Inc.
---