Guantánamo Mixtape: This Would Be the Soundtrack to Hell
From Marilyn Manson to Meow Mix, Played Loud, Played Often
Advocates for prison reform have lobbied actively for the elimination of solitary confinement lasting more than 15 days in American prisons. Political detainees have far fewer advocates and little recourse to justice. In January 2002, the Bush administration founded the Guantánamo Bay detention camp in Cuba to detain and interrogate enemy combatants captured during the War on Terror. Since then, hundreds of detainees have been held in indefinite detention without trial for the war crimes that they had allegedly committed. While in detention, they have been subjected to cruel and degrading treatment. Red Cross inspectors and detainees who have been released have reported abuses that constitute torture, such as sleep deprivation, physical mistreatment, and cruel confinement.
One of the more unusual methods employed by US interrogators to break the will of detainees during harsh interrogation at Abu Ghraib, Bagram, Mosul, and elsewhere is the use of loud music. The 2006 edition of the US Army's field manual for interrogation advocated the use of abusive sound as a method of interrogation, a practice corroborated by former detainees who were subject to this abuse. At Guantánamo, inmates reported being held in chains without food or water in total darkness "with loud rap or heavy metal blaring for weeks at a time." This music played several roles during interrogation. It provoked fear, distress, and disorientation, crowding out the thoughts of the detainee and bending their will to the interrogators'. Even when played at excruciatingly high volume (often as loud as 100 decibels during harsh interrogation, the equivalent of a jackhammer), music leaves no marks on detainees and sheds no blood; it inflicts severe physical and psychological pain without betraying any evidence of its source.
Music carried cultural content as well, which interrogators employed to intimidate and humiliate detainees. The lyrics of rap and heavy metal songs were threatening to hear, but the purring and panting of female singers like Christina Aguilera seem to have been chosen specifically to offend the religious sensibilities of Islamist prisoners. The ironic, cloying sentiment and maddening repetition of songs for children, like the "I Love You Song" by Barney and Friends, and commercial jingles, like the "Meow Mix" theme, made these tunes especially effective instruments of torture. Lastly, loud music also had an influence on US interrogators themselves, who digested the violent lyrics of heavy metal and rap songs to strip themselves of any empathy for their captives.
Here follows a sample of the songs played again and again at maximum volume to break the will of enemy combatants at Guantánamo Bay and other US detention centers around the world. In the context of harsh interrogation with no legal recourse or hope of freedom, these songs and others like them became the soundtrack of Hell for those subjected to them.
Christina Aguilera, "Dirrty"
*
Barney and Friends, "I Love You Song"
*
Deicide, "Fuck Your God"
*
Drowning Pool, "Bodies" 
*
Eminem, "Kim"
*
Marilyn Manson, "The Beautiful People" 
*
The "Meow Mix" theme
*
Nine Inch Nails, "Somewhat Damaged"
*
Queen, "We Are the Champions"
*
Britney Spears, ". . . Baby One More Time"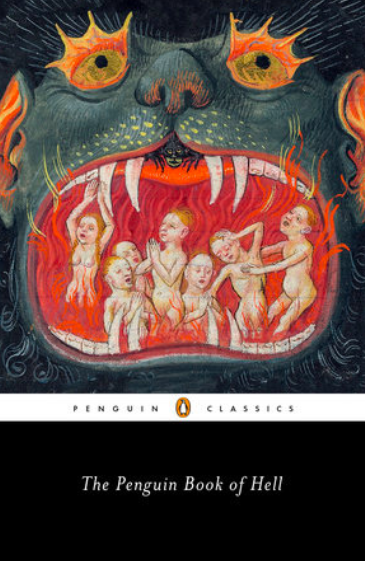 From The Penguin Book of Hell, by Scott G. Bruce, courtesy Penguin Classics. Copyright 2018, Scott G. Bruce.
---