10 Great Reads From the Feminist Lesbian Sci-Fi Boom of the 1970s
Sandra Gail Lambert Picks Her Favorites From an Unsung Genre
When I was a little girl with little crutches and braces, science fiction was the only place I saw disability represented in a positive way. Of course, the characters weren't named as disabled. They were humans adapted for high-G worlds who couldn't exist back on Earth without an assistive exoskeleton or aliens who had to use adaptive breathing mechanisms because their world had a methane-based atmosphere. These characters could be benevolent space farers, evil pirates bent on the pillage of our planet, or just regular people trying to make a living mining in the outer rim asteroid belts. They could be anything and I grabbed hold of that.
I kept reading science fiction. Sturgeon's story "Affair with a Green Monkey" spoke to my still unnamed lesbian self, the ultimate heroism of Heinlein's Podkayne and L'Engle's Meg helped me become sturdy in a world that didn't expect that of me, and the integrity of LeGuin's characters (Semley!) has served me well for 50 years.
It was the mid-70s, and I was in my mid-twenties—immersing myself in feminism and coming out—when (from my point-of-view) women, often lesbians, simply took over science fiction. Women had always been there, but the sheer volume of mind-twisting feminist plots and not-creepy lesbian characters on bookstore shelves was heady stuff. By the 80s I was part of a feminist bookstore, and you bet I expanded and carefully curated our science fiction section with great joy. It was as if I and this genre that had supported me most of my life were evolving together. My own bookshelves, despite many moves and purges, are still filled with books from those times. They're piled around me while I write. Here, I'm going to mostly choose the most forgotten. (Readers will be pissed about the ones I leave out; heck, I'm already mad at myself.)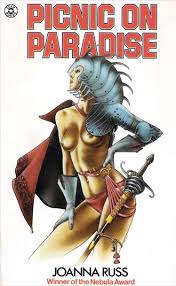 Joanna Russ, Picnic on Paradise
A list like this has to start with Joanna Russ who honed feminist and lesbian anger into magnificent story telling. I remember reaching the last page of The Female Man, flipping the book over, and reading it again. Her How to Suppress Women's Writing is no less relevant today. But most forgotten, I think, is her 1968 debut novel. It features, for the first time, her raunchy, violent, and funny heroine, Alyx.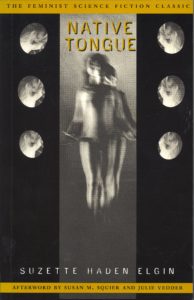 Suzette Haden Elgin, Native Tongue
Elgin proposed a future where women's civil rights have been eradicated. (Those science fiction writers with their improbable imaginations, right?) A professor of linguistics herself, Elgin constructed a world where language is a weapon in an underground resistance movement of old women.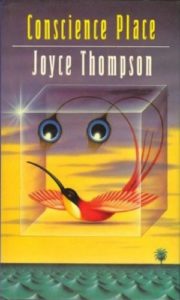 Joyce Thompson, Conscience Place
This is a problematic book (as I'm sure many of them would be if I reread them), but I adore it. The premise is that with the atomic age "monsters" are born. They are sequestered in a closed community from childhood. Yuck, right? But most of the book is about how these people with disabilities make a community with each other. They have no reference points to know they are anything but typical. Each of them contributes. Each of them is supported. It's a fragile, ecstatic utopia. It doesn't end well. And you have to get past the so offensive cover copy. Still, read it.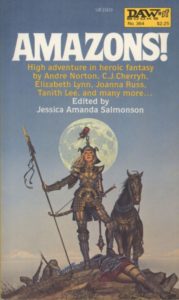 Amazons!, ed. Jessica Amanda Salmonson
Salmonson gathers together stories from both the established writers of the time (St. Clair, Norton, Tanith Lee, Cherryh) and the up and comers of this new wave. And the epigraph is a poem by Melanie Kaye/Kantrowitz! This was the first place I read one of my still most beloved short stories, Elizabeth A. Lynn's "The Woman Who Loved the Moon." And Salmonson was the first transgender writer I, in my limited experience, knew of. Also, there's a second volume—Amazons II.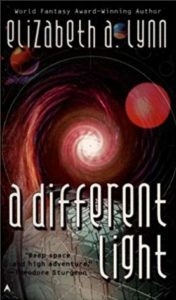 Elizabeth A. Lynn, A Different Light 
Yes, this is the book the bookstore is named after, and Lynn is most well known for her chock-full-of-lesbians series the Chronicles of Tornor that was published beginning in 1979. And those books are perched at my side as I write, but for the most romantic, galaxy spanning, and tragic (not because they are queer) novel about the death-surviving love between a gay man and bisexual man, and also if you need to cry so hard that you are left keeled over in your chair making seal noises, read this novel.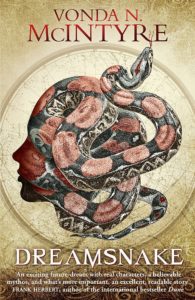 Vonda N. McIntyre, Dreamsnake
Dreamsnake began as the gorgeous novelette "Of Mist, and Grass, and Sand," which is included in Pamela Sargent's (Alive, on FB, send fan mail.) Women of Wonder series. The full-on novel continues the tale of Snake, a healer, traveling in a post-apocalyptic world with her cobra (Mist), rattlesnake (Sand), and a snake of alien origins (Grass). In our bookstore's science fiction collection of female warriors, amazons, and mages, Snake stood out as gentle, tender, and determined, but a no less powerful heroine. McIntyre is the founder of the Clarion West Writers Workshop.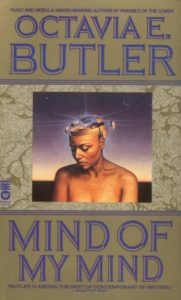 Octavia E. Butler, Mind of My Mind
No, Butler is not a forgotten writer. But some of her books are. This is my favorite book from Butler's Patternist series. (Maybe. Since I read the others over 30 years ago, who knows?) Of course Kindred blew me away when I read it. (I still have my 1981 Pocket Book edition.) Of course, Lauren Oya Olamina of the Parable of the Sower is a complex study in power and cults and survival. But Mary—poor, oppressed, and pitted against a 4000-year-old immortal—is an unforgettable portrait of what I can't quite call a heroine.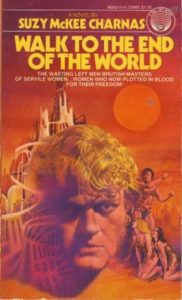 Suzy McKee Charnas, Walk to the End of the World
What! Some of you can't believe I chose this over its sequel Motherlines, but these days I'm in the mood for stories of women escaping unrelenting oppression. Yes, this is another post-apocalyptic world where men keep women in breeding pits. But it's such a good one.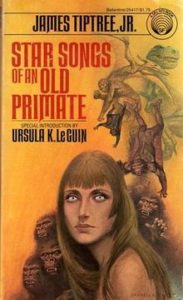 James Tiptree, Jr. (Alice Sheldon), Star Songs of an Old Primate
I know James Tiptree, Jr. also doesn't belong on a list of forgotten authors. Sure you've read all about her, how she kept her gender secret for years and how she (posing as a man) had a long correspondence with Joanna Russ about feminism, but have you read her? Have you read "Houston, Houston, Do You Read?" or the sublime "The Women Men Don't See?"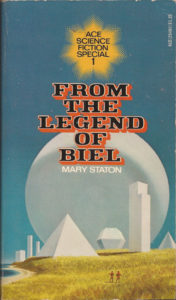 Mary Staton, From the Legend of Biel
When us feminist science fiction fans would meet each other, there would be some jockeying as we checked out each other's credentials. I'd casually mention my hardback copy of Virginia Kidd's Millennial Women and wasn't that Joan D. Vinge story she'd included great. They'd reply with a lesbian-feminist analysis of Gearhart's The Wanderground. But the ultimate test was if we'd read From the Legend of Biel. It is an odd, obscure, not easily (or ever) understood novel that resonated with all of us hardcore fans. If there was a copy on your shelf, you were automatically way cool. I hope that still works.
---