What Would a Modern-Day Jane Austen Novel Look Like?
Taylor Hahn Considers Rebellious Women Circa 2022
This is what I know about Jane Austen: She wrote at least six novels. She died at 41. She never married, despite at least one but possibly two marriage proposals. She had no dowry, meaning any suitor had to settle for her wit, intelligence, accomplishments, and beauty. (Poor guy.)
This is what I believe about Jane Austen: She would have appreciated a good sex party.
I'm not a historian, or an English professor, or even an English major. I'm just a reader committing the cardinal sin in assuming that Jane Austen is the rebellious women she writes. Austen's lead characters are women whose sharp tongues filet society with such quick skill that society does not realize it has happened. I like to think of Austen this way. I like to imagine that she was a Nasty Woman.
Austen wrote in a time when women were allowed to aspire to nothing but a good marriage. The outcome of the marriage game defined them. If Austen played along with that game with unquestioning acceptance of the rules, as some of her characters do (I'm looking at you, Lydia), I doubt we'd still be reading her books. It's her subtle, snide rejection of the rules that keeps her interesting.
Elizabeth Bennett refuses a marriage proposal from the richest guy in Derbyshire, if not many other shires, too. Emma doesn't want to marry at all. How dare they! Other characters in those novels don't respect their views, but Austen made Elizabeth and Emma her leading ladies, and made fun of everyone else.
If Austen were still alive today, writing flirtatious, rebellious, feminist novels about marriage, what would that look like now that sex on the page is finally having its moment?
Sadly, there's no sex in Austen novels, but she probably didn't want to go to jail. Anyway, that's what fan fiction is for. But for 1815, Austen's novels weren't prude either. In Emma, Frank Churchill and Jane Fairfax pretend not to know each other while secretly in love, engaged, and probably hooking up in the stables. Every time Emma drops by to visit with Jane out of guilt, she's just cock blocking. And when Emma suggests Mr. Knightly ask her to dance at the Crown Inn Ball, she reminds him they are not brother and sister, despite knowing each other her entire life. "Brother and sister!" he says. "No, indeed."
That right there is an invitation to Pound Town.
Between the gentlemen unnecessarily helping women into carriages, long looks of particular meaning, and sexually charged waltzes, Austen's women were as wet as they could get.
So, if Austen were still alive today, writing flirtatious, rebellious, feminist novels about marriage, what would that look like now that sex on the page is finally having its moment?
Austen wouldn't have to cut her novels on the wedding day, for one thing. The last scene in Emma is the nuptials of Mr. Knightly and Emma Woodhouse, a simple wedding that reflected "the perfect happiness of the union." The End! Today, fans would expect to see the consummation of that marriage on the wedding night, and probably the next morning, too, and would be especially thrilled by a bonus chapter released from Mr. Knightly's perspective about the first time he saw Emma naked.
But I don't think Austen would stop there, meaning I don't think she'd make her novels current simply by including a little smut, because her novels aren't driven by romance itself, they're driven by challenging the rules of romance. Austen would be more interested in fooling around with the rules of sex than fooling around alone.
Rebellious women deserve happy endings, too.
That's the idea behind my novel, The Lifestyle, in which an Emma-Woodhouse-esque attorney named Georgina Wagman catches her husband having an affair, forcing her to question whether the "perfect marriage" exists like she thought it did. She believed that choosing the ambitious, responsible, handsome, good-on-paper guy was a recipe for marriage success, much like what Austen's less inspiring characters strive for: The Sensible Match. But when the rules of such a marriage—namely, monogamy—aren't working for Georgina and her husband anymore, she decides that changing the rules makes more sense than playing by them. She and her husband become swingers. Only then does she explore and find what she truly wants, both in the bedroom and outside of it.
Through its sex-positive portrayal of the reasons why couples participate in the lifestyle and how it improves their trust, communication, and overall relationship satisfaction, the book challenges the idea that monogamy is the "right" way to be married. Both Austen's novels and The Lifestyle question the marital conventions of the time. So, when you think of The Lifestyle, think Emma, but with swingers.
That said, Austen never rejected the happily ever after outright. Her heroines end up very well matched indeed. Is that a cop out? Should Emma have ended up a spinster, Mr. Knightly married to Harriet? I don't think so. Rebellious women deserve happy endings, too.
The Lifestyle doesn't take a hard line either. While both novels play with expectations, in the end it is love that emerges triumphant. Much like Emma Woodhouse realizes that she can't control other people's love stories, Georgina is knocked off her high horse when she realizes that swinging, like life, isn't a game to be won. She can't control love. It's the other way around, of course—love controls us.
Elizabeth Bennet learned that lesson when she fell in love with Mr. Darcy despite hating his guts. Emma Woodhouse learned that lesson when she fell in love with Mr. Knightly despite never wanting to marry. Georgina runs into her Mr. Knightly at a sex party, though instead of a dance card, it's keys in a bowl. If these heroines had never had the audacity to step out of line, they wouldn't have found the "happily ever after" that made them truly happy.
Austen isn't here, so I can't ask her if she'd be scandalized by my Emma-meets-swinging premise, but I really believe the answer would be no. In addition to devoting her career to writing playful, feminist novels about marriage, she loved a good party scene. Her novels take place primarily in a series of balls, picnics, dinners, and surprise visits. If anything, she'd use her party-scene-writing expertise to offer some suggestions on the Rules of Engagement for Swingers:
1. Always take your own carriage in case you want to leave early.
2. Don't go when it looks like snow unless you want to get stuck in a three-day orgy.
3. At least pretend you're not interested in the richest man in the room.
4. Avoid the clergy.
__________________________________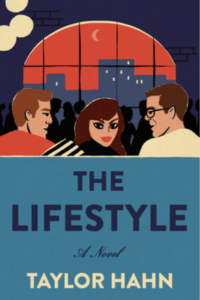 The Lifestyle by Taylor Hahn is available via Anchor Books.
---