On Reading My Memoir to My Father
Séamas O'Reilly Pays Tribute to the Man Who Taught Him to Love Books
Shortly before—their ninth and, I presume, favorite child—was born, my parents moved to a remote bungalow in rural Derry. One of their first acts as Derry residents was to install bookshelves in every bedroom of the large, busy house in which I spent my childhood, and where my father lives to this day.
My father claims he and my mother would buy a book most times they left the house, either for themselves or for their eleven kids, and they were passed around with all the sanctity one might expect of children, which is to say, they were pawed, clawed and spoiled with reckless abandon.
Our shelves were soon overstuffed with a dizzying array of contents; tattered fiction paperbacks, hulking horror hardbacks, airport potboilers, sporting almanacs, TV tie-in annuals, pamphlets on religious orders and sombre reference works on plant husbandry. There were my parents' worn copies of Enid Blyton and Rudyard Kipling, Eagle comics and Victor! Annuals, which told jolly tales of tuck shops and WW2 bombing missions, set along a timeline that suggested both things were natural checkpoints in any young person's life.
And then there were the Reader's Digest collections, held in red, leather-effect binding, which gave Wikipedia-level synopses of "great works," whose presence was even more confusing when one considers we already had the full versions of said classics on those shelves to begin with.
I'm sitting in that house now, in the living room where my father has sat down for the purpose. In a perversion of all laws of the universe, I'm about to read him a story before bedtime. He is an imposing presence; tall, broad and blond in his mid-seventies, glasses perched upon the same large, Roman nose with which I too have been genetically blessed.
This, together with his Fermanagh accent and penetrating gaze give him a moderately striking resemblance to the actor Adrian Dunbar, a likeness so pronounced that any mention of Ted Hastings from Line of Duty in our family groupchat refers to said Anti-Corruption director exclusively as "Daddy." Right now, it is Daddy who looks like he is awaiting a cross-examination. He is anxious, sporting a face you might recognize from anyone who's just relaxed at a party to discover the man beside them has produced a guitar and is intent on treating the room to one of his own songs.
I'm back home for the first time all year. With vaccinations rolled out and protocols relaxed, face-to-face interactions with vulnerable people are now possible for the first time since December. So too, then, is tonight's appointment; me reading from my soon-to-be-published book, Did Ye Hear Mammy Died. I am speaking to an audience of one, who happens to be the book's foremost subject, my 74-year-old father, Joe, or Daddy as Northern Irish naming conventions insist he must be addressed.
In a perversion of all laws of the universe, I'm about to read my father a story before bedtime.
The entire concept is, I am fully aware, fraught with cringe. It would be off-putting enough if I was merely reading my own work in any other context; some of my most hilarious tweets, for example, or a zesty selection of the gently humorous magazine articles for which I'm rightly famed. But this interruption to Daddy's evening involves me reading chapter-length ruminations on my mother's death, which happened when I was just five, and which left him to bring up me and my ten siblings by himself. Worse, I have promised that the resulting text will be "funnier than that description makes it sound".
"The language is a bit rough" is the first thing he tells me, owing to two uses of the word "shit" in the first chapter I choose for him. Daddy doesn't swear very much, which makes his children's passion for the practice all the more bewildering. I try to suggest that two uses of the word "shit" is hardly overdoing it, but he's already apologizing for the interruption and telling me to move on. He's less tense now, settling into the reading with rapt attention. "Slow down" he says, which I decide not to take as a statement on my improper diction, and rather as a sign he wants to savor every word, the way he does with the books-on-tape that sit beside him.
That collection of audiobooks has gathered because Daddy can no longer read. The reason for this is his type 2 diabetes, a condition that led to the loss of his leg below the right knee, and affected his eyesight to the point he can no longer make out printed text. He "reads" the articles I write via an ingenious contraption my little brother Conall, a software developer, connected to his TV, which scans the web for anything I've written, and compiles it into raw text read aloud by a sexy posh British computer lady, whose voice is now synonymous with my work.
Several times I've made the trip home and offered to read him that day's column in person, and been politely assured he would prefer it to be read by said computer lady, his true son, whose inability to render Irish names like Dearbhaile and Caoimhe is offset by her perfect pace, diction, and glazed cherry brogue.
The loss of his sight was, undoubtedly, a shock to my dad, the man who first instilled in me a love of reading, and managed to do so without ever suggesting I open a book.
*
I grew up thinking reading three or four books a week was just something children did, like getting chicken pox, picking your nose, or putting caterpillars in jam jars and forgetting about them, until you rediscovered them some months later in grisly, glass prisons of exploded, furry mould. Adults who spotted my reading habits were complimentary. My friends' parents tutted in admiration at my bookishness, and chided their own children in response. Teachers were astounded, and then exasperated, by my habit of proffering unsolicited, page-length book reports for texts that were nowhere near any prescribed reading list.
My p5 teacher, Mrs. Duffy was the first to wearily suggest the 60-such documents I'd submitted to her were beyond the call of duty, but I just took that as evidence I was giving her an extra treat to enliven the tedious rigmarole of her existing workload.
I've long said my obsession with reading was born from cold hard logistics, namely my father's ingenious decision to raise us in a remote and uneventful part of the countryside, surrounded with thousands of books and little else to do. However, in writing a memoir about my experience of grief, I've realized that this performative bookishness was, at least in part, a coping strategy. One borne of a desire to be considered smart, or special, and moreover to gather as much information as I could about a world I found confusing and unstable.
It's not surprising that my mania for freelance book reportage began in earnest sometime after the very same Mrs. Duffy had tasked me with writing down every memory I had of my mother. I could only summon ten, and realized for the first time that I'd forgotten almost everything I knew of her. Holding this pain like a second bereavement, I endeavored to be the boy who knew everything, since the boy who knew everything would never have forgotten his mother. Or if he had, at least he could offset that ignorance with enough facts about spiders or prime numbers that the balance could somehow be redressed. Reading, and trying to remember all I read, became a bulwark against the horror of forgetting.
My grief was laundered by bookshelves at home, school and the Foyle St. library, so that by the end of that year Mrs. Duffy's tally of reports totaled 106. Like all attempts to cheat bereavement, results were mixed. By the time I started writing my book, that tally of motherly memories had dwindled to five.
"I didn't know about that" my father says, his hands folded, a note of sadness in his voice.
I recorded these readings, and listening back I'm surprised by my nerves. I remembered it as being full-throated and raucous, so am shocked to spot everywhere the catches in my throat, and anxious rushing at several points. My father tells me to slow down every twenty minutes or so over three whole nights' worth of readings. I can hear myself shying away from certain passages and, to my shame, skipping over others entirely.
The loss of his sight was, undoubtedly, a shock to my dad, the man who first instilled in me a love of reading, and managed to do so without ever suggesting I open a book.
At the time, I leaned on perfectly credible claims of expedience to justify my skimming. It's true that, had I read the entire book to him, unabridged, the process would have taken longer than I could have allowed over the few evenings I had with him. But, if I'm honest, my choices were as much informed by fear as anything else. When talking of the harder traumas of my childhood, it would have been tough to do so in front of him. Worse, it would have been harder for me to see him witness how hard it was for both of us. As my father has grown older, we've all become more protective of him.
Even these high-minded justifications are partly bogus, since they foreground the perils of emotional pain. Many of the things I skipped were less to do with difficult subject matter, and more to do with my fear he simply wouldn't think they were funny. In writing a book filled with gags, it helps to know your audience, but also to hold an awareness that no one person will appreciate every joke. I suppose I couldn't bear the thought that my father was one such person, a man physically incapable of pretending he finds something funny if he does not.
There's also, somewhere in there, the pain of realizing I have to read this to my father because he can't read it himself, and with it all the horrors of aging.
Thankfully, he laughs heartily throughout, and his main objections are less of taste or decency and more points of fact he felt I needed hearing. Besides telling me, several more times, to slow down, most of his input cleaves close to the pedantic. Such is the case with my description of the priest who came to bless our 26-foot-long caravan before the 3,200 mile round trip we took to Spain, the year after my mother died. I describe the oddness of the scene, the priest swinging incense around our giant caravan, in full vestments, conducting himself with the stately grace of an altogether more solemn occasion. "He wasn't in full vestments" Daddy interjects, a hint of mocking laughter in his voice. "He was wearing a sotan" he says, with an incredulity that suggests I'd committed a faux pas equivalent to forgetting my own name.
The fact that I'd misidentified this sotan—an only marginally less formal, long cassock type affair—is sufficient for my father to consider me very badly caught out. He denies outright that he ever killed a mouse with a tiny plastic bottle of holy water in the shape of the virgin Mary, and seems particularly aggrieved that I keep saying he knows every priest in Ireland. This he decries as emblematic of my addiction to overstatement—"Séamas, there should be a disclaimer on every page"—before suggesting a figure like 70-80% would be more realistic.
The final chapter describes a breakdown I suffered when I was 11, prompted by all the broiling grief I'd tried to escape through books and jokes and childish denial. As I read the final line, I look up to see tears in his eyes. "That was excellent," he says, hopefully meaning the book and not the fact I had a breakdown. We hug and sniffle and talk about old times, and he waits a respectful amount of time before correcting me on several errors I made elsewhere in the chapter.
I return to London the following day, and begin the pre-release treadmill in earnest. Weeks later my father receives the full audiobook, and sits in that same familiar chair to listen to all five hours in one sitting. He calls me to tell me how much he enjoyed it. There are no corrections or rebukes this time, only mildly tearful congratulations. "It's wonderful, Séamas," he says, "well done."
I ask how it compared to me reading it in front of him.
"Better" he says, somewhat puncturing the tone of adulation I've slowly gotten used to. "Sure, I could slow the speed down to 85 percent."
__________________________________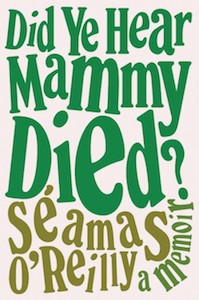 Séamas O'Reilly's Did Ye Hear Mammy Died?: A Memoir is available now via Little, Brown. 
---