What the US Could Learn From the Eastern Band Cherokee Indians' Pandemic Response
Annette Saunooke Clapsaddle on What Community Care
Really Looks Like
Amid a pandemic, I became the only published novelist member of my tribe (tribe meaning American Indian, not hipster yoga besties). Months of socially approved quarantine sounded like a dream come true. I could sit at home and make my very best attempt not to be a one-hit-wonder. I could make my tribe proud and leave a legacy in letters by putting to use the hours of solitude. Except I forgot the one truism of being a tribal member—it ain't about you.
The entrance to the Qualla Boundary, governmental seat of the Eastern Band of Cherokee Indians (EBCI), is marked with a large wooden sign that reads, "Welcome to the Cherokee Indian Reservation." On June 1st, 2020, a long line of vehicles, many of which had the official seal of the EBCI on their license plates, snaked its way around the Mountain Federal Credit Union parking lot and drive thru, spilling out into Highway 441's summer tourist traffic. The Credit Union is located less than a hundred feet from the official border of the Qualla Boundary—just across from the welcome sign.
Twice a year, December 1st and June 1st, enrolled members of the EBCI receive a per capita gaming revenue disbursement. If you want to make a quick trip to the bank or the post office, just forget trying on these two days. Deliveries of Amazon packages spike and businesses in the surrounding counties have come to rely on biannual surges to their sales. So as I drove onto the Boundary, dodging out-of-state travelers itching to toss a few coins at Harrah's Cherokee Casino Resort or disappear into the woods of the Smoky Mountains, I was not surprised that I also had to wait in line behind blocked highway lanes as a steady flow of account holders deposited, cashed, or withdrew from the most recent per capita disbursement.
As I continued across the Boundary, I was, however, taken aback when forced to turn into a "do not enter" drive in order to circumvent the most recent wave of Covid-19 test takers who had arrived at the EBCI's impromptu test site: the outdoor theater where "Unto These Hills," the drama of the Cherokee story, is performed. These dozens of locals were eager to be part of the solution.
Tribal government, public health, the tribal hospital system, and a regional non-profit partnered and immediately began building improvised teams.
The EBCI has offered Covid-19 testing to its enrolled members and residents of the Qualla Boundary since March 15th. Initially, the lines were long; but as new case numbers plateaued, the number of test-seekers dwindled. The aftermath of Memorial Day weekend would be a wake-up call. As I drove home later, it occurred to me that the line to have a 6-inch cotton swab stuck deep up your nose was actually longer than the line to access thousands of dollars. Something about this day seemed to encapsulate everything that was making Cherokee a leader in the fight against Covid-19 proliferation.
Cherokee, North Carolina borders the Great Smoky Mountains National Park; the Qualla Boundary comprises 56,000 acres in western North Carolina, across four counties. This is also the site of a contagion prevalence anomaly. As surrounding counties continued to grow their Covid case numbers early on with far fewer tests administered, Cherokee's numbers looked unbelievable. Like most tribal communities, cases of diabetes, heart disease, and hypertension far exceed national averages. So even before the United State's reported its first case of Covid-19 on January 20th, EBCI health officials were already discussing with Principal Chief Richard Sneed the potential impact on the Qualla Boundary.
They compared response models from Europe and South Korea, finding that South Korea exhibited far more effective measures. They knew education, mass testing, contact tracing, isolation of cases and quarantine would play the most critical roles in safeguarding the tribe. This wasn't insider knowledge. Most local and state governments knew this; the problem came in how to provide it.
Because the EBCI is a sovereign nation, with more economic resources than most, we bypassed the need for state action and long waits for federal aid. Chief Sneed insists, "The reason we have been more successful [in combating Covid-19] is because of our decision to partner with Dogwood Health Trust. Dogwood saw this as an opportunity to use us as a model."
The EBCI was in a unique position to keep its 1,200 tribal employees home and paid, close borders to non-community or EBCI enrolled members, and quickly pass other protective legislation. Dogwood Health Trust saw an opportunity to analyze a controlled model and funded mass Covid-19 testing—over 3,400 to-date. The EBCI was able to do this because we remained flexible.
Tribal government, public health, the tribal hospital system, and a regional non-profit partnered and immediately began building improvised teams. Each team had a role: acquiring equipment, contact tracing, testing, securing borders, assisting the elderly, or insuring food access. Budgets and job descriptions were realigned to facilitate the shifts in duties and services. Because our hospital has a similar mission as our public health programs, all goals for the safety and well being of the tribe could align. Other hospital systems struggled with how to maintain their for-profit focus, often leaving public health to flounder under the load.
In comparison to Indian Country, the Navajo Nation surpassed the state of New York's infection rate by May 18th as they awaited federal aid. On this same date, though a much smaller population, the EBCI was holding at only ten positive results and its newly configured response teams consistently met healthcare and public safety needs of the community without state or federal aid.
Additionally, shutting down Harrah's Cherokee Casino, the tribe's economic engine, was not the impossible call one would assume. Several years of conservative budgeting had led to a cash reserve that would sustain operations for two to three months. Isolation and steady cash flow, including a per capita loan fund, kept most Eastern Band members healthy.
Many would assume that the closing of the borders to outsiders was critical in flattening the Qualla Boundary curve, but leaders knew that it presented its own set of problems: false security. Tribal members were obviously free to come and go and intersect with other communities. The roadblocks were a speed bump and tribal officials prepared for the next phase. As Casey Cooper, Executive Director of the Cherokee Indian Hospital, put it in late April, "We've prepared for the hurricane and it is stalled off-shore."
When Memorial Day hit, the EBCI's proactive measures could only hope to minimize the damage to a vulnerable healthcare system. While other communities in North Carolina reopened with some precautionary measures and hoped for the best, the EBCI readied itself to dig in to its contact tracing efforts. It would be more difficult. More people had traveled off the Boundary and for longer periods of time, but the EBCI was committed to this revolutionary system and, as it turns out, so were its citizens. Contact tracers tracked down every name possible. Families returned from beach trips and headed straight for testing lines.
North Carolina politicians have sometimes criticized the EBCI for its exercise of sovereignty. One particular former senator and alleged insider trader has even called us "greedy" in a public statement. However, this particular application of sovereign might has not only safeguarded the EBCI, it has helped to stabilize the whole region.
How will this sovereign nation continue to use its own brand of ingenuity to stave off the only pandemic of our lifetime?
When tribal health officials showed Chief Sneed the predictive models in January, it forecast that the Eastern Band could see nearly 400 cases by the end of April. Approximately ten percent would need hospitalization. Five percent would require a ventilator. There are no ICU beds in the Cherokee Indian Hospital. As of September 4th, the active Covid-19 case count for the Qualla Boundary is 6 (including 0 current hospitalizations) with a total of 3 deaths since the pandemic began. Most cases remain asymptomatic. 8,262 tests had been administered.
Both the Governor and Principal Chief have eased mass gathering restrictions (25 individuals indoors and 50 individuals outdoors on the Qualla Boundary). While per capita reported rates between the Qualla Boundary and the State of NC may creep closer together after the Labor Day holiday, the turning point will likely occur in how effective the EBCI's system of contact tracing and expedited testing efforts will be.
How will this sovereign nation continue to use its own brand of ingenuity to stave off the only pandemic of our lifetime? If the "hurricane offshore" makes landfall, will the Eastern Band continue to rely on a comprehensive approach to community care rooted in its value system that reaches far beyond our lifetime, far beyond the existence of the State of North Carolina and United States of America?
As for me, I certainly haven't completed that dream second novel during quarantine. However, I did get tested—not because I was exposed or experienced symptoms, but because I am a tribal member with a responsibility. When I go into stores wearing a mask, I notice how other tribal members are doing the same even when out-of-town visitors are not. When I sent a message to Casey Cooper asking him to verify a number for me and let him know that I had gotten tested, he responded with the answer and this: "Thank you for protecting the community. Please continue to promote masks!"
Turns out sovereignty is more than government might. In order to be effective, we must self-rule for the collective benefit. Proliferation isn't always a good thing.
__________________________________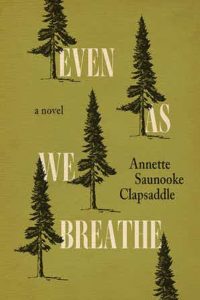 Annette Sanuooke Clapsaddle's debut novel, Even As We Breathe, is available now.
---