5 Books You May Have
Missed in August
Bethanne Patrick Recommends Escapist Literature
We have two months until a presidential election. A lot is going on. While frontlist titles focus on problems, every once in a while books we've missed contain gems that take us away from the madding news and allow us to escape into other scenarios. The five books I've chosen from August's releases happen to be ones I read early on in 2020 and have been itching to introduce to you ever since.
*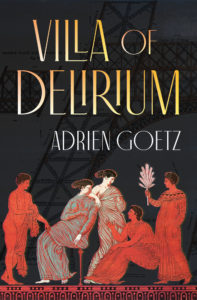 Adrien Goetz, Villa of Delirium: A Novel
(trans. by Natasha Lehrer; New Vessel Press)
Let me begin with Villa of Delirium, billed as "a Greek epic for the modern era" that is so much more. It's the early 20th century, and the Reinachs, a rich family with many social ties and just as many cultural interests and pretensions, build an austere, supposedly authentic Greek villa on the Côte d'Azur, near Nice. The Reinachs and their Villa Kerylos are real, but this novel's narrator, a young man named Achilles Leccia, is a fictional construct who brings us into their fabulous and strange world with a readymade gimlet eye. Achilles' parents work for the Reinachs' neighbor (also real) Gustav Eiffel, and Goetz uses the famed engineer as a plot device to introduce Achilles to the Reinachs. Already entranced by ancient Greece, Achilles enmeshes himself with the Reinachs to such an extent that he becomes their scion's best friend, traveling with them, becoming the elder Reinach's protégé, and, of course, engaging in an important love affair with a married woman. Achilles tells the story from his great old age, after two wars and more have ravaged the estate, and it's his aged eyes that prove the billing. Through the decades, Villa Kerylos is the stage for a modern Greek epic.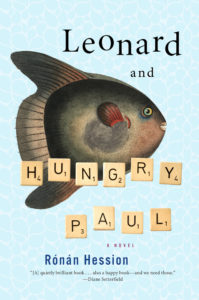 Ronan Hession, Leonard & Hungry Paul: A Novel
(Melville House)
Leonard & Hungry Paul is about two thirtysomething Irish friends who still haven't left their parents' homes. But is there anything wrong with that? Leonard included his aging mother in "the uncrowded bandwidth of his life" until her quiet death. Leonard and Hungry Paul play a lot of Scrabble. They work and run errands and treat everyone with kindness and respect. But is that enough? For the two men, the world's "bigness" threatens. Part of that bigness involves women. Leonard and Hungry Paul are terrified of them, and while in some books that might come across as misogyny, here it underscores how much the men want to cling to their pre-pubescent ways, when women were less threatening. However alike the friends are, they do have different ways, and when one of them seems to be coming out of his shell, action—very gentle action—results.
Elsa Hart, The Cabinets of Barnaby Mayne
(Minotaur Books)
Regular readers of this column will know that I rarely feature books from the big publishers, but sometimes a delightful title deserves more eyes, and that's the case for The Cabinets of Barnaby Mayne. In 1703 London, part of the scientific community understands the world through collecting specimens and one Sir Barnaby Mayne has gathered a houseful of books, bones, stones, and insects, among many other things. When he is stabbed to death, his guest Cecily Kay, an amateur botanist, believes that her eye for detail has ferreted out the truth, even after a supposed killer confesses. What sets this book apart for me isn't necessarily the Sir John Soanes-like museum atmosphere, but Cecily's work and badinage with her childhood friend Meacan Barlow, a talented artist whom Mayne had engaged to sketch his collections. As the women attempt to discover the truth, other vividly drawn characters, including the imperious and often absent Lady Mayne, bring the book to life. Hart, whose Li Du mysteries set in China are also vivid, should win over readers who like to mix their cozies with their quirkies.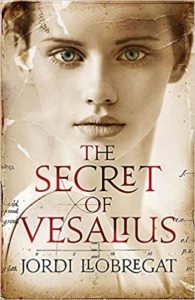 Jordi Llobregat, The Secret of Vesalius
(trans. by Thomas Bunstead, Quercus Books)
The Secret of Vesalius is billed as "Frankenstein meets The Shadow of the Wind." That's big talk, and while I'll leave it up to readers to decide if it's accurate, I can say that this 592-page tome set in Barcelona during the 1888 World's Fair aims to entertain, with a brilliant young scholar protagonist, a creepy Spanish criminal underworld, and an innovation—electricity—that brings light to the world but frightens people who don't understand its origins. With a trio of young men investigating the death of one man's doctor father, the book feels more Penny Dreadful meets Vienna Blood, but can readers in 18 countries be completely wrong? A great potboiler to pick up when you need a break from more intellectual fare.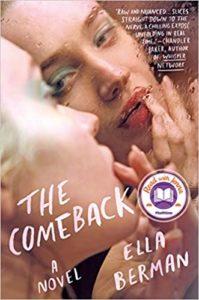 Ella Berman, The Comeback
(Berkley)
Having already said I don't usually feature titles from the big imprints, here, I'm recommending The Comeback, and I'm specifically recommending it because every single reader I showed the book to said "Oh no no no, that's not for me" after looking at its cover showing a rather tired, louche-looking female visage gazing into a mirror and touching long fingernails to painted lips. I don't think the cover is wrong for the book, necessarily, but it certainly doesn't attract all the readers it could. Berman's novel of a young woman recruited far too early in her life into the Hollywood machine may be the smartest book I've read in the past few years about monstrous men, a crystalline look behind the scenes of a full-on breakdown and climb back out of the swamp that correctly levels a gaze at the grown-up women who take part in keeping such men afloat. Consider it your final non-beachy beach read of 2020, something to keep you good and angry through the November election.
---