What Really Happened to the Girls at Hanging Rock?
Maile Meloy on a 50-Year Literary Mystery
Natalie Dormer, best known as the young queen Margaery Tyrell on Game of Thrones, will star in an Australian six-part series based on Joan Lindsay's classic 1967 novel Picnic at Hanging Rock, about schoolgirls who disappear. When I first read that, I wondered which of the girls Dormer would play. Then I realized that Dormer, who is 35, will play the school's terrifying English headmistress, Mrs. Appleyard, and I felt very old.
Everything about Picnic at Hanging Rock challenges our assumptions about time. The author was born in Melbourne, Australia, in 1896. The novel was her first, written in four weeks when she was 70, and it became a sensation. It's set on Valentine's Day, Lindsay's wedding anniversary, which was, she said, "the only date I have ever remembered except 1066 and Waterloo." She never wore a watch because she said they stopped on her, as the picnickers' watches stop in the book.
The novel takes place in the year 1900, at Appleyard College for Young Ladies, in "one of those elaborate houses that sprang up all over Australia like exotic fungi following the finding of gold." The students spend Valentine's morning reading passionate anonymous valentines from mostly fictional admirers, before heading out by carriage for a picnic at a rock monolith.
The picnic grounds are wild and glowing, populated with lizards, beetles, grubs, and hidden snakes. Set against it in their corsets and layers of skirts, "the drowsy well-fed girls lounging in the shade were no more a part of their environment than figures in a photograph album, arbitrarily posed against a backcloth of cork rocks and cardboard trees." Four girls abandon this artificial tableau to walk closer to the rock, and three of them disappear.
The mystery of what happened to the girls goes unsolved in the novel, which includes a biographical note about Lindsay's own Australian boarding school and her childhood in the district where the novel takes place, and an author's note suggesting that it might be a true story. When director Peter Weir went to discuss the film rights for his 1975 adaptation, he was warned not to ask if something had really happened, but he did anyway. Lindsay said she hoped he wouldn't ask again. So Weir asked if the question of what occurred was open-ended. Could they have fallen down a hole or been abducted by aliens? She said yes, it could have been any of the above.
Others had the same two oddly linked questions: was it a true story, and what happened to the characters? People searched old local newspapers in vain for mention of missing girls. In 1980, Yvonne Rousseau published The Murders at Hanging Rock, examining all the competing theories, including a parallel universe, UFO abduction, and a gruesome murder committed by two young men, leaving no trace. Australians read the book in school and became obsessed with the mystery.
According to Lindsay's literary agent, John Taylor, she was impatient with the questions in part because she knew what happened. She had written, in those productive four weeks, a final, twelve-page chapter explaining how it all ended, and she'd turned it in with the book. Her publishers told her to cut it, so she did. But when she was 84, she gave the chapter to Taylor to be published after her death.
In the missing chapter, published as The Secret of Hanging Rock (stop reading if you don't want to know), the girls hike up the rock and reach a circular plateau, where they begin to feel strange. Their math teacher, Miss McCraw, appears in her underwear, but they don't recognize her. They take off their corsets and throw them off a cliff, and the corsets hang in the air. Seeing the suspended corsets makes the girls understand that they're in the presence of a time warp, and they follow the math teacher into it, through a crack in the rock. They enter another dimension and never return.
You can see why the publishers told Lindsay to get rid of the ending. The earthly mystery is what gives the novel its impact. And people took the author's note about fact and fiction seriously because the novel, with its romantic crushes, maddening injustices, and sweltering heat, is so realistic—because Lindsay was so good at making her characters feel like real people, to which something terrible had happened.
But the novel is better and stranger for the traces of Lindsay's original ending. Hints of the final chapter remain: the girls see a pink smoke and hear a distant drumming that were imported from the section that was cut. And traces of it shimmer through Weir's film, which has shuddering music and shots suggesting science fiction or a supernatural event. Anne-Louise Lambert, the actress who played Miranda in the 1975 film, was asked about her process and her motivation, and said she imagined that her character had stepped into a kind of wormhole.
Joan Lindsay herself lived a sort of time warp, born under the reign of Queen Victoria and publishing her first novel during the Vietnam War. That it's still being read and adapted is another kind of leap through time: Penguin Classics has reissued the book and Amazon has picked up the series. After 50 years, a story about getting lost still has the ability to take us in and send us back transformed.
__________________________________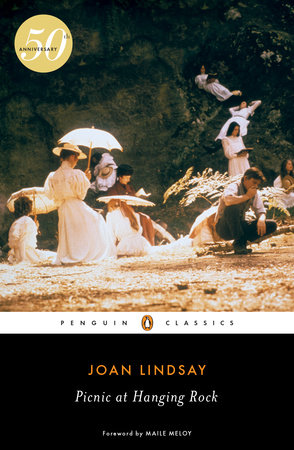 Adapted from Picnic At Hanging Rock by Joan Lindsay, published by Penguin Classics, an imprint of Penguin Publishing Group, a division of Penguin Random House, LLC. Copyright © 1967 by Joan Lindsay. Foreword copyright © 2017 by Maile Meloy.
---