What It's Been Like to Run the First American Diner in Paris
Craig Carlson on His Favorite Customer, Madame Hubert
The median age of my customers was getting older, but that was no surprise because I was getting older, too. Restaurant owners age with their clientele.
When Breakfast in America first opened in 2003, most customers were students in their twenties—and of those 70 percent were American. Within a couple years, it had completely flipped and 70 percent were français. And thanks to "regulars" who'd been frequenting the diner for nearly two decades, the average age was now 30 to 35.
That said, it was rare to get anyone over 60, unless they were dining with their extended family or babysitting their grandkids. And seniors over 70—almost unheard of. That's why I was so excited when our 86-year-old neighbor said she'd never been to an American restaurant and wanted to try mine.
I first met Mme. Hubert on the fifth floor of her apartment building while the two of us were waiting for the elevator. It was 2005—a full year before I'd met Julien and five years before the apartment with the pigeon man. I'd just purchased my very first property, a 9.22-square-meter pied à terre (roughly one hundred square feet—or about half the size of a standard room at a Motel 6). Although too small to live in full-time, the tiny space was meant to guarantee that, should Breakfast in America fail, I'd never be homeless. Fortunately, business was doing well enough for us to open a second location in the Marais. And since the pied à terre was only a couple blocks away from BIA #1, I decided to convert it into an office.
Mme. Hubert lived at the opposite end of the hallway from my bureau/ safety net. Built in the 1930s as a "workers hotel," all the apartments in the eight-story building (unusual for Paris, where most topped off at six floors) were the same tiny size as mine—except for "double units" at the end of each floor, which included Mme. Hubert's place.
Adding to the building's "old world charm," most residents didn't have an indoor toilet. Instead, there were two "shared WCs" on each floor, which Mme. Hubert unabashedly used. (I, on the other hand, would wait until the hallway was empty—then sneak in.)
After the customary exchange of bonjours, Mme. Hubert and I squeezed into the tight, phone booth–sized elevator so common in Paris's older buildings. Slightly hunched over and supported by a cane, Madame wore her silver hair pulled back into a chic ponytail that spilled onto her iconic Burberry trench coat and matching cashmere scarf. I'd first become aware of this stylish ensemble as an exchange student in Rouen, where bourgeois women seemed particularly fond of wearing it.
Mme. Hubert looked at me through her thick black-framed glasses (also stylish, bien sûr) and launched into a fascinating analysis of the president at the time, Jacques Chirac and his likely successor, Nicolas Sarkozy. She spoke very quickly and passionately—and in the most eloquent French I'd ever heard—incorporating a deep knowledge of history, psychology, and culture into every subject she approached. Although I could barely keep up, I was thoroughly enthralled.
A former university professor, Mme. Hubert reminded me of Simone de Beauvoir. They were both French intellectuals of the highest order—a time-honored tradition in France that was becoming more and more rare. Until meeting Mme. Hubert, I didn't realize how much I'd missed such sophisticated, witty repartee and verbal sparring. But that wasn't the only thing I missed.
Mme. Hubert was a member of the last generation often referred to as la Vielle France, the kind of older woman I used to see riding on the métro back in the 80s. Fearless and principled, these matriarchs weren't shy about telling young people to take their feet off the seats. Or to turn down their boom boxes because, "Just who do you think you are, disrupting the tranquility of others?" Nowadays, though, I rarely saw any older women riding on the métro.
And when I did, they never lectured anyone, but rather stared ahead, clutching their purses tightly.
Since Mme. Hubert was a direct link to a nostalgic time long since gone, I soon found myself looking forward to our elevator rides together. However, one interesting thing about the Vielle France generation: they could paradoxically be awfully reserved. Despite our fascinating discussions on a myriad of topics, it took Mme. Hubert years before she dared to broach a subject that was considered highly personal in France.
"I can't help but notice your charming American accent," she said one day on the elevator ride up to the fifth floor. "At the risk of being rude, may I ask what you do for a living?"
"Je vous en prie, Madame" (please do), I said. "I own a couple of traditional American restaurants."
"Ah, bon! And where may I have the opportunity to see these restaurants?"
"Actually there's one just two blocks down the hill, on rue des Écoles. Right next door to the piano shop."
"Hmm, I'm familiar with that shop, but I've never noticed yours. I will have to make a point of investigating it the next time I'm down that way."
A few months later, as I was serving customers inside the diner, I noticed Mme. Hubert standing outside wearing her Burberry ensemble. I stepped out to join her.
"Bonjour Madame," I smiled. "I see you found us."
"Effectivement" (indeed), she said. Balancing herself with one hand on her cane, she gestured with the other toward the red neon DINER sign hanging above the striped awning. "What is this, 'dee-nay, dee-nay?'"
By now, I was used to French people pronouncing diner like the word "dîner" en français, which of course meant, "to dine or eat dinner."
"It's a type of American restaurant," I explained to Mme. Hubert. "But we pronounce it 'daïneur.'"
"Ah, bon!" she said, intrigued. "And what do you serve at this daïneur? 'Amburgers, I suppose."
"Among other things," I grinned. "I'd love to invite you so you can see for yourself. My treat!"
Mme. Hubert looked at her watch. It was a little after 4 pm. Too late for lunch and too early for diner. "I would like that," she said. "A la prochaine." (Until next time.)
With great care, Madame pivoted around on her cane and made her way toward the crosswalk. My first instinct was to assist her, but every time I'd offered to accompany her in the past, she'd refused my help, saying she was fine. "I'm in no hurry."
Sure enough, it took Mme. Hubert three cycles of red lights to cross the street. The whole time she stayed calm and focused—even as she stopped traffic and certain impatient imbéciles started blaring their horns at her.
Ironically, as time seemed to slow down for Mme. Hubert, it had the opposite effect for me. Months flew by but somehow Madame and I never managed to set a time for her to come have a meal at my diner. I began to worry that it might never happen.
One day, the elevator in our building was "en panne" (out of order). As I headed down the stairwell, I came across Mme. Hubert just below the fourth floor. She was making her way up the stairs one slow and excruciating step at a time, her face bright red, sweating profusely.
"Are you okay, Madame?" I said, worried that she was going to have a heart attack.
As usual, Mme. Hubert never complained. "Oui, oui, ça va!" she said between pants, slowly catching her breath. She looked at me through her thick glasses, her eyes more lucid than I'd ever seen. "Nature's got it right!" she said, thumping her cane for emphasis. "The body starts to give out at just about the same time as one's desire to live. I used to love playing tennis. Now I can't. But I no longer want to, either. See how perfect that is?"
"Allez, madame," I said. "Don't go anywhere just yet. I still have to treat you to my daïneur."
"Et oui! Effectivement!" she chuckled, her shoulders bobbing up and down.
Mme. Hubert and I knew each other well enough now, I felt comfortable telling her an off-color joke as I helped her up the stairs. "You see, Madame, the way it usually works is: People have a heart attack after eating greasy American food. Not before."
Mme. Hubert let out a deep guttural laugh that echoed through the stairwell. "Quel fripouille vous êtes!" (What a scoundrel you are!)
Once we'd reached the fourth floor, Mme. Hubert let go of my arm. "Merci, but I can take over from here," she said. "I'm in no hurry."
__________________________________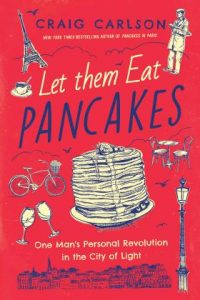 Excerpted from Let Them Eat Pancakes: One Man's Personal Revolution in the City of Light by Craig Carlson. Published by Pegasus Books. © Craig Carlson. Reprinted with permission.
---