What It Was Like on a Cruise Ship the Night Before COVID Shut the World Down
On the Zaandam, Where the Band Continued to Play
MARCH 17, 11: 32 A.M.
Sarmiento Channel, off Puerto Natales, Chile
Claudia Osiani was shocked at the scene playing out before her eyes. Hours earlier, Captain Smit had essentially declared a state of emergency on board. The world was shutting down to slow the spread of the most dangerous viral outbreak in a century. Cruises were banned worldwide. But aboard the Zaandam, the response looked like what she—as a psychologist—would classify as full denial. Everywhere she glanced, she saw evidence of Carnival Corporation's efforts to fulfill its trademark slogan, Choose Fun.
Claudia walked the ship, unnerved by all these older Europeans, Americans, and Canadians gathering, seemingly oblivious to the threat of this disease. She had read about the horrific outbreaks on the Diamond Princess and the Grand Princess. These were all ships owned by the same multinational corporation that owned Holland America, yet here they were. The gym, spa, and hair salon were open, packed with people. This makes no sense, Claudia thought.
Crew members made attempts to protect against an outbreak. They seemed to be everywhere, gently and politely suggesting that passengers wash their hands or make use of the hand sanitizer stations. The self-serve buffets were shielded by Plexiglas, and servers were posted every few feet to ladle out the portions to minimize contact with food. But few employees wore face masks.
When Osiani asked one steward why not, he said, politely, that there weren't enough to go around. "Everything is so normal, even after announcing a pandemic," she angrily told her husband, Juan. "There's a total lack of conscience." They'd befriended two couples, one from Argentina and another from Uruguay. Collectively, they made a pact to stay away from the crowds. "We didn't close ourselves into our rooms, but, yes, we stayed to ourselves."
Beneath the veneer of cruise-life fantasy, the virus roamed the ship, infecting ever more passengers and crew.
Two days out of Punta Arenas, Osiani was eating breakfast in the Lido restaurant when she noticed the coughs. They seemed to be everywhere. I can see that these people are sick; anybody can, she thought. After breakfast, Osiani marched down to the front desk, by the huge pipe organ. She sought out someone who looked to be in charge. "How can the captain allow this? Allow people to gather in groups, so close to each other, if there is a pandemic all around?" she asked. Claudia urged the staff to take precautions, to protect the ship from COVID-19. "Why should we do that?" the front desk manager replied. "How can we stop people? The boat is clean and safe. How can we stop people from having fun?"
At the afternoon bridge game, Leo Lindsay was alarmed. The Swede couldn't stop coughing. Sometimes he'd catch the cough inside his handkerchief, but not always. It was impossible for anyone at the table, or in the room, to avoid the microbes coming out of him. The fits of coughing were repeated every day, so Carl and Leo had discussed a plan. Leo, who had specialized in public health during his career as a nurse, wanted to report the man to the doctors. After they all had their temperatures checked in Punta Arenas and were declared a symptom-free ship, they figured they were okay. But the man's cough seemed worse. Leo was convinced he had to report this.
Leo took a break from the game, walked into the medical center, and sidled up to the reception desk. The nurse asked how she could help, and Leo explained his background and the symptoms he'd been observing, day after day, at the card game. "You know, I just am not comfortable being in contact with this person," he said. The nurse thanked Leo but never called him. Never followed up.
Beneath the veneer of cruise-life fantasy, the virus roamed the ship, infecting ever more passengers and crew. Erin could see it with her own eyes. On her most recent visit to the medical center, a woman lay on the examination table, looking even sicker than Erin. Down in the crew kitchen, another woman was slammed by shortness of breath and fever, so Erin convinced her to stay in her cabin. Then one of her dishwashers came to her. "Chef," he called out to Erin, using the moniker that had stuck ever since her America's Test Kitchen days, "I've lost my sense of taste."
The worker felt awful. Erin told him to stay in his bunk, to nurse himself back to health alone, using the cough syrup she'd scrounged up for him. Erin knew from her CDC training that the best protocol was to isolate the sick in their cabins for a few days. But up at the medical center, the doctors were giving crew members Tylenol and cough syrup, and many were going back to work. Erin thought this was foolhardy. People were getting sick, but the ship had no way to test patients for the virus. There were no test kits aboard. All the symptoms lined up with COVID-19. So Erin started taking things into her own hands. "I started hiding employees in their rooms so they wouldn't expose others."
Fifteen-foot swells crashed into the hull as the Zaandam headed north, into the open waters of the Pacific Ocean. The cruise director came on the intercom to announce that the night's shows were canceled, as unusually rough seas made it unsafe for the dancers and singers to perform. There would be no tenor cracking pandemic jokes, no big band playing the Vista Lounge.
But it was Saint Patrick's Day and heavy seas were not enough to prevent a proper celebration of the Irish patron saint, which was a tradition on Holland America's ships. No way would they cancel the Saint Patrick's Day Pub Crawl. A group of diehards gathered in the Crow's Nest for the first round, then moved to the next bar and the next, sampling different drinks at every stop. As the crawl advanced, coughing echoed along the corridors. Down on A Deck and B Deck, where most of the crew was quartered, two to a room, they heard the festivities and the new sound track for the voyage: a chorus of coughs.
MARCH 18
Santa Clarita, California
Patient symptoms suggested to the doctors that an unidentified respiratory virus was spreading on the Zaandam. Yet several weeks earlier, Dr. Grant Tarling, Carnival's chief medical officer, had seemed to make a very public point of downplaying the risk of COVID-19 on Carnival cruises. He suggested that the virus was not that dangerous for most people. "In fact, about 80% of those with the illness only have mild symptoms just like that of a common cold," he wrote on a corporate blog. "As long as you wash your hands and take care not to sneeze or cough on others, the odds are you will be fine."
Since the early days of the epidemic, Carnival seemed to be gambling that it could beat COVID-19 on ship after ship—and it was losing. Internal emails show that Tarling had followed the disease's deadly advance closely for months, even disseminating detailed "Instructional Notices" with the latest science and advice on preventing and controlling COVID-19 aboard the corporation's huge fleet of ships.
Tarling was well aware of how vulnerable cruise ships were to a deadly and contagious virus like COVID-19. In 2017, he coauthored a study in the Journal of Travel Medicine that demonstrated how difficult it is to prevent and combat viruses in the close quarters of a cruise ship.
On January 20, 2020, when Tarling informed Carnival CEO Arnold Donald of his concern, the two talked. Tarling warned that COVID-19 was spreading fast and could be transmitted from person to person, emails show. Yet, on January 26, Dr. Tarling and other top executives emailed the latest policy to managers of another of the corporation's lines, Princess Cruises, suggesting there was a "low risk" of COVID-19 outbreaks on cruise ships and that crew members should be discouraged from using face masks on board. Managers should make it clear that masking up around passengers was prohibited, they said.
Dr. Tarling and other top executives emailed the latest policy to managers of another of the corporation's lines, Princess Cruises, suggesting there was a "low risk" of COVID-19 outbreaks on cruise ships.
By the time the Zaandam set sail, Carnival was well into its third major COVID-19 outbreak on its ships, this time on the Grand Princess. At least two passengers had died, and many more were sick. The ship was en route to Hawaii, but with the virus outbreak raging, the Grand Princess suddenly doubled back and returned to California. State officials banned the ship from docking, forcing it into a holding pattern off San Francisco.
On March 4, four days before the Zaandam's departure, Tarling pushed back on CDC recommendations to confine passengers to quarters and serve meals in their rooms, in an attempt to contain the virus's deadly assault, emails show.
That night, Tarling called Dr. Cindy Friedman, the CDC's point person on cruise ship outbreaks, to argue that it would be too complicated to serve three meals a day to 2,400 passengers in their cabins. Friedman and a sixteen-person team were crammed into a room in Building 21 at CDC headquarters in Atlanta, surrounded by corkboards, whiteboards, and evidence of a burgeoning body count from the multiple cruise ship outbreaks. With cruise ship deck plans taped to the walls, they sought to map the outbreaks of this new disease. Were there clusters? Was sickness spread airborne? Face-to-face? Through touching surfaces?
Warnings on their office door kept out anyone with a cough, fever, or shortness of breath. There were signs of their marathon sessions inside the conference room: Empty bags of potato chips, used hand wipes, and empty bottles of hand sanitizer lay scattered on the gray carpet under the long desks.
Tarling was adamant in his talk with the CDC leaders: The Grand Princess didn't have enough face masks and other protective gear for the servers to wear, even if it were possible to quarantine guests and serve food via a makeshift delivery system. He also argued that disrupting the meal routines might put passengers at risk by interrupting their schedules for taking needed medicines, which, he insisted, presented even more of a health risk than COVID-19.
Dr. Tarling offered to isolate a few dozen passengers who'd been suspected of having contact with the sick on the previous Grand Princess cruise. But the outbreak became so severe that the U.S. Coast Guard was called in to fly a helicopter that would hover just above the deck of the Grand Princess while rescue workers lowered a cooler of COVID-19 test kits and the CDC personnel needed to administer them.
Five days later, on March 9, the Grand Princess was given emergency permission to dock in Oakland, California, and more than 2,400 passengers were sent into two-week quarantine under armed guard at four military bases, spread across the country. At least 159 passengers eventually were stricken with COVID-19 and eight died.
Now, as the Zaandam languished off Patagonia, Carnival quietly began to prepare for the worst. On March 18, the company ordered 6,000 surgical masks, 600 surgical gowns, and 4,800 pairs of protective gloves for the Zaandam from a marine medical supplier on Staten Island, an internal invoice shows. Getting the supplies on board could take many days because no country was allowing the ship to dock.
But beyond the medical center and the cabins where the sick languished, the cruise had to continue. The global pandemic shutdown was advancing on land—universities, offices, restaurants, and schools were closing across the world. Towns, cities, and entire nations were imposing curfews and the mandatory use of face masks. On the Zaandam, the opposite was occurring. The crew, following corporate's mandate, tempted passengers with group activities.
Waiters prepared a magnificent spread for the Lido buffet, including eggs and bagels with smoked salmon and capers, and passengers packed the place for hours. Up on Sports Deck, the poker tournament continued into a third day. Players crowded around the tables, playing their hands. At the Explorer's Lounge, guests curled up on the couches to read in the afternoon, and lectures drew a crowd. And in the Crow's Nest, guests pressed close together by the front windows to watch a pod of orca whales swimming ahead of the ship.
But the big event on board was Formal Night. By 7:00 p.m., hundreds packed into the Mainstage, crowding the banquet tables, waiting to take a whirl around the dance floor. This was a rare chance to show off sequined cocktail dresses, flowing chiffon gowns, and smart suits or tuxedos. Unlike back home, there were no social-distancing mandates to get in the way as the band played on.
_____________________________________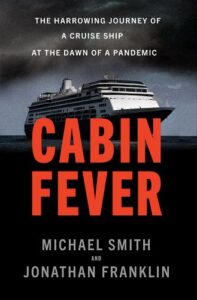 Excerpted from Cabin Fever: The Harrowing Journey of a Cruise Ship at the Dawn of a Pandemic by Michael Smith and Jonathan franklin. Used with permission of Penguin Random House.
---