What is an Office, Really? How Ideas Take Shape in Analog Spaces
David Sax on the Challenges of Virtual Work
What is an office? Is it simply a building where people do their work, or does it serve a deeper purpose?
My personal experience working in an office was miserably brief, but as a journalist I have visited every type of office you can imagine: glassy New York skyscrapers housing the New Yorker and Esquire, sterile government ministries in Tokyo, garish neon start-up warehouses in Austin, old-money law firms here in Toronto, a dusty room in a collapsing Italian film factory, the sprawling Bay Area headquarters of Facebook, Google, and Yelp, the basement of someone's house outside
Bucharest, the blood-spattered back room of a Mennonite meatpacking plant in rural Paraguay. Though they varied greatly in location, size, amenities, and overall vibe, they shared the same fundamental features: walls, lights, chairs, desks, computers, printers, paper, whiteboards, pens, coffee, water.
Once people realized that they would be working from home longer than a few weeks, they built increasingly elaborate home offices. A pile of boxes graduated to a desk; the dining room chair got swapped for something more supportive. From the other side of the screen, I'd witness art, plants, LED ring lights, and $300 noise-cancelling headphones transforming humble bedrooms, closets, and living rooms into respectable home offices. But as much as this was a radical improvement from the earlier work we did on sofas, in bed, or on strategically placed cushions in the bathtub like Melanie, the sense of languishing continued to grow. Something was still missing. Was it the office itself?
"We had a crash course in just how much work goes into making stable, reliable workspaces," said Alex Soojung-Kim Pang, a consultant in Silicon Valley focused on the future of work and the author of books such as Shorter: Work Better, Smarter, and Less—Here's How and The Distraction Addiction. "Part of the issue that remote, mobile, nonplace-specific work creates for us is that there is a degree of solidity or seamlessness that offices or other kinds of dedicated workspaces are able to provide." An office's core physical function, according to Pang, is to provide a physical space that clearly defines the mental boundary between work and the rest of your life. "When well designed, a good office should allow you to concentrate while you're there and leave the work behind when you're not," Pang said.
"One of the greatest mistakes we made for the past twenty years is confusing the technological ability to carry our work around with us in our pocket with the categorical imperative that it is a good thing to collapse those boundaries between our home life and work life." When the physical space of work is undefined, the work expands to fill any void it can, eating up time in the other parts of our lives—leisure, family, nature, love—that were previously seen as "home." "All of this should serve as a caution that, as cool as it is to show up at a Zoom meeting in a tie and boxer shorts," Pang said, "maybe that's not quite as cool as going to a place, focusing for six hours, and leaving."
The office, it turns out, is full of analog tools that help us work better.
The professionals who were able to work easily from home were those who did "knowledge work," a sweeping category of economic activity that kind of pulled in anyone who already did most of their work with their minds, on computers, rather than by manipulating physical objects (boxes, machines, food, hammers). While certain categories of knowledge workers benefitted from highly focused, solitary work (book writers and software programmers, for example), most knowledge work required constant interactions with a diverse group of colleagues. Marketing, sales, strategy, management, and any of the other innumerable economic activities that happen inside an office are more fluid, less individualized and direct, and inherently conversational. They benefit tremendously from work done in proximity to others within a shared space.
A few months into his experience working from home, Warren Hutchinson and his partners at ELSE faced a choice. The lease for their neglected London office was coming up for renewal. The company was doing well, financially speaking, but ending the lease offered the chance for ELSE to go fully remote and save a ton of money in the process. "We were happily working remotely," he said, "but still we asked ourselves, 'Do we keep it?' " The answer was yes. There were practical reasons: Hutchinson had his large house in Cambridge, but younger employees in London were shacked up with roommates in small flats, while those with children were still trying to work amid a circus. One day soon they would be able to meet with clients, and that work, Hutchinson realized, had to happen in a physical space that ELSE controlled. "With what we do, quite often, we're working with something that's strategically important to that client," he said, explaining how the process of figuring out what the client actually wants ELSE to build (versus what they say they want), then proposing, refining, and building solutions around that, is essentially a series of ongoing conversations that have to continuously move forward.
"If people hire us, it's not to take the idea off their hands, and to surprise them with some brilliant design. We want it not to be a surprise, because ideas die really easily if people don't back into them and aren't part of their genesis," Hutchinson said. "I don't know what the idea cost has been since we went remote. How many brilliant things fell by the wayside the moment they were birthed because we weren't in the room where they happened?" Compared to when these conversations happened in person, everything was taking twice as long to accomplish online. In person, he regularly proposed an idea, instantly read the reaction on the client's face, and on the spot shifted and amended and improvised as the client's body language reacted to the ideas, Hutchinson's charm, and his team's salesmanship. "That stuff is absolutely critical in what we're doing," he said. "And we are unable to do it properly online. We can use the best digital tools, but they're all a stopgap. It's just not real. We are not building things together in spirit, because none of those tools close the emotional gap."
During the course of my research, I found the clearest perspectives on the value of work from people like Hutchinson, whose experience in design straddles the world of analog and digital. One of these was Jennifer Kolstad, the global design director of environments at the Ford Motor Company, who is responsible for designing the offices of Ford in Dearborn, Michigan, and around the world. In many ways, the Ford Motor Company defined modern work in the twentieth century. It's where manufacturing and time management were obsessively perfected by Henry Ford, the forty-hour workweek was enshrined, and the American notion of a work-life balance became standardized. With more than thirty-five thousand employees around the world, Kolstad and her team (which included behavioral scientists and neurologists) were able to observe how Ford's work changed during the pandemic, as the company's office employees went remote.
"This category of collaborative work… the conversations we need to have together… I think is more complicated than we understood," Kolstad said from her home in Detroit's suburbs. "We can execute on tasks. The software distills things down to degrees of human productivity, but when you add in a layer of creativity, it gets really tricky. You need to communicate and work with your colleagues in a certain way." For much of early 2021, Kolstad and her team were focused on creating a plan for the future of Ford's offices, including the company's two-million-square-foot headquarters in Dearborn that was still under construction. Called "Brain to Building," the plan used the real experience of the company's shift to remote work to ask difficult questions about who should work where, and why, and when. Kolstad, her team, and outside contributors did all of this remotely, using collaborative cloud tools like the design software MIRO, a sort of virtual whiteboard with tons of interactive features.
"We thought we'd cracked the code," Kolstad said of combining MIRO with other software tools, but she found that the longer they spent on the project, the further her team got stuck in design limbo.
"I'll tell you that you can spend time in MIRO for a month trying to work on a problem, and spin on it, and just spin on it for a whole month," she told me. The limitless options the software offered—endless revisions, tweaks, colors, features, comment threads, chats, and emails—just built a giant sand trap for the Ford team. The more digital tools they threw at the problem, the deeper they got mired in the details.
Trust is erected, brick by brick, in the physical space of the office, in brief elevator chats and walks for coffee.
The office, it turns out, is full of analog tools that help us work better. Some tools are obvious (desk, chair, pen, boardroom, whiteboard), and others are less so (the hallway, the coffee machine, the alcove outside the fire exit where smokers gather), but they all add up to something powerful: the office as a tool itself. "It's not just the spaces and places," said Andreas Hoffbauer, an organizational sociologist in New York who has studied how architecture firms work. "What became abundantly clear is that a workspace became the things and objects you use to create knowledge."
Hoffbauer characterized the daily interactions people had with the physical environment of their office as an active form of tacit learning, where the "distributed cognition" of ideas (concepts, education, and information) naturally flowed back and forth between objects and people, like osmosis. For the architects Hoffbauer studied in New York, a workspace comprised the entire shared space of their studios, from the desks and meeting rooms to the drawings and models and material samples they walked by all day long, which provided the visual and tactile points of reference that informed not just those projects but other unrelated ideas.
During the pandemic, Hoffbauer heard from a lot of architects who expressed their frustration with remote work. Many expressed a particular challenge in coming up with new ideas. They cited the inability to touch surfaces and move objects around or even see drawings on the desks of colleagues. Hoffbauer observed that the way ideas took shape in a physical, analog space over time was missing.
Many of these projects, like skyscrapers or larger developments, took years or even decades to transform from an initial design to completion, and everyone involved on a project—architects, designers, engineers, construction managers, tradesmen, insurers, lenders, developers, realtors, city planners, and so on—had to arrive at a common understanding to bring the project to life. Ideas moved across that vast human network in meetings and conversations, as well as over the phone and by email, but they also evolved each time someone walked by a printed rendering of a section of a building or a paint sample and absorbed that information a little more.
"It's a slow process, and it works on multiple redundancies based on a lot of people who know each other and have deep ties," Hoffbauer said. That physical repetition of passive exposure built a far deeper understanding of a project than the architects could convey through endless emails or messages or PowerPoint presentations. A distributed understanding of a complex idea was fundamentally a process of building communal trust in an idea and the people working to bring it to life.
That trust is erected, brick by brick, in the physical space of the office, in brief elevator chats and walks for coffee. "Space needs to become the place to build connections, time, redundancy, and repeated exposure," Hoffbauer said. "That's what actually builds those trust bonds."
__________________________________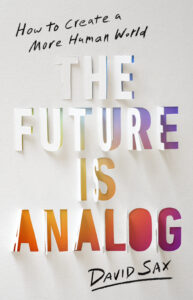 Excerpted from THE FUTURE IS ANALOG: How to Create a More Human World, by David Sax. Copyright © 2022. Available from PublicAffairs, an imprint of Hachette Book Group, Inc.
---