What Draws Libertarians to New Hampshire?
Live Free or Get Eaten By a Bear. Or Both.
When John Babiarz grew up as the son of Polish immigrants in the 1960s and 70s in Southington, Connecticut (English is his second language), his household was haunted by the ghosts of monolithic governments run amok.
"My father and my mother, during World War II, suffered government oppression," he said. "My father was taken by Communists to Siberia, my mother to a Nazi work camp."
Babiarz, raised to be wary of government overreach, grew up on guard for signs that America too was sliding into authoritarianism. After he left his childhood home, he did a stint as a radio communications analyst in the Air Force, but only stayed for four years. He discovered in himself an aptitude for the then-nascent field of computer programming—a logic-based universe in which the right answers were ordained by constellations of bright green letters glowing against a black abstraction. He joined a Sacramento-based computer user group that included some of computer coding's biggest names, before coding went mainstream.
"If I stayed there, I would have probably been one of these Silicon Valley wonders," he said.
Instead, he took a job designing software and hardware for a company called Data Products, before moving on to his own computer consulting firm, primarily for factory automation projects. In 1987, four days after his thirty-first birthday (and a little before lunchtime), Babiarz was on the first day of a new consulting gig in the sprawling Aetna headquarters, which faces off with the St. Joseph's Cathedral across Farmington Avenue in downtown Hartford, Connecticut.
The ever-confident Babiarz sidled up next to an attractive woman. "Well," he said, "I don't see anybody jumping out of windows."
"I guess not," she answered. Her name was Rosalie. She'd been tasked with getting him oriented at his cubicle. She also had to take him to lunch.
Babiarz said he thought maybe he knew why no one was leaping to their deaths.
"The windows don't open!" he pointed out. The punch line drew a brief chuckle. Not much, but it was a start.
After a stint in Vermont, the Babiarzes quickly realized that New Hampshire was a better bet for those who wanted to "Live Free or Die."
The joke about the dearth of Aetna suicides would have been bizarre on any other day, but this was Monday, October 19—also known as Black Monday. The stock market was in its biggest panic in more than 50 years, and he was consulting for Aetna's investments division, the company's biggest moneymaker.
"People were running around screaming, 'The market's falling!'" Babiarz would later recall.
As they watched the rapid decline, stock investors—known as hyperrational computing machines that run on haute cuisine and fine wines—should have remembered to place a much higher weight on the stock market's long-term track record of growth than the hysterics of the day. Instead, they suddenly found their white starched shirts soaked with the acrid smell of fear. People—smart people, people who'd been studying the stock market for decades—were acting irrationally.
It may seem strange that Babiarz, who had significant investments on the line, was able to remain calm while expert investors crumbled. But, coding aside, Babiarz belonged to a group of people who outdo even traders in their fidelity to logic: libertarians.
Libertarians have a vision for America that includes lots of personal freedom, very little government, and a pure marketplace that will sort out societal problems like climate change, education inequality, and rising health care costs. Rather than religious values or a belief in a moral obligation to help the vulnerable, libertarians believe in rationalism. A 2012 research analysis of the personality differences between Republicans, Democrats, and libertarians found that libertarians place the highest value on using logic and cognitive skills to solve questions of policy.
Formed in 1971, the Libertarian Party became a magnet for hundreds of thousands of Americans like Babiarz, who appreciated logic and distrusted authoritarian governments.
But in 1988, when the party's standard-bearer—former US representative Ron Paul—garnered just 0.5 percent of the vote in his bid for president, the fundamental problem facing the logicians became apparent. How could they bring their superior thinking skills out of the fringes and into the political mainstream? They needed to show their emotional, less clearheaded fellow Americans how great a libertarian-led society would be.
The problem was still hanging over the heads of the party in 1992, which is when Babiarz and Rosalie (also a libertarian) got married and decided that Connecticut's high income tax was cause to flee the state.
After a stint in Vermont, the Babiarzes quickly realized that New Hampshire was a better bet for those who wanted to "Live Free or Die"—a state motto so beloved that, in the 1970s, when a Jehovah's Witness covered up the words "or Die" on his license plate because they offended his religious sensibilities, the state jailed him.
Despite priding themselves on their logic, libertarians harbor a passion for individual rights that borders on fanaticism. Babiarz took New Hampshire's motto both seriously and literally.
"To me 'or Die' means that as an individual you have a commitment to . . . fight any force that will prevent you from doing so until the day you die," he wrote. "Death is not the worst of evils; subjugation may be. A quick death is kind compared to years of cruelty, deprivation, and slavery entangled within a system that robs the human spirit."
In 1993, while John and Rosalie were out for a rambling country drive, they found themselves on a remote dirt road that ran through Grafton's barely populated neighborhood of Slab City. It was almost as if they had driven through a time warp and into New England's revolutionary days, when freedom outweighed fealty and trees outnumbered taxes.
A for sale sign marked a particularly scenic spot with a spectacular view of Smith Mountain in the background, a brook and cultivated fields in the foreground, and a small brick schoolhouse perched in the middle of it all.
Soon they were on the phone with June Burrington, the no-nonsense matriarch of an old Grafton family. After raising her children in Slab City, June had abandoned the schoolhouse for a high-lying farm property off Tunnel Road, on the other side of Grafton.
That November the Burrington and Babiarz families signed sale paperwork for the schoolhouse, and John and Rosalie spent six months carting up all of their worldly possessions in the back of a small pickup truck.
"If I see a problem bear, I will deal with it. We can argue about it in court later on."
Here in Grafton, they could finally live free. They equipped the schoolhouse with an array of solar panels, planted vegetables, and experimented with agriculture—bees and pigs, a greenhouse, chickens and turkeys and sheep. Joining the fire department as a volunteer was a good outlet for Babiarz's boyish enthusiasm; when emergencies hit, he threw himself into the role like a scripted action hero. His profession became more personal, and more whimsical. He called his new small computer company Intergalactic Software and followed that up with Endor Communications (named for the Ewoks' home planet in the Star Wars franchise), which he ran out of an old outbuilding on the schoolhouse property and used to provide Grafton with its first internet services.
As John and Rosalie settled into their new life together in Grafton, the springtime snow and mud along the town's travel corridors was increasingly riddled with piles of scat and huge paw prints, while garbage cans were being raided in the night. Soon after Jessica Soule's kittens were snatched by bears, John and Rosalie began having bear problems of their own.
"I promised her," he told me once, while she sat by his side, "never a dull moment."
"And I've been begging for them," Rosalie deadpanned back.
The bears knocked apart their wooden beehives, raiding the sweet honey within. They weren't alarmed, but decided to take the safe step of erecting a high-voltage electric fence to protect their latest homesteading experiment—a handsome black ram and a ewe. The ram, John said, was "rambunctious," always looking for an opportunity to butt him, though it was unclear whether in anger or for sport.
The ram didn't last long. One day, after returning from a call at the fire station, Babiarz found that the animal had been violently torn apart.
"The bear just eviscerated him," he would later say. "This place is so . . ." he stopped. It was clear that Grafton's distance from central authority could be as challenging as it was charming. His bear woes were heightened because Grafton was caught between settler-era wilderness surroundings and an obligation to follow modern-day rules about wild animals. Under libertarian ideals, John Babiarz could have followed the example set by Eleazer Wilcox more than two hundred years ago—exercise his freedom to pursue the bear that killed his ram. But under the state's wildlife management laws, he could only shoot bears that were actively threatening his property, a description open to interpretation. Though Babiarz has never killed a bear illegally, it's pretty clear that he disagrees with the law.
"I feel on my property, I have the right to defend and protect my property," he says. "If I see a problem bear, I will deal with it. We can argue about it in court later on."
When he wasn't swatting bears off his honey hives, Babiarz was steeping himself in state politics and quickly climbing the ranks of the small New Hampshire state Libertarian Party. In 2000, he announced his first bid for governor of New Hampshire, driven by a successful petition drive by libertarians who collected thousands of signatures to get him on the ballot. Babiarz appeared on C-Span for an October 2000 debate with Democratic governor Jeanne Shaheen and two other candidates. His first appearance on the national stage was generally uncomfortable. He stared and sounded stilted, stumbling over rehearsed lines.
But there were bright spots. He articulated the Libertarian Party's basic principles to an audience that was probably unfamiliar with them. The government's real function, he said, was to protect individual property rights, and he expressed the libertarians' moral opposition to the income tax, the sales tax, and the property tax.
His best moment against his more polished opponents came when he looked at the camera and said, "Government is not the solution. It's the problem."
Although Babiarz garnered only a little over 1 percent of the vote, he ran again in 2002. That time he built on the political contacts he already had in place and netted about 3 percent of the vote—six times higher than Paul's presidential bid, and better than almost any libertarian gubernatorial candidate, in any state, to date. In the ongoing effort to mainstream libertarian politics in New Hampshire, Babiarz sensed that he was on the cusp of something huge, if he could only continue to build his political base.
Somehow, he needed more libertarians.
__________________________________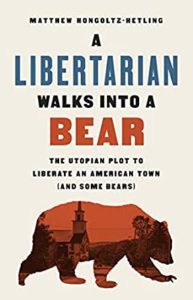 Excerpted from A Libertarian Walks Into a Bear: The Utopian Plot to Liberate an American Town (And Some Bears) by Matthew Hongoltz-Hetling. Copyright © 2020. Available from PublicAffairs, an imprint of Hachette Book Group, Inc.
---