What Are the Responsibilities of a Literary Institution?
Dujie Tahat on the Much-Needed Structural Changes of
Seattle's Literary Scene
The quality of light by which we scrutinize our lives has direct bearing upon the product which we live, and upon the changes which we hope to bring about through those lives.

–Audre Lorde, Poetry Is Not a Luxury
*
I walk around Seattle looking at houses I'll never own. I imagine one full of twenty-somethings who work at nonprofits and couldn't afford living in the city if they didn't have four roommates. Next to them is a retired couple on fixed incomes who pays a greater share of their earnings in taxes than their neighbors across the street, whose parents helped with their down payment. In that house, they signal their politics with an omnibus liberal yard sign: love is love is love, Black lives matter, women's rights are human rights.
In Seattle politics, we rely on symbols as a proxy for action—perhaps it's the only way to build a "progressive utopia." We love being the future. Our contemporary cultural and political discourse has been propelled by the forward-facing engines of industry and colonialism. Expeditions. Timber. The Gold Rush. The Space Needle. Boeing. Amazon. Our city's narrative is defined with moments of achieving new heights, staring down the unknown, embodying the "tip of the spear," "innovation" and "disruption."
It is praiseworthy for Seattle to be recognized as a UNESCO City of Literature—an important and vital achievement that recognizes the hard work of countless artists that made this city what it is. We belong—in yet a new way—to a global community. This is good because the world is in a dire place, and we need more reasons to come together. It represents an opportunity for Seattle to partner and learn from our sister cities how best to employ literature and this designation to improve the material lives of those at the margins. As far as I understand literature to have a purpose, it is meant to reflect back to us our fullest selves, to speak truth to power, and to be a site for greater individual and communal reimagining. If we don't take this task seriously, the honor serves simply as a laurel hung from the drawing room walls of those of us living in safe, material comfort.
Seattle is experiencing unprecedented transformation with profound implications for the future. Yet in the strict confines of high art and cultural discourse, many institutions remain unwilling to reckon with the ways culture is displaced from the city. It cannot be because cultural institutions are apolitical—not only because there's no such thing but because many of these organizations willingly come together to fund electoral campaigns when what is on the ballot are public subsidies. What becomes clear is that it is not the city's culture being curated but rather institutional balance sheets.
The hypocrisy is starkest when cultural institutions display Black and Brown art but not the artist. And if they do champion and claim Black and Brown artists as worthy of their space and acclaim, they hardly extend the same level of commitment and support to the communities those artists come from. No amount of rationalizing can explain the discrepancy between racially diverse public roles like fellowships and artists-in-residence at those same institutions with staff and board positions held almost exclusively by white people.
Literature is meant to reflect back to us our fullest selves, to speak truth to power, and to be a site for greater individual and communal reimagining.
Start by hiring more Black, Indigenous, People of Color who come from historically BIPOC neighborhoods. Then increase funding and programming that serves young and vulnerable people in those communities. Taking on a more explicit role in the political machinations that determine the quality of life for so many Seattleites—now that is the radical work of culture. Inevitably, some will question how we pay for it and what resources can we devote, which leads to an existential, difficult conversation about the current model of arts institutions.
Philanthropy, which is the predominant model of literary and cultural organizations in our city, is failing us. If one builds an organization centering wealthy white landowners, then that is the culture being curated. If we cannot find a way to pull from the margins, our city's art and literature will suffer and become watered-down cultural products that prop up the settler-colonial, capitalist project, which pays some well and costs most others their lives.
To break the cycle, we have to reenvision the role and mission of arts and literary institutions in our city. Instead of building business models around those with the money to meet annual development goals, what does an art institution look like that owes the communities that make the most vital artists making the most vital art? What does it mean for the institution to take an active role in reimaging its place in not just culture but our city's economy? And are those same institutions and their leaders ready to cede power in the name of art and culture?
A different kind of literary institution means reinterpreting what a core mission, vision and values mean when cast upon a wider field. Many arts institutions today are "committed to racial equity" but don't have the courage to take a position on upzoning, land use policy or ending the sweeps of homeless encampments. In this era, the arts are an active practice. Housing, human services, the role of government—these are the defining fights of our time and will shape the future of our city. Washington state has the most inequitable tax code in America. Seattle is home to the two richest people on the planet along with a dozen other billionaires while over 11,000 people live unsheltered in the streets of our county. Tens of thousands more are on the brink of losing their housing, and yes, BIPOC are disproportionately represented here at alarming rates. These everyday facts of life are not ancillary to culture but the very stuff that comprise it. If institutions really mean what they say about their commitment to racial equity, none can sit idly by.
Seattle has a long tradition of arts organizing deeply rooted in community.
Seattle has a long tradition of arts organizing deeply rooted in community. Arts groups like Creative Justice, the Vera Project, Langston Hughes Performing Arts Institute, Youngstown Cultural Arts Center and Youth Speaks Seattle—of which I am an alum—have been leading the way. They represent an orientation to literature, art and culture that is more akin to culture workers around the globe. They envision artists as leaders who not only engage and shape communal discourse, but practice the values their arts convey. They each, in their own way, provide education and childcare services. They advocate—in politics and government—for systemic changes that serve community. They work on prevention as well as remediation of individual and communal problems. And they are committed to improving the overall quality of life of everyone who comes through their doors. These organizations do not make good business sense or even philanthropy sense. However, they are saving lives—mine included. If we can bring together the scale of funding and influence that large-scale institutions have with the community-based orientation and practice these arts organizations provide, we may yet live to see everyone in this city flourish.
I love Seattle and often turn to its literary scene as reprieve from a politics that dehumanizes those suffering the most. If literature and art are an effective antidote, we must attend to how so many artists have been pushed out of Seattle as the city's economy "soars." My family still might be. When our art spaces refuse to acknowledge or address this ever-growing loss, they become complicit in the marginalization of the very culture these spaces claim to cultivate. What's rendered invisible is not just the brilliant literature produced by a talented individual but the whole community that made that individual possible in the first place. And because of the way our economy is structured, our immigrant, BIPOC, queer and trans communities bear the brunt of our collective inaction. Of course, art cannot feed, clothe or house our neighbors, but it can and does improve the quality of our lives, which has a direct bearing to the kinds of change we wish to enact while living amongst each other. What if arts instructors devoted themselves to the same task? What if we lived the values of the art we make and champion? What a radically welcoming city we might become.
We need more activist politics in our art institutions. We need leaders willing to risk their power, those with the courage to align themselves with people and principles. Now is the time for such ambition. If there's hope to be found in our city, it is how we come together—hopefully led by our literary institutions—to be the bulwarks our people deserve.
__________________________________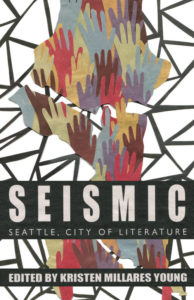 This essay appears in Seismic — Seattle, City of Literature, an essay collection edited by Kristen Millares Young to reflect on Seattle's designation as a UNESCO City of Literature. Used with permission of Seattle City of Literature.
---