Legendary character actor and straight-up delightful twitterer (seriously, if haven't spent any time on his feed, well, I truly don't know what you've been doing with your online life), Vincent D'Onofrio is releasing his first book—an irreverent hybrid work of poetry and prose entitled Mutha: Stuff + Things—and I for one am excited to step into his lyrical, labyrinthine mind.
Drink in the below Mutha cover art and book description and then look me in the eye and tell me you're not excited, too: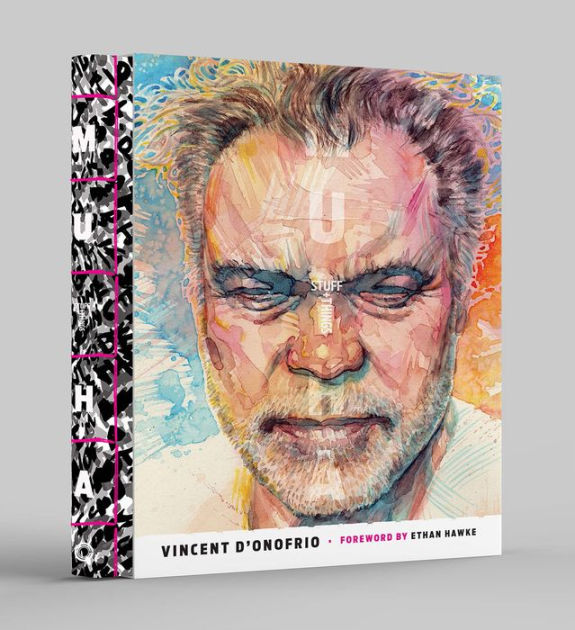 This is not a story woven around plot, characters, and contrivance. Rather, it is what acclaimed actor Vincent D'Onofrio's mind produces when on idle, when he is not thinking about servicing a story. His words are, in the purest sense, ideas that fall unexpectedly upon his head, "like an apple from a tree—dropping all at once," though less about gravity and Newton's apples, and more about levity. D'Onofrio's thoughts and images—presented here in all their uninhibited glory—are humorous, honest, abundant, raw, and unfiltered. And all exceedingly enjoyable.
Right? Plus, the book is chock-full of cool photographs and strange maxims, and there's even a forward from Vincent's longtime friend and collaborator, Ethan "the most bookish man in Hollywood" Hawke. What more could the world's myriad D'Onofrians (amongst whom I count myself) ask for?
For real though, if you invite my wife and I around to your house for awkward, post-COVID drinks, and I see this book on your coffee table, I'll know that we're all going to be fast friends . . .and maybe more. At a minimum, we'll end the night cuddled-up underneath the same weighted blanket, watching clips from Full Metal Jacket and Men in Black together.
Anyway, here's a video of D'Onofrio happily leafing through Mutha:
MUTHA
Stuff and Things.
Comes out- 4/20/21
Art by @davidmackkabuki
Photography by @vanderDonkCarin
Written by um…me.
Published by@ABRAMSbooks @cameronbooks
Pre-order @amazon pic.twitter.com/iTIPwIhT4E

— Vincent D'Onofrio (@vincentdonofrio) January 31, 2021
And here's a clip from Mystic Pizza, just 'cause: