Upcycling Won't Save of Us From Our Habits of Consumption
Larissa Zimberoff on Sustainability and Turning Waste into Edible Food
When I lived in Manhattan, I stored my compost inside my freezer. Jammed into old plastic bags you'd find frozen blocks of carrot peels, avocado pits, apple cores, and coffee grounds. I'd put off my trip to the Union Square farmers' market for as long as possible. When I ran out of room in my freezer, I'd weigh down my bicycle with massive totes, one bag in my front basket and the other two hanging from my handlebars.
On my wobbly ride to Union Square, I'd pray for a stream of green lights so I wouldn't have to stop my overloaded bike. Finally, after dumping the contents into gray trash cans manned by the Lower East Side Ecology Center, I'd allow the warm feeling of being an environmental do-gooder to swell.
Then I read journalist Amanda Little's book The Fate of Food (2019). In it I learned that my sense of virtuousness was misguided. Little interviews Darby Hoover, a waste researcher with the Natural Resources Defense Council (NRDC), an environmental advocacy group. According to Hoover, the entire category of food waste is "riddled with contradictions." Contradiction number one was that healthier diets are often the most wasteful—as evidenced by my constantly filled freezer. "Not generating waste is far better for the planet than recycling food scraps." There went my Girl Scout sustainability badge!
My interest in upcycled food probably came about because my other passion (compost) is completely uncool. Food waste is icky. It brings up feelings of guilt, reminding us of food that we spent good money on and failed to use. Upcycling in the food industry—the art of capturing still-nutritious waste from one process to create entirely new edible products—allows us to feel virtuous. I eagerly followed the category along, writing stories for the Wall Street Journal and New York Times about the people leading the efforts to capture waste streams. One of the first waste products to be magically turned into something else was oleomargarine, a name that was eventually shortened to just margarine.
Originally crafted out of beef fat for Emperor Napoleon III, it later became a way for US meatpacking plants to deal with their excess waste. By the early 19th century there were dozens of companies making this butter alternative. Before getting the do-good name of "upcycled," these foods were referred to as co-products or by-products. Whey, a leftover liquid from yogurt and cheesemaking, is a much more successful example of rescuing a waste. Tapped first in the 80s, whey was easy to digest and high in protein—it made sense as an animal feed, but it's worth much more for humans. Today, it's formulated into hundreds of meal-replacement bars, protein shakes, and keto crackers.
"Back then we didn't want to call it waste because people wouldn't want to eat it," said Tara McHugh, center director at the USDA's Western Regional Research Center, one of the department's four national centers (formerly called "utilization labs").
Today, people don't mind eating waste. In fact, it's becoming something of a moral imperative for manufacturers to convert surplus foods into value-added products. While some waste streams can go to animals, keeping food as food for humans is higher up on the EPA's food recovery hierarchy—a ranking system that shows what is the most beneficial for the environment, society, and the economy.
After decades of being ignored, food waste is officially top of mind.
At the USDA, McHugh works with companies to create new foods from agricultural waste, such as pomegranate peels and the pomace from winemaking. With large companies announcing their sustainability commitments, and more marketing dollars being spent to educate consumers, McHugh said that "it may be more clear to consumers" that what we're buying is beneficial for the environment. In a 2017 Drexel University study on the benefits of upcycling, researchers noted that "consumers forgo personal gains if they feel that purchasing pro-environmental products will contribute to the welfare of society."
Other research backs this up. At the annual Institute of Food Technologists meeting in Chicago in 2019, Mattson, a Bay Area company that helps clients develop new foods and beverages, released data showing that 39 percent of consumers aim to buy more food and beverages using upcycled ingredients. That number is expected to rise to 57 percent in 2020. ReFED, a Bay Area nonprofit that uses data to lobby and organize companies around food waste, counts at least 70 US companies transforming wasted food into new products. The Upcycled Food Association—yes, there is an actual organization—supports industry growth along with setting guidelines for what can be considered upcycled, and counts north of 90 companies globally as members.
Even during widespread COVID-19 shelter-in-place orders, consumers ranked sustainability high. According to a study of 2,000 adults by Genomatica, 86 percent of respondents polled said that they would continue to consider the importance of sustainability even after the pandemic subsides. Additionally, 37 percent of Americans are willing to pay a little more for sustainable products, even during an economic downturn. Across age groups, Gen Z is the most willing, at 43 percent.
While we appear to be getting more virtuous in our shopping habits, it's worth taking a moment to roll back the film. Once again we can look to a post–Second World War America and our advances in chemical inputs as the watershed moment. When factories stopped producing wartime ammunition they opened the door to a new industrial food system spurred on by synthetic fertilizers and large-scale production.
After the lean wartime years, and the growing middle class, came a matching reflection of plenty on our grocery shelves. The list of "advancements" from this time is long. A few: frozen convenience foods, plastic-based packaging, easy access to refrigeration, economies of scale, and governmental subsidies to large-scale agriculture. All of these fostered the growth of industrial food, which then resulted in industrial-scale waste.
Reducing food waste isn't as simple as tossing a few carrot peels into a chicken stock. As a culture we've spent decades buying perfectly round, blemish-free apples and carrots without wonky bumps. Outside of a few pandemic surprises—runs on toilet paper and hand sanitizer—we expect to see our supermarket shelves laden with goods. But peek in the trash bins behind the store and you'll find all of this edible, nutritious food in the trash because it's less than perfect: dairy products with a best-by date past its prime, day-old baked goods, brown bananas, and overripe berries.
After decades of being ignored, food waste is officially top of mind. Innovative chefs created pop-up restaurants themed around "wasted food," one-off ticketed events were organized around showcasing food supply inefficiencies, and for-profit companies were created by do-gooders eager to utilize hidden elements of our food system. In its trend report for 2021, Whole Foods noted "a huge rise in packaged products that use neglected and underused parts of an ingredient as a path to reducing food waste."
Terminology varies for this tossed treasure. "Wasted food" is what the NRDC calls it in an effort to "signal a shift in thinking by indicating that it's good food, not trash." I prefer the term "lost food," used at Expo West by Walter Robb, former co-CEO of Whole Foods. An upside of this term is that it shifts the implied blame in the word "waste" to the more empathetic word "lost." Lost means we can find it again. It can be rescued and reinvented.
Industrial symbiosis, the technical name for this field, is indeed good for the planet, but it doesn't address our tendency toward over-consumption, and food manufacturers' predilection to support and urge it on. It doesn't lessen the inequality in our pantries: those of us with a year's supply of snacks in our cupboards and others with barely enough to get through the day or week. Whether products made from upcycled ingredients are healthy, or whether they perpetuate an American diet reliant on snack foods—and our hardwired brain chemistry that can't resist crunchy, salty, and fatty—remains to be seen.
__________________________________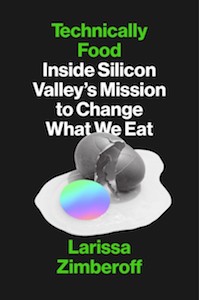 Excerpted from Technically Food: Inside Silicon Valley's Mission to Change What We Eat. Used with the permission of the publisher, Abrams Press, an imprint of ABRAMS. Copyright © 2021 by Larissa Zimberoff.
---