Turning a Book Into a Movie is Like Making Booze
Terry George on the Distillation Process Behind In the Name of the Father
I first met Jim [Sheridan] at a play called A Couple of Blaguards by Frank and Malachy McCourt. The play later evolved into Angela's Ashes. Jim said he ran a theater, the Irish Arts Center in New York—which was, and still is, a tiny space on 51st Street and 11th Avenue—and I said I had written a play about an escapee from an Irish prison. So I took my play to Jim, and when I walked into the Irish Arts Center, Sheridan was painting the floor of the stage black, but he was painting it backward into the corner. When he saw me, he said, "Oh!" and he had to walk across the paint, tracking paint all across the floor.
He took the play, directed it, and ended up having to play the second lead because the original actor playing the second lead decided it wasn't worth the train fare from Connecticut to come down and do this play. At the end of the six-month run, Jim said to me, "I'm going off to Dublin to write and direct a film about Christy Brown." I knew who Christy Brown was, and I said, "Oh yeah, a drunken Irishman with cerebral palsy, that's going to be a fucking great hit in America," and that turned out to be My Left Foot.
At that time, the Guildford Four prisoner Gerry Conlon had just been released, having served 15 years, and he had written a book called Proved Innocent. Gabriel Byrne had the rights to the book, and he contacted me about writing a bible on the screenplay. I took that bible to Jim, and that became the basis of the script. We talked through the story and scribbled out scenes for about six months, and then we crashed a draft out over three weeks at the Chateau Marmont in LA. Jim already had Daniel Day-Lewis on board when he turned it in to Universal, where he had a development deal. They thought it was better suited for October Films. I remember it was the last week of September 1992. That Friday, Last of the Mohicans opened, and on Monday, Universal came back and said they had changed their minds; now they wanted to do it.
I equate when you make a movie, particularly a biopic or the adaptation of a book, to the process of making brandy. It's all about distilling, finding the essence of what the story is, and boiling it down to those two or so hours of screen time. The process often compels you to meld and compress. In order to do that with In the Name of the Father, we took certain creative license. He and his father were never actually in the same cell together, but they were in cells next to each other, for instance. Daniel never attempted a particularly close resemblance to Gerry Conlon, but instead went for the spirit and the resilience of the man. You're trying to capture the sense of the person. It was the same with Hotel Rwanda and how Don Cheadle played its hero, Paul Rusesabagina. You try to embody the person as you're writing the dialogue and, at the same time, tell a broad sweeping story.
When In the Name of the Father was released, it was hugely controversial in Britain and considered a pro-IRA film, a pro-terrorist film, by many in the press. Jim Sheridan and I were denounced for making a propaganda film. I remember sitting with Jim Sheridan in his home in Dublin one afternoon, and the phone rang. It was a reporter from the Daily Telegraph, which is a conservative paper in Britain, and they were interviewing him for a piece. Jim tends to philosophize a lot, and I knew the Telegraph would have no interest in printing what he really had to say. In the middle of the conversation I hear him say, "We've told a story that's actually greater than the truth; it's the essence of the truth." I thought, "We're fucked now," and sure enough, the shit hit the fan. A politician mounted a campaign in Parliament and the courts to have us sued because we had said, "This Is a True Story," on a poster. Our lawyers demanded we change that to "Based on a True Story." It transpired that two of the main contentions against the "truth" of our film were Giuseppe Conlon wasn't in the same cell as Gerry Conlon and that in the British legal system, lawyers don't speak in court and barristers don't "approach the bench." The real truth is that ten years after the film came out, the British prime minister Tony Blair made a personal apology on behalf of the British people to Gerry Conlon and the other victims for what they had suffered.
It's 20 years now since we made the film, but I think it's a cautionary tale of what happens when a country goes into a frenzy of fear about real or perceived threats. When that happens, the law of the land starts to get bent and people are scapegoated. Clearly, we are caught up in that cycle of fear right now. I think there are a lot of Gerry Conlons—innocent patsies or naïve and foolish people who will be locked away for most of their lives because of a collective knee-jerk reaction to the stresses of these violent times. That's basically what happened with the In the Name of the Father story. It's a cautionary tale. It's timely about where we are today, as well.
Jim Sheridan made a conscious decision to start the film with a re-creation of the IRA explosion at a pub in Guildford that killed five people and injured dozens. The audience needed to understand the horror of that event. We then contrasted that event with the scene of Conlon and two other petty thieves stealing lead off a roof in Belfast. At the time of the bombing there was a particularly ruthless IRA unit operating in Britain who were, in fact, responsible for Guildford and who managed to evade capture for months, despite being pursued by all the security forces. I suppose we felt, how could these twits, these idiots, do this thing?
I'd actually met Gerry Conlon in Southampton, perhaps a month before the Guildford explosion. There were IRA bombs going off all around England at that time. I was working in construction, and I was in a nightclub having a drink with another Irishman when we heard this drunken Belfast accent saying, "I'll kill you. I'll get the IRA to shoot you." This was not the thing to say in an English pub. So we grabbed the loudmouth drunk and led him out of the club. It turned out to be Gerry Conlon. We told him to shut his mouth and go home before he got us all beaten up. Two months later, I was back in Belfast and read that Conlon had been arrested for the bombing. I knew instinctively that he was innocent, but there were similar cases happening in Belfast frequently. Then I read how his father had also been jailed and subsequently found guilty. It was a particularly sad example of the framing of innocent people in order to satisfy a public hungry for revenge.
Sheridan and I did three films on the Irish Troubles together. We did In the Name of the Father, which catalogued the first years from 1969 to the mid 70s. That early period was a time of street riots, gun battles, and army occupation. The second film we did together was Some Mother's Son, which I directed and Jim and I wrote together. The war had settled into a period of stalemate and vicious bombing, assassinations, and death squads. It culminated in the IRA hunger strikes of 1981. Some Mother's Son was mainly about the tragic choices forced upon the mothers of the hunger strikers. The third was The Boxer, which was set around the tensions leading up to the IRA ceasefires and the peace process. It was a trilogy that we hoped would catalogue and celebrate the sufferings and triumphs of ordinary people during those years.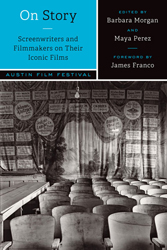 From On Story: Screenwriters and Filmmakers on their Iconic Films, ed. Barbara Morgan and Maya Perez. Used with permission of University of Texas Press. Copyright © 2016 by Austin Film Festival, Inc.
---