Trumpism: The Movement That Will Outlast Its Leader
Cynthia Tucker on the Future of the Far Right in America
Dedicated to data, I believed the polls. So on Tuesday evening, November 3, I awaited the Blue Wave, the clear repudiation of Trumpism, the cleansing of a civic fabric sullied by a corrupt and incompetent narcissist. I didn't think there was any such thing as a "shy" Trump voter. There didn't seem to be any such species here in south Alabama, where I live. My neighborhood was dotted with Trump-Pence signs; a few huge Trump flags hung from second-story balconies or front porches. One Black man I talked to—a working-class employee of a defense contractor—said he might support Trump. He had bought into the widespread belief that Republicans are more favorable to military spending. Shy Trump voters? Hardly.
Alas, I was so, so wrong—wrong about the polls, wrong about Trumpism, wrong about my country. I didn't start drinking until Wednesday evening, as Senate races were called for Republican incumbents and the Blue Wave receded to mirage. Trump won GOP strongholds such as Texas easily, with help from Mexican-American voters along the Rio Grande. Florida went red as Cuban-American voters helped to oust a Democratic congresswoman, Donna Shalala, whose Republican opponent, former television journalist Maria Elvira Salazar, had campaigned against "socialism." I poured another glass of wine. The presidential contest was too close to call.
I woke up on Thursday attempting to come to grips with the grim reality that nearly half the country wanted to give President Donald J. Trump another four years in office. Whatever excuses they may have had in 2016, whatever assumptions they may have made about the sort of leader he would be, they couldn't use that as cover. They knew exactly what sort of leader he would be, and they wanted four more years of just that. Trump received millions more votes in 2020 than in 2016.
So this is where we are: Trump relied not on dog whistles to express his bigotry but a foghorn, campaigning as the heir to George Wallace, yet half the country wanted him back. Trump was defeated, but Trumpism was not. I am stunned. I am dismayed. I am embittered. I am having difficulty trying to muster a kernel of the optimism that animated the late, great John Lewis, whom I covered as a reporter and who represented me in Congress when I lived for several years in Atlanta. He famously endured so much more than I could imagine, starting with his impoverished childhood under the cruel lash of Jim Crow, but he never gave up on America. He believed in the "beloved community." He lived by the quote adapted by the Reverend Dr. Martin Luther King Jr.: "the arc of the moral universe is long, but it bends toward justice."
Living in a bubble of misinformation, lies and unfathomable conspiracy theories, many Trumpists have turned their backs on reason, evidence and facts.
He and I were both ecstatic when Barack Obama was elected the first Black president of the United States, although neither of us believed it represented a "post-racial" America. I thought Obama's election represented several steps forward on the continuing journey toward a more perfect union, toward a nation that finally lives up to its creed.
A month after that historic election, my adopted newborn came into the world. I was giddy with excitement (and lack of sleep). Keeping a diary during her first months of life, I wrote about watching the inaugural festivities all day on January 20, 2009. She would see a Black president and his lovely family as normalcy. I concluded with these words to my baby girl: "I want nothing but the best for you, and I'm just thrilled that you're going to grow up in a nation that is a much better place for little Black girls than it was just a few short years ago."
Fast forward a little more than a decade, and I've lost that sense of confidence in my country. Other pundits and analysts have pointed repeatedly to former Vice President Joe Biden's victory, which not only saves the nation from a four-year descent into autocracy and kleptocracy but also brings California Senator Kamala Harris into the White House as vice president. She is the nation's first female vice president. She is also a woman of African and South Asian descent. Little girls around the country, especially little girls of color, have already noticed, dressing like Harris in pantsuits and Chuck Taylor sneakers. Yes, her ascent is a very big deal.
But. But. But. As a Black woman raising a Black daughter, I cannot get past a few inconvenient but inescapable facts about my fellow citizens. Approximately 57 percent of white people voted for Trump. So, no matter how much my Trump-loving white neighbors smile and wave, I know they stand against full equality for my child and me. They have applauded a racist, saluted a corrupt autocrat, supported a pathological liar, approved an incompetent, extolled a misogynist.
Nothing that I was taught in high school civics mattered to half the nation—not fealty to the U.S. Constitution, not honesty and transparency in government, not honoring the men and women who gave their lives on the battlefield, not standing up to dictators abroad and domestic terrorists at home. All that mattered was keeping their standard-bearer, their white knight, valiantly fighting the culture wars on their behalf.
Meanwhile, Republican leaders in Congress—men and women who keep repeating their undying fealty to the U.S. Constitution—stood by as the White House and government institutions were taken over by Trumpism, doing whatever it took to remain in power. They said precious little as Trump repeatedly insisted that the election was being stolen from him. Those GOP leaders apparently don't believe anything I learned in high school civics, either.
As happened in 2016, some analysts are still laboring mightily to see economic anxiety as a major reason for Trump's popularity. They labor in vain. Trump's tenure coincided with historic lows in unemployment—3.5 percent in December 2019, before the pandemic—but he inherited good fortune from his predecessor. Obama and his vice president, Biden, fought off the Great Recession, in which unemployment reached highs that hovered around 10 percent, and brought it down to 4.7 percent by December 2016. Meanwhile, Trump's trade wars did as much harm as good to manufacturing jobs, especially in the Rust Belt. Besides, Black voters, whose net worth is far less than white voters, went overwhelmingly for Biden.
Let's be clear-eyed: Racism is the cornerstone of Trumpism, as central to America's civic fabric as it was at the nation's founding. I saw this coming during Obama's tenure, when the Tea Party burst onto the scene claiming a mantra of fiscal conservatism and government restraint. That was never the central concern of its members (who since then have shown no interest in either government or fiscal restraint). Their political banners were steeped in racist imagery, picturing Obama as a witch doctor, among other disparaging symbols.
First Lady Michelle Obama, an accomplished and attractive woman, was subjected to any number of racist memes, some featuring monkeys and baboons. And when the Affordable Care Act passed, Lewis and other Black members of Congress received emails and letters denouncing the ACA in explicitly racist terms.
Political scientists, too, began to see in the backlash to the nation's first Black president—or the "whitelash," as some clever pundits have called it—the racism which fomented it. One group of researchers tested opposition to the ACA to parse racial resentment. When it was described as an idea proposed by former President Bill Clinton, whites in the survey overwhelmingly supported it. When the same proposal was described as Obama's idea, white opposition climbed.
However, racism, while a major factor in Trump's appeal, doesn't explain it entirely. Trumpism is a combustible and dangerous mix of cultural resentments, a rage against modernity. William F. Buckley, founding editor of the National Review, once famously declared: "A conservative is someone who stands athwart history, yelling Stop." Trumpism is a movement whose followers are addressing modernity with a primal scream.
Trumpists are unhappy with the 21st century, which has brought not only the first Black president but also the first female vice president, who is, not coincidentally, a woman of color. That has forced them to confront the demographic wave that threatens their cultural hegemony, that will downgrade the significance of whiteness. The 21st century has also brought gay marriage, challenges to police violence and a vocal transgender community demanding equality.
When Trumpists watch television, they see gay couples advertising home insurance, biracial children in cereal commercials and Black couples advertising new cars. In the grocery store, they see magazine covers featuring dark-skinned women such as Viola Davis and Lupita Nyong'o. They see Oprah everywhere.
They claim their political choices are driven largely by a passionate opposition to abortion, but I have my doubts. If they are so devoted to children in the womb, why does that concern for poor Black and brown children stop as soon as they exit the vaginal canal? Their patriarchal, white-nationalist churches preach a theology that opposes allowing women to own their bodies and their choices. Trumpism thrives in those churches.
Trumpism is an affront to logic, to facts, to a nation of laws.
For all the dangers of the racism and sexism that animate Trumpism, those antediluvian views may not represent the greatest threat to democracy. Living in a bubble of misinformation, lies and unfathomable conspiracy theories, many Trumpists have turned their backs on reason, evidence and facts. No democracy can survive if half its citizens reject the foundations of the Enlightenment, as the Founding Fathers well knew. For all their failings, they believed in reason, in empiricism, in science. Half of this country gave their votes to a man who rejected all those things, repeatedly, publicly, enthusiastically.
In Georgia, Republican voters in a conservative district north of Atlanta just elected to Congress Marjorie Taylor Greene, an ardent promoter of a web of conspiracy theories called QAnon. At the heart of that morass of unfathomable beliefs is the idea that Trump has been secretly doing battle against a worldwide cabal of pedophiles, led by Hollywood elites and Hillary Clinton. (Hillary-hate is a weird beast in its own right.) QAnon has significant support in Trumpist precincts. How can that be?
Even as I think of John Lewis, who gave so much to this nation, I find it difficult to imagine continuing the fight for full equality, for progress, for highly touted American ideals. What to do in the face of this madness? The rise of Donald Trump was not like the rise of Ronald Reagan, whose electoral victories left me depressed, or the rise of George W. Bush, whose disputed 2000 election left me angry. Trumpism is an affront to logic, to facts, to a nation of laws.
How do we move forward together when half of us are ready to follow a man who ignored the deaths of more than 200,000 Americans from COVID-19 and wanted to fire the public health experts who tried to tell him how to curb those deaths? How do we move forward when half the country embraced a man who repeatedly told lies that were easily refuted? How do we move forward together when so many Americans believe in wild conspiracy theories?
Joe Biden and Kamala Harris may have won the election, but the nation has lost something incalculable. Our fragile democracy is battered after this assault on its founding principles—an assault carried out not by one man named Trump but by the millions who supported him.
__________________________________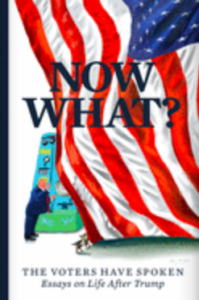 From Now What?: The Voters Have Spoken―Essays on Life After Trump. Used with the permission of Wellstone Books.
---