Tom Perrotta on How to Keep a Story's Momentum Going
And the Beauty of a Clear Time Frame
This piece first appeared in Lit Hub's The Craft of Writing newsletter—sign up here.
A long time ago, when I was fresh out of creative writing grad school, I came up with an idea for a novel that I hoped would launch my career: a tight-knit working-class family wins the lottery and proceeds to fall apart. Like many first novels, it was a failure. I have an envelope in a box somewhere with the 40-something rejections Lucky Winners accrued from an impressive variety of publishers, large and small (there were a lot more places to submit to back then).
Some of the rejections were casual and impersonal — This one didn't grab me; Not what we're looking for right now, etc. — but others were deeply ambivalent, almost pained, and they all said pretty much the same thing: I loved the first half, but the book wore out its welcome.
The sad thing was, I knew these disappointed editors were right, because their experience mirrored my own. I'd loved working on the opening chapters of the book — the family wins the lottery! — but found myself struggling as I reached the middle — the family falls apart. I could feel the narrative energy leaking away as the characters spun off into their separate orbits. As hard as I tried, I couldn't figure out a way to counteract the centrifugal force of my premise, which meant that I didn't know how or where to end the book. It could have just gone on forever, like a wobbly top that won't fall down.
It takes a while for a first novel to get rejected by 40 different editors. In my case, the process dragged out for well over a year, long enough for me to go through all the stages of writerly grief — rage, humiliation, insomnia, profound self-doubt, a sudden passion for rollerblading — and finally emerge on the other side, wounded but determined, ready to embark on novel number two.
I promised myself I wouldn't make the same mistake twice. I was determined to write something short and tight, a narrative that gathered energy as it went along, and propelled the reader to an exciting conclusion. I didn't want anyone — especially me! — to be able to say they'd gotten bored in the middle, or had put the book down and forgotten to pick it back up again.
The novel that emerged from this vow was Election, the story of three teenagers — one of them is Tracy Flick, the character later immortalized by Reese Witherspoon — vying to become President of Winwood High School, and the morally compromised teacher who's advising them. It turned out to be half the length of Lucky Winners and took me less than a year to write.
Unlike its predecessor, Election came equipped with a built-in time frame, a central narrative question, and a clear endpoint. It started on the day the candidates submit their nominating petitions, and proceeded from there. They choose their campaign teams and strategies, make their speeches, engage in some low-level skullduggery, and so on, all the way to the disputed vote count and the announcement of the winner. Throughout the entire process, I never had to ask myself where I was going or what I should focus on, even though I was juggling four main characters and six narrators. If I felt lost, I just had to ask myself: What happens next with the election?
I've done my best to situate my novels within a clearly defined time frame.
It was a much more enjoyable writing experience for me — I felt confident and purposeful, no longer beset by doubts and second guesses — and you could sense it on the page. In some ways, the book wasn't a huge departure — it had a similar comic tone to Lucky Winners, and a familiar focus on the emotional lives ofsmall town suburban characters — but it possessed a few qualities that had been sorely lacking in my previous work: suspense, a fast pace, a clear narrative destination. These things made all the difference.
Despite the pleasure I got from writing it, Election wasn't an instant success. It spent several years in my desk drawer before finding a home — that's a story for another day — but at least I learned my lesson. Ever since then, I've done my best to situate my novels within a clearly defined time frame. The Wishbones begins with an engagement and ends on the day of the wedding. Little Children takes place during a single summer. The narrative action of The Leftovers roughly follows the nine months of a pregnancy. In my new novel, Tracy Flick Can't Win — yes, Tracy's back after all these years, middle-aged now, but still campaigning hard for the top job — the story takes place in the months leading up to a high school Hall of Fame induction ceremony. In all these cases, the endpoint — though not the ending itself — is built into the structure of the novel.
The time frame anchors the narrative and defines the field of play. Anything can happen in that space, and I'm happy to let my characters range freely within its confines, surprising me in any way they can. I don't mind that kind of uncertainty; at least I know that we're not lost in the void, drifting through one ofthose endless, exhausting stories that keeps expanding like the universe, losing shape and energy as it grows.
__________________________________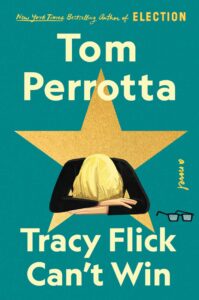 Tracy Flick Can't Win by Tom Perrotta is available via Scribner.
---