Time Is Water: On the Past, Present, and Looming Future of Venice
The Newly Released Fifth Siren Podcast Recommends Books About the Iconic Italian City
Venice is a city of contradictions and water is its most controversial element. Josef Brodsky argued that "time is water, and the Venetians conquered both by building a city on water, and framed time with their canals. Or tamed time. Or fenced it in. Or caged it." Some would say time simply stops in Venice. But now water is now reclaiming its land.
While some look at Venice as a "museum city," a place outside of space and time, this fails to recognize where the city really sits right today, which is at the nexus of many global crises including the climate crisis.  The "acqua alta" (the phenomenon when Venice is temporarily flooded by the Adriatic Sea's rising tides) when it hit Venice on the 12th of November 2019, it came with unprecedented force. There are four sirens warning citizens of the rising level of water into the city; the fourth is sounded when it reaches 140cm. This flood surpassed all expectations, reaching 187cm.
The newly released podcast The Fifth Siren—a five-part series written and produced by the creators of the Festival of Italian Literature in London with the support of ICI London and Banor—explores Venice's past, present, and future, discussing timely issues that need the attention not only of local but of international communities too. The podcast asks, what happens when things surpass our very notion of catastrophe? How can we navigate these new crises, when we are totally unprepared?
Each episode is comprised of experts, scholars, and citizens, but it is also born out of reading books.
*
Episode 1.
WATER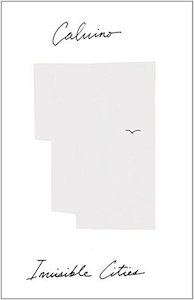 Italo Calvino, Invisible Cities
Venice, in its immense beauty and in its fragility, is nothing more than a metaphor for what is happening everywhere on our planet. Venice is a city that is present even when it is not mentioned, when it is absent from the text.
Invisible Cities was published in 1972. Today, it is still one of the most widely read Italian novels abroad. Here we encounter Marco Polo who, in the presence of the emperor Kublai Khan, describes the cities he has visited during his travels. Marco Polo describes 55 fictitious cities, dividing them into various categories such as cities of memory, and of desire, continuous cities, trading cities and hidden cities; cities and the sky, the names, the dead…
Each of them is like a living organism; it has a name and behaves differently from all the others. Citizens have their own customs and traditions, even their own language. These 55 cities are sad and joyful, beautiful and dark. In a way, they all remind us of the multiple faces of Venice. The city that cannot be pinned down.
At the end of his journey, the Khan summons Marco Polo to ask him why he described all the cities but Venice, the city where is from. In Polo's slightly enigmatic answer there's everything people should know about Venice: "Every time I describe a city I am saying something about Venice."
*
Episode 2.
VENICELAND
Salvatore Settis, If Venice Dies
Although tourism is something that brings undeniable wealth to Venice, it is also, slowly, responsible for emptying it of its soul and its citizens. The population, now around 50,000, has never been this low since the plague in the Dark Ages. In If Venice Dies, art historian Salvatore Settis produces a detailed and touching reflection on the risk Venice is running of disappearing if it loses its specific local culture, traditions, and identity before it is sunk by ecological disasters.
Salvatore Settis is one of Italy's most respected writers and art critics. His analysis of the present and future of Venice is something of rare sharpness, albeit coming clearly from a place of loss and longing. Settis reflects on the commodification of Venice and the way in which consumer culture and mindless urban expansion are slowly chipping away at the city's soul, transforming it into a playground for tourists. Although Venice is threatened by rising waters, according to Settis it won't be an ecological disaster to determine the death of the city. On the contrary, if we don't do something soon, local traditions and specific culture will be completely eroded, citizens will leave, and at that point, there won't be any Venice to mourn.
*
Episode 3.
BALANCE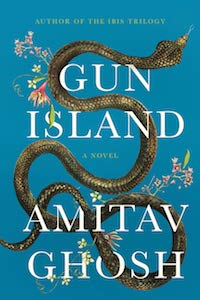 Amitav Ghosh, Gun Island
Exploring Venice's environmental history reveals how much the city has changed and transformed to cope with its surroundings. The balance is delicate, and yet it's in constant evolution. We are taught to think that a city built near water is a sign of wealth, explains Amitav Ghosh in The Great Derangement, yet any of the cities which were built too close to it, such as Venice and Kolkata, are those most threatened by global warming.
Ghosh's novel Gun Island portrays a story of migration, discovery, and climate breakdown. The protagonist, Deen (Dinatah) is a rare book dealer of Indian descent, who finds himself having to track down a young boy who's ran away from his home in Kolkata. To spark the journey which will take Deen from Kolkata (now threatened by industrial expansion) through Los Angeles (destroyed by forest fires) to eventually Venice (slowly sinking) is an old Bengali legend—the tale of a merchant fated to travel the world seeking a safe haven from the goddess of snakes, Manasa Devi. When he is finally approaching Venice from a plane, Deen notices that the lagoon doesn't look too different from the Indian sundarbans (a cluster of low-lying islands in the Bay of Bengal famous for its unique mangrove forests). Unsurprisingly, Kolkata and Venice share a lot more than one would think.
"One of the languages one hear the most in Venice is Bengali," says Ghosh, these are the men working in markets, restaurants and even those playing the accordion on the streets. And in fact most of them have been pressured out of India, for the very reason that now threatens the city they chose to migrate to: a climate emergency. The novel's journey draws similarities (both geographical and cultural) and connects places seemingly far, far away such as Venice and Kolkata. It makes us look at how global warming is not just someone's problem, but a universal condition. By speaking of Venice in The Fifth Siren, we hope to instigate a dialogue on all the other places around the world which are suffering under the pressure of climate breakdown.
*
Episode 4.
MEMORY
Joseph Brodsky, Watermark
Venice is obsessed with recording not only its own past but stories from the whole world. Some of which lie protected in Venice's archives. Yet they offer only a partial recollection of the city's (and the world's) past. Much of this history is inscribed in the city's own fabric: one only needs to walk through the city, to experience it, to "feel" those cultural and environmental shifts, to feel that Venice, albeit unique, is connected to a wider network of people, citizens, and cities suffering a similar fate.
Watermark, an essay on Venice, by Joseph Brodsky is a declaration of the writer's sense of belonging to a city that he deeply loved. For many years, Brodsky spent his winter breaks in Venice, "not for romantic purposes but to work, to finish a piece, to translate, to write a couple of poems, provided I could be that lucky; simply do be." By talking about everyday life in Venice, about food, people, about getting lost in its foggy streets, or by describing the quality of the winter sunset light on its waterways and on its magnificent buildings, the author comes to terms with beauty and time. For the Russian writer, water and beauty are the elements which endow Venice with eternity. "We go and beauty stays," he says. Watermark is a book by the Nobel-prize-winning poet at his best who tries to evocate the esthetical power of this unique city.
*
Episode 5.
EVOLUTION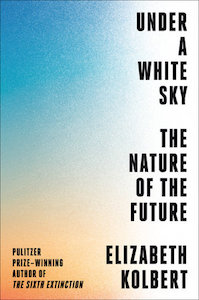 Elizabeth Kolbert, Under a White Sky
Venice, the result of centuries of interaction between men and nature, offers the opportunity to imagine a future where technology is used to work with instead of against nature.
Elizabeth Kolbert's Under a White Sky explores our evolving relationship to nature through a series of journalist reports. From the carp invasion of The Great Lakes to the introduction of the toad in the Australian ecosystem, human intervention has shaped nature for centuries. We are now coming to terms with the fact that humans might be the ultimate gatekeeper of the support system that nurtures us.
"If we are Gods, we better become good at it." Kolbert's predicament is to embrace our acquired technological capabilities and purposefully use them to restore ecosystems and adapt to the future consequences of global warming. Her perspective is that nature is no longer a long-lost paradise to restore, but a new space to redefine within a wide societal effort. Given the emergency that we are facing, it is a conversation worth pursuing.
*
About The Fifth Siren Podcast: When the high tide reaches Venice, four sirens are sounded to warn the population of the incoming danger. Each one of them represents a growing level of emergency, the level of the rising water. Yet there is no sound after the last siren. In 2019, when the storm hit the city, nothing could have prepared Venetians for the level of destruction it was going to bring. This is how The Fifth Siren was born. Venice becomes the nexus where many global crises come together—environmental, cultural, social, technological. We aim to alert and explore what is beyond it: the many challenges we have to confront when facing an unknown future.
---