Three Poems From Malika's Poetry Kitchen
Jacob Sam-La Rose, Ugochi Nwaogwugwu, and Peter Kahn
For the Young Men Popping Wheelies on Southwark Street in Late Afternoon Traffic
Jacob Sam-La Rose
One day, you will die.
But not today. And perhaps
you have already tasted it,
whatever endings taste of –
a mouth full of road and iron,
the weight of something implacable
you couldn't lift yourself from under.
Not today. Today you are brazen,
quick as a blade, wheels
up, and threading into an HGV's path
and out again, uproarious, alive
and testing whatever binds the rest of us
to good sense,
whatever weights another driver's fist
with righteousness and ties us
to our quaint and tidy appetites
and has us hook our eyes
to pull you down and safe and anchored
to the meek and common ground.
Today, everything lifts from you,
like the ringing of a bell in clean air.
Like smoke.
Jacob Sam-La Rose is a poet, educator, editor and creative technologist. He has performed and delivered programmes for poets across Europe, the US, Southern Africa and Southeast Asia. He has produced work on commission for the National Gallery, De Balie (Amsterdam), NitroBEAT and other institutions and cultural organizations. His collection Breaking Silence is studied at A-Level. His poetry has been translated into Portuguese, Latvian, French and Dutch.
*
SiStar
Ugochi Nwaogwugwu
African
women hold up half the sky with
one hand on their hip
Ike Poem Form
Created by Ugochi Nwaogwugwu
In honour of #NationalPoetryMonth and in celebration of #BlackLivesMatter, I have created a poetry form called Ike (pronounced ē'kā). The Ike poem was born on April 24, 2015. Ike is an Igbo word that means "power." An Ike resembles a haiku, but there is one major difference: it is a Pan-African poem of sixteen syllables. The first line is three syllables, one syllable for every letter in the word red; the second line is eight syllables for black and, and the third line is five syllables, for green. An Ike should invoke images inspired by Black life, freedom, redemption and power. If you choose to write an Ike poem, use the hashtag #ikepoem and let's recreate the impressions and images of Blackness for the betterment of Black life and the global Black experience.
Ugochi Nwaogwugwu is a multidisciplinary creative who lives in Chicago and works in the world. A child of Nigeria, West Africa, her global sound and words pay homage to her homeland. Ugochi is an international singer, songwriter, poet, performer, educator and activist. Her personal, distinctive style expresses the vibrant spirit and atmosphere of the Igbo culture worldwide. Ugochi has written, performed and executive-produced three albums, African Buttafly, ASE/Afro Soul Ensemble and Love Shot on her independent label Spirit Speaks, Inc. Her poems have been featured in the anthologies A Storm Between Fingers (UK) and The Golden Shovel Anthology (USA). Ugochi is a member of the AACM and the Recording Academy.
*
Home Again
Peter Kahn
In the red phone box across the street
from the Royal National Hotel (which
I just walked by yesterday – thirty years later)
I plink coins into a hungry mouth while tears
bump and grind in my eyes as I tell Dad,
I can't do this. I want to come home.
He's in Ohio and I'm three days into
a semester abroad in London that I'm
begging to make four days abroad and back
to Boston where my junior year of college parades
forward without me. My pocket was stuffed with
pounds but I reach in and only three still reside there.
Dad says, Give it another week and we can
figure it out then. I'm coinless and only get
out the O in OK before Dad is just a rude tone.
A week stammers by and then thirteen years
later I live here for two years. Then every
summer. Then again for a year six years ago
so that London is where Mom says, Enjoy
your time back home.
A high school teacher based in Chicago, Peter Kahn runs the largest school-based Spoken Word Club in the world. He has twice been a commended poet in the Poetry Society's National Poetry Competition. He co-founded the London Teenage Poetry Slam and, as a Visiting Fellow at Goldsmiths, founded the Spoken Word Education Training Programme. Peter earned an MFA in Creative Writing from Fairfield University. Along with Patricia Smith and Ravi Shankar, Peter coedited The Golden Shovel Anthology: New Poems Honoring Gwendolyn Brooks. His first collection, Little Kings, was published by Nine Arches Press in June 2020.
__________________________________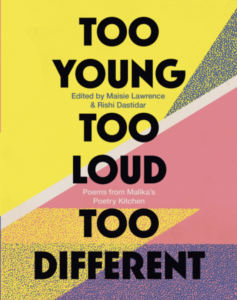 From Too Young, Too Loud, Too Different: Poems from Malika's Kitchen edited by Maisie Lawrence and Rishi Dastaidarm published by Corsair, an imprint of Little, Brown Book Group Ltd. Traffic © Jacob Sam-La Rose, 2021. Home Again © Peter Kahn, 2021. SiStar © Ugochi Nwaogwugwu, 2021.
---