This Week on Reading Women: Most Anticipated Books of 2019
Part One of Kendra Winchester and Autumn Privett's 2019 Reading List
Reading Women is a weekly podcast where women discuss books by or about women. Each month features two episodes on the same theme—one highlighting a range of titles and one discussing two titles more in depth—and two author interviews with talented women writers.
On this week's episode, Kendra and Autumn discuss some of the books they're most looking forward to reading in 2019. Listen below:
The full list of books featured on this episode follows: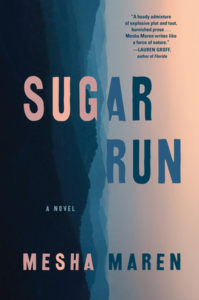 Sugar Run by Mesha Maren
Algonquin Books, January 8
Set within the charged insularity of rural West Virginia, Mesha Maren's Sugar Run is a searing and gritty debut about making a break for another life, the use and treachery of makeshift families, and how, no matter the distance we think we've traveled from the mistakes we've made, too often we find ourselves standing in precisely the place we began.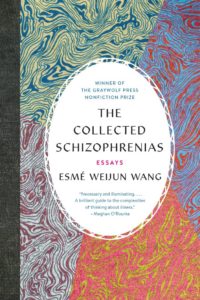 The Collected Schizophrenias by Esmé Weijun Wang
Graywolf Press, February 5
An intimate, moving book written with the immediacy and directness of one who still struggles with the effects of mental and chronic illness, The Collected Schizophrenias cuts right to the core. Schizophrenia is not a single unifying diagnosis, and Esmé Weijun Wang writes not just to her fellow members of the "collected schizophrenias" but to those who wish to understand it as well. Opening with the journey toward her diagnosis of schizoaffective disorder, Wang discusses the medical community's own disagreement about labels and procedures for diagnosing those with mental illness, and then follows an arc that examines the manifestations of schizophrenia in her life.
In essays that range from using fashion to present as high-functioning to the depths of a rare form of psychosis, and from the failures of the higher education system and the dangers of institutionalization to the complexity of compounding factors such as PTSD and Lyme disease, Wang's analytical eye, honed as a former lab researcher at Stanford, allows her to balance research with personal narrative. An essay collection of undeniable power, The Collected Schizophrenias dispels misconceptions and provides insight into a condition long misunderstood.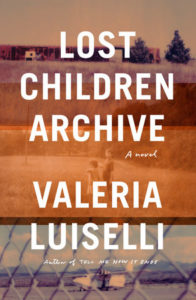 Lost Children Archive by Valeria Luiselli
Knopf, February 12
From the two-time NBCC Finalist, an emotionally resonant, fiercely imaginative new novel about a family whose road trip across America collides with an immigration crisis at the southwestern border–an indelible journey told with breathtaking imagery, spare lyricism, and profound humanity.
Told through several compelling voices, blending texts, sounds, and images, Lost Children Archive is an astonishing feat of literary virtuosity. It is a richly engaging story of how we document our experiences, and how we remember the things that matter to us the most. With urgency and empathy, it takes us deep into the lives of one remarkable family as it probes the nature of justice and equality today.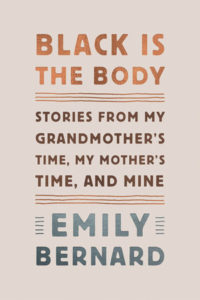 Black Is the Body by Emily Bernard
Knopf, January 29
An extraordinary, exquisitely written memoir (of sorts) that looks at race–in a fearless, penetrating, honest, true way–in twelve telltale, connected, deeply personal essays that explore, up-close, the complexities and paradoxes, the haunting memories and ambushing realities of growing up black in the South with a family name inherited from a white man, of getting a PhD from Yale, of marrying a white man from the North, of adopting two babies from Ethiopia, of teaching at a white college and living in America's New England today. From the acclaimed editor of Remember Me to Harlem: The Letters of Langston Hughes and Carl Van Vechten ("A major contribution," Henry Louis Gates; "Magnificent," Washington Post).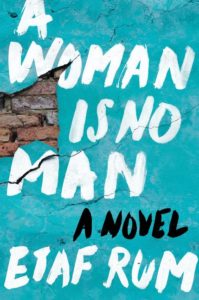 A Woman Is No Man by Etaf Rum
Harper Books, March 5
Three generations of Palestinian-American women living in Brooklyn are torn between individual desire and the strict mores of Arab culture in this powerful debut—a heart-wrenching story of love, intrigue, courage, and betrayal that will resonate with women from all backgrounds, giving voice to the silenced and agency to the oppressed.
Set in an America at once foreign to many and staggeringly close at hand, A Woman Is No Man is a story of culture and honor, secrets and betrayals, love and violence. It is an intimate glimpse into a controlling and closed cultural world, and a universal tale about family and the ways silence and shame can destroy those we have sworn to protect.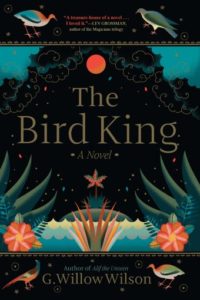 The Bird King by G. Willow Wilson
Grove Press, March 12
A fantastical journey set at the height of the Spanish Inquisition from the award-winning author of Alif the Unseen and writer of the Ms. Marvel series, G. Willow Wilson's The Bird King is a jubilant story of love versus power, religion versus faith, and freedom versus safety. An epic adventure to find safety in a mythical realm, The Bird King challenges us to consider what true love is and the price of freedom at a time when the West and the Muslim world were not yet separate.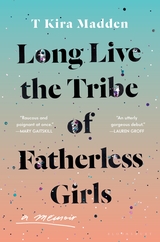 Long Live the Tribe of Fatherless Girls by T Kira Madden
Bloomsbury, March 5
Acclaimed literary essayist T Kira Madden's raw and redemptive debut memoir is about coming of age and reckoning with desire as a queer, biracial teenager amidst the fierce contradictions of Boca Raton, Florida, a place where she found cult-like privilege, shocking racial disparities, rampant white-collar crime, and powerfully destructive standards of beauty hiding in plain sight.
With unflinching honesty and lyrical prose, spanning from 1960s Hawai'i to the present-day struggle of a young woman mourning the loss of a father while unearthing truths that reframe her reality, Long Live the Tribe of Fatherless Girls is equal parts eulogy and love letter. It's a story about trauma and forgiveness, about families of blood and affinity, both lost and found, unmade and rebuilt, crooked and beautiful.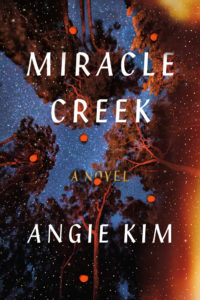 Miracle Creek by Angie Kim
FSG, April 16
Angie Kim's Miracle Creek is a thoroughly contemporary take on the courtroom drama, drawing on the author's own life as a Korean immigrant, former trial lawyer, and mother of a real-life "submarine" patient. Both a compelling page-turner and an excavation of identity and the desire for connection, Miracle Creek is a brilliant, empathetic debut from an exciting new voice.
Update: An earlier version of this post listed the incorrect publication dates of T Kira Madden's Long Live the Tribe of Fatherless Daughters and Emily Bernard's Black Is the Body. The pub dates have been corrected.
---