Sam Lipsyte on the Key to Writing: "It All Has to Be the Good Part."
On Writer's Block, His Old Man Name, and Why Anyone Would Read Your Work
Sam Lipsyte's newest novel Hark is out now from Simon and Schuster. 
*
Who do you most wish would read your book?
My mother died before I ever published any books, so she would be my first choice. She was the one who encouraged me the most, and helped me learn to believe in myself during times when I was really flailing. It's strange to think about it though, because a lot of my early work is shot through with a son's grief for his mother, so if she had lived to read my books, they would be very different books.
No one else springs immediately to mind. Sometimes when I have conferences with my students they tell me all the people they hope won't read their work—mothers, fathers, friends, siblings, partners, exes. I certainly understand the impulse, but I remind them that if you publish your work you can't do so thinking, for example, "Well, So-and-So never reads short stories, so they'll never see this." You have to assume that everybody will see it. Because we have the internet and they will. Even if it's the first and last piece of experimental flash fiction they will ever read, if you wrote it, and there is a character or situation or even a phrase they could possibly construe or misconstrue as related to them, they will somehow discover it.
What time of day do you write?
During the summers, when I am able to work with longer hours because I am not also teaching, I prefer to start in the late morning and finish around 7 pm, with some breaks here and there. I've never really been a morning person, and I don't like staying up that late anymore. Around 4, 5, 6 pm my language and my empathy are at their peak. After that, I get a little grumpy.
How do you tackle writers block?
I have mixed feelings about writer's block. I think it's a very real thing, but happens for different reasons at different times, so the solutions may vary. Sometimes there really is a psychological problem. Your fear has your desire in headlock. The blank keeps psyching you out. You can feel the novel or story or whatever welling up inside you, but every approach to it feels sealed off, every sentence, every angle, seems false and wrong. In this case, I often try to turn, to write in another direction, move laterally. Sometimes we've been in one groove with something for so long we can't imagine the work told in another way, from another vantage or with slight shift in tone. That can make all the difference. But at other times the block is really just a case of the tank being empty. We are maybe low on the emotional and creative energy needed to really get going. Every once in a while it helps me to just stay away for a little while, not force it, let things fill up again.
What's the best writing advice you've ever received?
There's no getting to the good part. It all has to be the good part.
What was the first book you fell in love with?
Sam the Minuteman by Nathanial Benchley, who was the son of Robert Benchley, of Algonquin Round Table fame, and the father of Peter Benchley, who wrote Jaws. It's the story of a kid in New England at the beginning of the Revolutionary War. It had illustrations by Arnold Lobel, who did the Frog and Toad books (I loved those as well). The fact that the kid was named Sam was the initial hook. There were not a lot of kids with my name back the mid-Seventies. It was still mostly an old man's name. Also, he has a best friend named John, and that was the name of my best friend. The similarities ended there. My family never owned a butter churn. Mostly I loved the way the book told the story of major political upheaval through the experience of a confused (and still sleepy) boy thrust into things rather suddenly. In a few short pages he learns about a soldier's life—one filled with danger, boredom, fear, bravery, death and grief. Yet the book resists an easy narrative about becoming a "man." He has been in the thick of history, its shocks and suffering, but part of him still clings, poignantly, to his kid nature.
_________________________________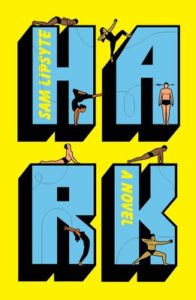 Sam Lipsyte's newest novel Hark is out now from Simon and Schuster. 
---