Did you know? Today, August 26, is National Dog Day! The day celebrates all our canine friends, from large to small, Westminster Kennel Club stars to beloved rescue pups. The holiday was originally founded in 2004 by Collen Paige, who is an author, pet and lifestyle expert, and dog trainer. Paige also founded other holidays, including National Puppy Day, National Mutt Day, National Cat Day, and National Wildlife Day. And the date itself holds significance: Paige picked August 26 because it's the date that Paige's family adopted her first childhood dog from the local animal shelter. The topic of rescue dogs is one that Paige holds close to her heart. She says, "Millions of dogs are killed each year because they're simply unwanted. All a dog wants to do is love you and be loved by you. Dogs are amazing, courageous, sensitive and sentient beings that deserve compassion and respect."
Now, I know the internet loves cats, but (and please don't hate me), I've always been a dog person, through and through. My childhood dog was a goofy purebred Rottweiler named Samson, which my dad bought and brought home when I was a toddler. Although Samson didn't fully realize his own strength, he was never mean or aggressive with me or my family members. In the winter, I'd make a game of tossing snowballs in the air that he'd attempt to catch in his mouth. He was a protector as much as he was a big softie. Rottweilers may have less than pristine reputations, but they're actually good family dogs. According to the American Kennel Club, Rottweilers are "a gentle playmate and protector within the family circle" and are affectionate with family.
So, if you're a dog owner or simply a fan, the below fiction and nonfiction books are engaging reads as well as informative resources. Take your pick!
*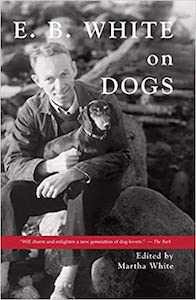 E.B. White, Martha White (Editor), E.B. White on Dogs
If you're a devotee of E.B. White, you already know that he loved dogs. This collection, edited by his granddaughter and literary executor, features White's best poetry and prose about our four-legged confidantes. Family photos of White and his dogs are included. On the topic of the "perfect" dog, White said, "A really companionable and indispensable dog is an accident of nature. You can't get it by breeding for it, and you can't buy it with money. It just happens along."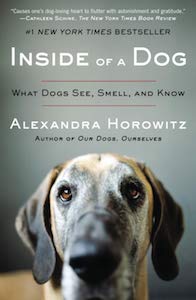 Alexandra Horowitz, Inside of a Dog: What Dogs See, Smell, and Know
Ever wondered what goes on inside of the mind of a dog? Well, we may be far off from creating the IQ-enhancing helmets featured in Rick and Morty (which is probably a good thing, since Rick's device helps launch a full-out dog revolution), but Horowitz's book provides ample insight. The author, who teaches at Barnard College, uses science to explain why dogs do what they do. Can dogs really feel what we're feeling? The answer may surprise you. Regarding our tendency to attribute human behaviors and temperaments to dogs, Horowitz told NPR, "We really all tend, as dog owners and even non-dog owners, to anthropomorphize—to project our human emotions and feelings and thoughts onto other animals in order to explain their behavior. But most of these projections are just not scientifically proven."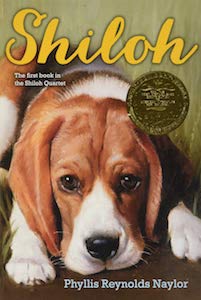 Phyllis Reynolds Naylor, Shiloh
Naylor's Newbery Medal-winning children's book centers on 11-year-old Marty Preston, who fights to rescue an abused beagle named Shiloh. Now, you may be thinking, An abused dog? This sounds like a book that will make me cry. However, despite the thorny circumstances, I can assure you that this ISN'T a tragic story where the dog dies at the end. I remember reading this book as a child and finding the narrative very moving.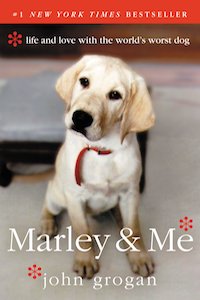 John Grogan, Marley & Me: Life and Love with the World's Worst Dog
Yes, this is a cheesy movie featuring Jennifer Aniston and Owen Wilson, but before that, it was a memoir about a very real Labrador retriever named Marley. Marley, by no means, is a "good" dog, but Grogan and his family learn to love Marley unconditionally.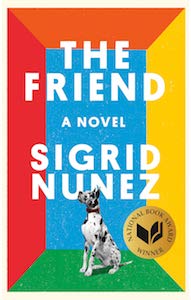 Sigrid Nunez, The Friend
Nunez's best-selling novel won the 2018 National Book Award for Fiction and earned considerable critical acclaim. The narrative centers on a woman who takes on the Great Dane left behind by her deceased mentor and best friend. When the woman is threatened with the prospect of having to get rid of the dog, she clings even more tightly to her unexpected companion. In a starred review, Kirkus called The Friend "quietly brilliant and darkly funny."