The Year's Best Overlooked Books, According to Booksellers
21 Titles That Deserved More Love in 2016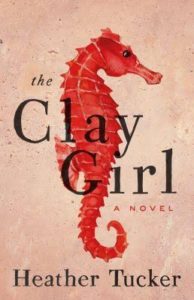 Heather Tucker, The Clay Girl
The Clay Girl is a novel imbued with the language of childhood, tangled by fears and fantasy, into a painfully brutal fairy tale. Ari too often has to face tragedy with her brave strong heart as she is repeatedly ripped from her home, sometimes landing in a better place, sometimes in a broken place, she never stops hoping for a place to belong. This unforgettable debut is as full of grace, spirit, and tenacity as Ari, and like Ari faces uncomfortable truths with tenderness and imagination.
–Luisa Smith, Book Passage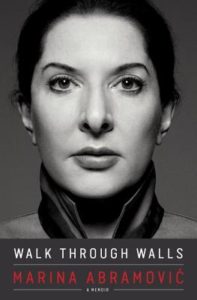 Marina Abramovic, Walk Through Walls
marina is fearless
in her writing just as in her art
straight
to the
point
all the while clutching scraps of life's poetry
in both fists
flinging them here
flinging them there

marina is a spiritual cousin to the great isabelle huppert
terrifying in her focus and dedication to the truth

walk through walls
indeed
–mr. frank sanchez, Green Apple Books
Fuminori Nakamura, The Kingdom, tr. Kalau Almony
Like all of Nakamura's taut and addictive books, the anti-hero of The Kingdom flirts with the criminal underworld but tries to stay out of its reach. Which she of course fails to do and which sends her life spiraling into confusion. Nakamura is starting to get some attention in the US, but he's still criminally underappreciated here and that's a shame, because he's definitely on a par with Jo Nesbo or Don Winslow.
–Tom Roberge, Riffraff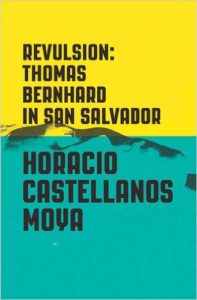 Horacio Castellanos Moya, Revulsion: Thomas Bernhard in San Salvador, tr. Lee Klein
What do you say about a book by a writer you love who is imitating a writer you love (albeit the imitation itself achieves something wholly new)? This slim book, a stylistic tip-of-the-hat to Austrian writer Thomas Bernhard, earned Horacio Castellanos Moya death threats in his home of El Salvador (as well as a book Moya has been trying to live down ever since). It is a bitter, angry, diatribe that happens to be hilarious; a man fuming to a friend at a bar in El Salvador about, well, everything. He's returned home after decades to bury his mother and settle the estate with his brother and you can almost feel the protagonist's skin burning from the discomfort of being back home, a country he calls vomitous. The biting eye of the protagonist lands on every social and political aspect of El Salvadorian culture, from its food to its government, and through this poetic vitriol we find the brilliance (and grace) of a first-rate author giving his regards to another first-rate author. Through imitation, a hybrid gem of fiction is born. A side note: the acrobatics of translator Lee Klein are worth the price of admission.
–Mark Haber, Brazos Books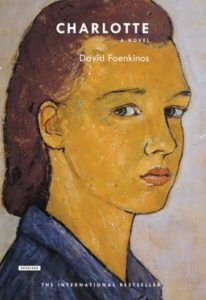 David Foenkinos, Charlotte, tr. Sam Taylor
Though a massive bestseller in France with over 500,000 copies in print, Charlotte created a relatively small splash when it was translated into English earlier this year. Foenkinos calls his account of Charlotte Saloman, an emerging artist who was only 26 when she was sent to the gas chamber at Auschwitz, a novel but it is the type of book that defies such easy categorization. Charlotte lives somewhere between history and the stories we tell to make sense of that history, a gray space where facts and obsessions meet.
–Emily Ballaine, Green Apple Books on the Park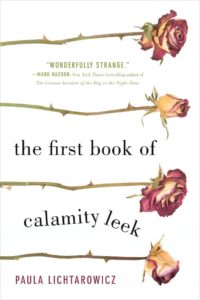 Paula Lichtarowicz, The First Book of Calamity Leek
This, my friends, is a hell of a book. It takes one of my favorite aspects of science fiction—being thrust into a whole new world and having to struggle to understand it and its dialect—and marries it to the creepy children of horror lore. And it's fabulous. Narrated by Calamity Leek, a teenage girl and an unreliable narrator if ever there was one, the world she describes is vastly different from the one we know to be true, and it becomes only more chilling the deeper we dive into it. I don't want to give anything away; this is a novel best discovered as an untouched country and experienced unexpectedly. Lichtarowicz packs a huge emotional and richly plotted wallop into less than 300 pages, gifting us a work of unparalleled originality. This is a book I'll be thinking about for a long time to come.
–Elayna Trucker, Copperfield's Books
Idra Novey, Ways to Disappear
While the rest of the world closes itself off, the literary world attempts to become more and more open. Publishing houses are now devoted to translated texts and it sometimes feels like an embarrassment of riches. But what about the translator? That oft-over looked and underpaid individual who works so hard to give us something special. Novey asks this question and answers with a book that is both fun and also a reflection on what will we do for the authors and books that we love.
–Sam Goldstein, Skylight Books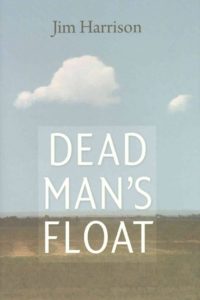 Jim Harrison, Dead Man's Float
Published just five days into 2016 and mere months before his death, Jim Harrison's final collection of poetry Dead Man's Float, deserves extra attention. It wasn't unusual for him to walk thirty miles in the wild expanse of the Upper Peninsula, trek out for days hunting and camping with his bird dogs, and spend months isolated in his remote cabin. So it's no wonder that this selection of poems, primarily focused on his declining health and unavoidable mortality, grasp the heart with a particular beauty and sadness. "I envied the dog lying in the yard / so I did it." When the news came that Harrison had died, I found myself crying for a man known only to me through words. I reached for Dead Man's Float that Easter afternoon, reread the whole thing, and cooked myself a beautiful meal with the dog at my feet. Just like Jim would have wanted.
My work piles up,
I falter with disease.
Time rushes toward me—it has no brakes. Still,
the radishes are good this year.
Run them through butter,
add a little salt.
–Kristina Bauman, Farley's Bookshop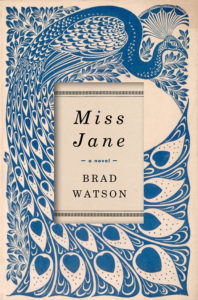 Brad Watson, Miss Jane
One of my favorite books this year is Miss Jane by Brad Watson. Yes, it was long listed for the National Book Award, but nobody seemed to be rushing out to buy it despite that endorsement. It is a quiet, thoughtful book with gorgeous writing. I found myself underlining passages and going back to linger over the language, even months after I finished reading it. Watson fictionalizes the life of his great-aunt, who is born with a genital defect in rural Mississippi in the early 20th century. Despite being seen of as a kind of "other" by her community, she lives her life with a sense of dignity and grace. The book is an attempt to understand a single person's being and their loneliness, and the different ways that loneliness is chosen or imposed on one's life. A great recommendation for any fan of Marilynne Robinson.
–Hilary Gustafson, Literati Bookstore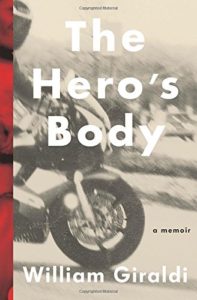 William Giraldi, The Hero's Body
This is the most literary book on bodybuilding and superbike racing you'll ever read! Giraldi's contemplative coming-of-age memoir is also an elegy for his lost father, a rumination on grief, and a nuanced critique of masculinity. Searching for a sense of self within the macho surroundings of his Jersey family, sensitive, literature-loving William recounts his years of bodybuilding and steroid use. However, after his father's sudden death during the family's traditional Sunday motorcycle races, he begins dissecting the toxic "code" of manhood with which he grew up. An incisive take on how becoming a man means leaving behind the trappings of masculinity.
–Keaton Patterson, Brazos Bookstore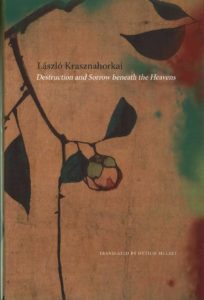 László Krasznahorkai, Destruction and Sorrow Beneath the Heavens, tr. Ottilie Mulzet
With László Krasznahorkai winning the Best Translated book award for his novels Satantango and Seiobo There Below, not a lot was said about his beautiful travelogue from Seagull Books this year.  This is a subtle meteorite of a book. Krasznahorkai's details and his haunting read on human nature are exemplified as we follow him up mountains in and out of temples and the homes of prominent figures in China. He sees the world and translates it for us, like no other can.
–Nick Buzanski, Book Culture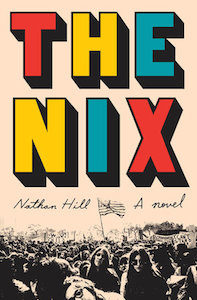 Nathan Hill, The Nix
I realize The Nix got some attention, and is a finalist for the NBCC first novel award—but I thought it was one of the most fabulous books by an American writer—a distinctly and richly American novel—to have come out in a DECADE, not just this year, and its absence from the NBA long list—really?—seems a very special shame, and many of us here, and our customers, agree.
–Richard Howarth, Square Books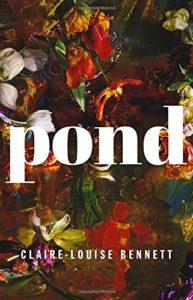 Claire-Louise Bennett, Pond
This book is such a treat! Meticulous in its ordinariness and lyrically acrobatic, Bennett gently reminds us that life can be living and breathing prose.
–Cassie Duggan, City Lights Bookstore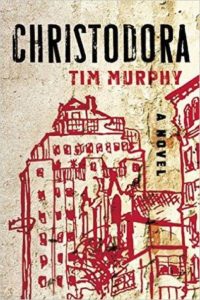 Tim Murphy, Christodora
Christodora is the story of a building and its inhabitants, a city and its citizens, a country and its crisis. In elegant prose spanning several decades, Tim Murphy has crafted an incredibly detailed portrait of the AIDS epidemic and its devastating effect on a whole host of characters. Murphy, who has covered the outbreak and fallout for years now, also creates a moving portrait of a couple and their adoptive son—cataloging their struggles through the New York art world and beyond. Readers will find a story complete with heart equaled by its overall significance as a historical artifact to our culture at large.
–John Gibbs, Green Apple Books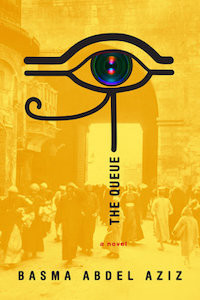 Basma Abdel Aziz, The Queue, tr. Elisabeth Jaquette
This foreboding, Kafkaesque/Orwellian novel depicting a bureaucratic state run by an authoritarian regime in the aftermath of an uprising in Egypt deserves a place beside novels like 1984 and Brave New World and is becoming increasingly prescient.
–John Cleary, Papercuts J.P.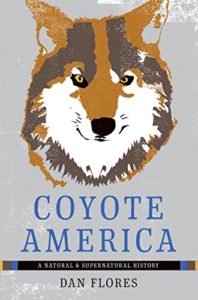 Dan Flores, Coyote America: A Natural and Supernatural History
The coyote should have been TIME Magazine's Person of the Year. This deeply engrossing study is part scientific, part mythological, and part personal observation. It is fully fascinating.
–Katie Eelman, Papercuts J.P.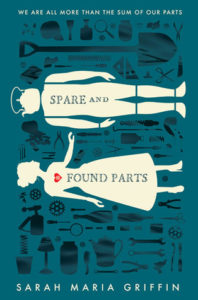 Sarah Maria Griffin, Spare and Found Parts
A book we're universally obsessed with at Booksmith is Spare and Found Parts by Sarah Griffin. It's a near-future dystopian romp through a post-technology Dublin, in which a young genius named Nell with a ticking clock for a heart lives in the shadow of her father. It's time to figure out where she fits in the world and how she'll contribute. Her father's job is to fix people using mechanical parts. So, when Nell finds an arm, she attempts to build a boy to hold hands with. As her new friend takes shape, she finds out there's more to the world, and more to her family, than she one believed. It's technically YA, but don't let that influence you. Spare and Found Parts is gorgeous and lush, cheeky and clever, and aching with a longing we all know too well.
–The staff at The Booksmith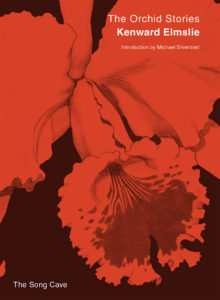 Kenward Elmslie, The Orchid Stories
A gloriously bonkers excursion into the possibilities of narrative prose, The Orchid Stories flows toward the reader like a fevered nitrous dialogue between J.D. Salinger and John Ashbery. This is Elmslie at the height of his linguistic mojo—always in control, presiding over the goings-on like a giddy wizard conducting a ceremony of syntactical sex-magick. Not for the faint of heart, but also not to be missed.
–Jarrod Annis, Greenlight Bookstore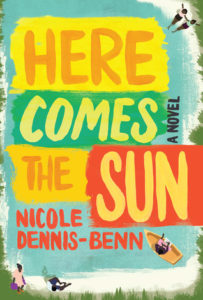 Nicole Dennis-Benn, Here Comes the Sun
I devoured this book on the beach and highly recommend the experience. Set in Jamaica, and told through some of the most compelling characters I've witnessed in fiction recently, this book explores sex work, the ganja trade, skin whitening, and homosexuality in a country still very unaccepting (the author's own marriage was the first reported lesbian marriage in Jamaica). Unforgettable, eye-opening, and unputdownable.  
–Kate Layte, Papercuts J.P.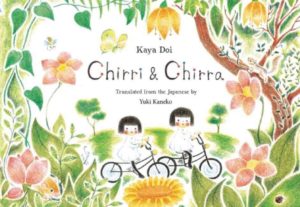 Kaya Doi, Chirri & Chirra
Positively my favorite picture book of the year—a bicycle journey through a magical land that will bring genuine happiness to everyone's bedtime routine.
–Jenn Witte, Skylight Books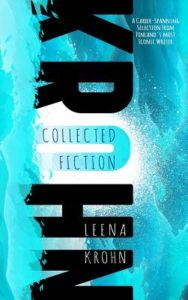 Leena Krohn, The Collected Fiction
Leena Krohn has earned comparisons to Calvino, Roald Dahl, Borges, and Ursula Le Guin, yet until now has remained virtually unknown to English-language readers. Thanks to Ann and Jeff VanderMeer, we now have access to a singularly captivating storyteller. This omnibus collection of novellas, stories, and novels displays the capacious and entertaining imagination of this wonder of Finnish fantastic literature.
–Stephen Sparks, Green Apple Books
---