The Worst Part of Sickness is Not Knowing Where It
Comes From
Sue William Silverman on Managing Hypochondria
At 11 pm, here in my home in Michigan, I switch off the light. The darkness isn't soothing. I'm wide awake. How can you guard against death while sleeping? You have to be vigilant even when vigilance is exhausting. Now I worry what's causing a mild headache. An allergy to leaf mold? A sudden outbreak of lead poisoning? The longer I lie awake, intransigently awake, disease after disease presents itself for consideration as if I'm all the patients rolled into one on the TV show House.
Soon I'm convinced I've been nursing a small brain tumor for years. Now it's metastasized into a lump the size of—what?—a peach pit, an apple, a grapefruit? Tumors always mimic fruit. Hopefully with a little luck—though I'm habitually an unlucky person—mine will resemble a raisin. A currant.
I fetch my laptop, prop it on my stomach, and search WebMd.com. The symptoms of a brain tumor include confusion and behavioral changes. Well, the origin of my headache confuses me. As does the throbbing. Yet I quickly develop rheumatoid arthritis either in addition to or instead of the tumor, presenting as fatigue, which I feel, along with insomnia and loss of appetite. Which could be true. But the more I read the more likely it seems I suffer from fibromyalgia. These symptoms likewise present a problem with sleep.
Except when I turned on the computer my eyesight blurred: multiple sclerosis. Tingling, numbness. A few days ago when I awoke, all the fingers on my left hand tingled. But since I can't remember the exact date this occurred, I scroll over to Alzheimer's: confusion and behavioral changes. I throw in lupus for good measure, a disease option on virtually every episode of House. I get as far as "inflammation" before I think I might vomit, at which point I'm sure I'm developing a migraine or stroke.
*
Before I surf over to "migraine," a headline about "back pain" catches my eye. I've suffered low back pain since high school. Don't always think back pain is back pain, is the gist of the article. It can be a symptom of prostate cancer, abdominal problems, osteoporosis, Lyme disease, lupus (I knew it!), swollen joints, or bone cancer. Even though the back pain was alleviated by acupuncture who knows if it might reoccur as something else?
I can barely breathe. Heart attack? Stroke? Lung cancer? I click on heart attack and learn that pain on your right side might also be a sign.
I click back to headaches and stumble upon an article about a woman who went to bed with a severe headache and woke up dead. Well, of course she didn't wake up dead since she was dead, but her husband found her lifeless body in the morning. An aneurysm blew out her brain. An aneurysm, a bulging blood vessel, is present in 5 percent of the population, all waiting to rupture.
Now I'm terrified to sleep because I might not wake up. I want to be awake when I die.
Wait! Didn't I just remember that I awoke a few days ago with all the fingers on my left hand tingling? I am a walking stroke!
Most strokes occur in the brain, so maybe the headache, which might be a migraine, which might be a tumor, which might be an aneurysm, is really a stroke. I have three hours before the brain blowout in which to take the clot-dissolving drug TPA, or Tissue Plasminogen Activator. In the United States someone strokes out every 45 seconds. Bad odds. Bad, bad odds.
I can barely breathe. Heart attack? Stroke? Lung cancer? I click on heart attack and learn that pain on your right side might also be a sign. When the heart muscles don't get enough blood the damaged organ releases enzymes.Go immediately to the ER. A simple blood test can check your enzyme levels.
Who's to say it isn't any or all of these? I should go to the ER. At least I live only a few minutes away from North Ottawa Community Hospital here in Grand Haven.
*
A few months earlier, on a Thursday, I awoke in the middle of the night with abdominal pain. Trying, at this one moment in my life not to be a complete hypochondriac, I make the mistake of ignoring it. Over the next few days the pain ebbs and flows. I can't locate its exact position. It seems amorphous, free floating from the left side of my stomach to the right, from top to bottom. It maybe seems worse when I lie on my left side. So I figure I'll be fine, nothing further will develop, if I lie on my right side for the rest of my life.
Then I decide to worry.
Tuesday morning I see my nurse practitioner. She pokes and prods but no particular place hurts more than any other. She asks me to lift my right leg. I do. No pain. Not appendicitis. Come back if it gets worse.
It doesn't get worse; it doesn't get better. I see her again and am given a blood test for appendicitis. The blood levels return normal. Go home and come back if it gets worse.
It doesn't get worse; it doesn't get better. I return to the nurse who orders a CT scan for the following afternoon. Don't eat anything the night before.
The next morning the pain is virtually gone. I consider canceling the scan, but since I fasted all morning, I show up. They scan. I return home. The nurse calls two hours later: Go to the ER immediately for surgery. Your appendix is inflamed. It could burst.
I lie in the ER for hours waiting for the surgeon. I watch my stomach as if I'll be able to witness the explosion, the onset of poison peregrinating my bloodstream. I've never had an operation. But it'll be only laparoscopic, not too bad. Finally the surgeon arrives. He pats and pokes my stomach. No pain. He frowns. He pokes again. I kind of fake pain not wanting to be sent home again only to die in my sleep with a major rupture. Better to haul it out and be done with it once and for all.
I go home the next day minus an appendix.
*
But what's my body incubating tonight? Maybe it's an onset of swine flu caught from a person traveling from overseas. I have flown recently though I always wear a NIOSH N95 face mask approved by the World Health Organization and the Centers for Disease Control and Prevention. I also use MyClyns, the first antibacterial spray that can be sprayed into your ears, nose, and mouth. Its "non-toxic formula has been proven to kill 99.9% of viruses and bacteria, including E. coli and staph infections, is easy to use in planes or anywhere you come in contact with others."
I immediately regret never learning Braille because I will need to know it by morning. I sweat. My stomach seizes. My headache worsens.
Like, say, life. I also never board an airplane without Flight Spray "to prevent viral infections by creating an unsuitable environment for inhaled germs to reproduce." To prevent Deep Vein Thrombosis (DVT), I wear "latex-free, Class 1 graduated compression socks to support and massage legs during long flights."
And I chug Umcka that "shortens duration and reduces severity of symptoms associated with the common cold and throat, nasal, bronchial irritations." Its medicinal and/or magical active ingredient is Pelargonium sidoides 1x (basically geraniums). I stockpile it and don't leave home without it.
*
Now a dark circle floats at the corner of my eye. I turn my head. It disappears. I stare straight ahead. It reappears like a gnat hovering in my peripheral vision. Detached retinas. "Shadows, flashes of light" some website informs me. I see shadows. The edge of my laptop, still propped on my stomach, casts a dark, blurry line on the bedspread. I immediately regret never learning Braille because I will need to know it by morning. I sweat. My stomach seizes. My headache worsens.
I check the top news stories on Yahoo while I consider whether to go to the ER. One headline states: "Girl Lucky to be Alive after Sting by Deadly Jellyfish." I feel as if I just escaped with my life though I haven't been anywhere near the ocean lately, to say nothing of Australia, where this occurred, given that Michigan is 807 miles from the Atlantic Ocean, 2,173 miles from the Pacific, and god knows how many miles from Australia.
"Girl Describes Swamp Ordeal." This horror story stars amoebanaegleria fowleri, single-cell microscopic organisms that eat your brain! The article describes the death of a young girl whose brain was invaded after swimming in a warm, freshwater inland lake. One hundred and nineteen people have been infected with this organism since 1962; only one survived.
I remain awake the rest of the night.
__________________________________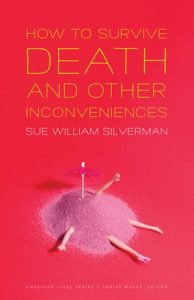 Excerpted from How to Survive Death and Other Inconveniences by Sue William Silverman by permission of the University of Nebraska Press. ©2020 by Sue William Silverman.
---