The Death of the Exemplary Working-Class Citizen
Eduardo Porter on an American Fantasy
If California were a country, it would be the fifth richest in the entire world. It is probably the most socially progressive state in the nation. Nonetheless, California's school finances started falling well behind the national average around 1980. Since Proposition 13 became law, the state slid from seventh place in terms of spending per pupil from kindergarten through twelfth grade to twenty-second place. Today it spends $6,849 per child, according to data from the census, less than half what schools spend, on average, in New York. For every $1,000 in personal income, California spends only $33.30 in its public school system, which puts it twelfth from the bottom among the nation's states. California's classrooms are the most crowded in the nation, with one teacher for every 23.4 students. And its scores are lagging. In 2015, California fourth graders ranked third from the bottom in the National Assessment of Educational Progress tests in both reading and math. Fewer than three in ten kids in the state scored at proficient or higher.
Proposition 13 amounted to a cross-generational "fuck you" to California's nonwhite future. Older Californians voting for Prop 13 felt they had already paid their fair share for the state's public goods. Why should they suffer increasing property taxes to pay for the education of others' kids? What gave the argument its political potency was ethnicity—a mix of nationality and language, skin tone, religion, and culture. California's old-timers were overwhelmingly white. The newcomers who were sending their children into the public school system were, by contrast, brown immigrants.
Between 1980 and 1990, California received 38 percent of all the new immigrants coming into the United States, accounting for more than half the state's population increase of six million over the decade. Most were Catholic, brown, Spanish-speaking Mexicans. Why spend on them? As Dowell Myers put it, "If services were declining in quality, that was too bad for the newcomers, because it was their fault! Established California residents shouldn't be asked to pay for new residents they had not welcomed."
This logic has come back to haunt the state, though. The spigot of immigration is now off. California's population is aging fast. There are fewer than five residents of working age for each senior. By 2030 there will be fewer than three. And they will be dumber. Today California sits with Texas at the very bottom of the scale of American educational attainment: only eight of ten adults finished high school. Already one in five Californians live in poverty—a rate substantially higher than the national average. Still, Californians seem to be content with what they have wrought. In 2008, on the 30th anniversary of Prop 13, the Field Research Corporation surveyed Californians about the legislation: 57 percent supported it, exactly the same share that voted for it in 1978.
Here's one reason they may not be concerned about public education's depleted finances: The non-Hispanic white share of the school-age population in California has shrunk since the turn of the century, from 35 to 26 percent, and many white native-born Californians are dropping out of the public school system and moving to private institutions instead. The share of non-Hispanic white kids in the state's public schools shrank even more, from 37 to 24 percent.
The exemplary working-class America I experienced in my grandparents' trailer doesn't exist anymore.
California's experience is a shot across the nation's bow. It has long been one of the richest states of the Union; fifth from the top in 2017, measured by its average household income. It also suffers the highest poverty rate of all states, however. Nineteen percent of Californians live below the poverty line, as measured by the census's broad Supplemental Poverty Measure, which includes the impact on poverty of taxes, welfare programs, and the cost of living. California is fourth from the top in terms of income inequality, after New York, Connecticut, and Louisiana. As America follows California into a less white, more ethnically diverse future, the demographer Samuel Preston's prescient warning 35 years ago comes to mind. Regardless of the skin color of America's children, the future prosperity of the country depends on them.
*
The term "American dream" speaks to me of something specific: my grandparents' house in Phoenix.
They were the kind of iconic working-class white Americans Norman Rockwell loved to paint: not extremely well educated; honest, by and large; hardworking. They had lived through the Great Depression in Chicago and moved southwest, where my grandfather got a job as an electrician on the Salt River Project and my grandmother worked as a librarian. Retired, on Social Security, they lived a frugal but hardly uncomfortable life.
They believed in family values. They put a lot of faith in God. And they were racist, in that vague, matter-of-fact way bred of custom rather than reflection. Though they loved my mother intensely, small and brown and Mexican though she was, a couple of times I heard my grandmother blurt out casually, "We just don't like black people."
Their house wasn't big—two bedrooms and one bath; there was a date tree in the yard out front, a driveway with an awning in the back. It was on the wrong side of the tracks, south and west from the money in Scottsdale. But it was relentlessly air-conditioned, with plush green carpeting from wall to wall and a complicated, never-to-be-messed-with sound system. The huge TV in the den, the eight-track deck, the double-wide fridge, the pickup truck and the Pontiac in the back—all of it spoke of a prosperity that seemed at odds with my understanding of a working-class life.
Phoenix was booming then, powered by a burgeoning electronics industry with rich government contracts. Sun City had opened its doors on the west side of town a few years before  I was born, drawing retirees from all over the country and fueling a long-lasting construction boom. The Vietnam War had fattened the metro area's defense contractors working on government-funded projects.
I didn't see my grandparents often. My parents moved to Mexico when I was six, to be near my mother's family. But I visited most summers throughout my childhood. They would pack me off to Sunday school, where I once learned that the European Community—ten countries at the time and growing— somehow presaged the coming of the Antichrist. Then we would flee town to a trailer perennially parked at the Hawkeye trailer park in Sedona—not yet known for its chakras and spiritual vortices—in the heart of Red Rock country.
In many respects, the United States today is a pariah, an outlier at the bottom of the industrialized world's ladder of wellbeing.
In Mexico, where I was growing up, retired electricians didn't get this life. Tucked in at night, in a bed that doubled as the trailer's dining room table, I couldn't but marvel at my grandparents' prosperity. This was not an America of broadly shared prosperity, I understand. Their standard of living was mostly unavailable to people of color. Yet from my perspective growing up in Mexico, surrounded by a sea of poverty, my grandparents' America amounted to a fundamentally superior world.
The United States is still much richer than Mexico. America's average GDP per head is three times as large as when I was born. It is more than five times Mexico's. But despite these gargantuan riches, the exemplary working-class America I experienced in my grandparents' trailer doesn't exist anymore.
In many respects, the United States today is a pariah, an outlier at the bottom of the industrialized world's ladder of wellbeing. It is a country where too many babies die before having a solid shot at life and too many men and women die of despair, where too many children are mothers and too many men are locked away. And if you think minorities are alone the victims of America's many pathologies, you might want to think again.
A black baby born today will live three and a half years less than a white baby. The maternal mortality rate among black mothers is more than three times that of white mothers. Black teens have babies at twice the rate of white teens. Still, in 2014, more than twelve white American women died of pregnancy-related causes for every 100,000 births, according to the Centers for Disease Control. That's more than four times the rate in the Netherlands, three times the rate in Germany, and almost six times the rate in Spain.
The average white American baby born in 2018 will die at least two years sooner, on average, than newborn Germans, Danes, Greeks, and Portuguese; at least three years sooner than babies in Korea, France, and Australia; and five years sooner than newborns in Japan. Poverty rates show a similar pattern. There are nearly twenty million poor non-Hispanic white Americans, almost twice as many as poor blacks. About half of them live in extreme poverty, with incomes lower than half the poverty line. While the poverty rate among people of color has been gradually declining, among non-Hispanic whites it is higher than in the early 1970s.
We like to blame globalization. But globalization struck everybody, the French and the Germans and the Canadians and the Japanese. American society—its hospitals and schools, its roads and middle-class homes—buckled alone, in a uniquely American way. The America that built the most prosperous working class the world had ever seen collapsed into a heap of pathologies simply due to a lack of empathy. The greatest irony is that while the black and the brown suffered most intensely from the fallout, the collapse in social trust wiped away the American dream of working-class whites too.
Public goods are the indispensable glue keeping societies together. Societies normally pay for them collectively because nobody would individually. Think universal health insurance or public education or unemployment insurance, or even firemen, cops, and public roads—they provide society-wide gains greater than the benefits to any individual. White Americans concluded that if public goods had to be shared across ethnic borders, with people of other races, they would rather not have them.
That's why the United States failed to build the safeguards erected in other advanced countries to protect those on the wrong side of wrenching economic and social change. Americans may hope to rationalize the omission as some sort of historical inevitability, the only natural choice for a self-reliant people bred on a rugged, ungoverned frontier. But their choice to leave those sinking to sink further has a darker parentage.
The beleaguered white workers who lashed out at the cosmopolitan elites and voted for Donald Trump in November 2016 are perhaps not old enough to remember this. But in 1961, at the fourth constitutional convention of the AFL-CIO in Miami, Martin Luther King Jr. offered their parents help. He foresaw many of the forces besetting the labor market, eliminating what were once good blue-collar jobs. If the labor movement would ally with blacks, he offered, their combined political power might help ensure that working men and women shared in the bounty to be created in America's future.
__________________________________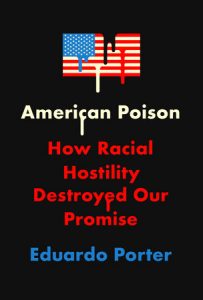 Excerpted from American Poison by Eduardo Porter. Copyright © 2020 by Eduardo Porter. All rights reserved. No part of this excerpt may be reproduced or reprinted without permission in writing from the publisher.
---