The Wild Nights of a Ballplayer in 1950s Manhattan
Just Another Night at Toots Shor's with Mickey Mantle and the Boys
For young, famous ballplayers in the 1950s, the lights of Manhattan beckoned like a wonderland. It was an eastern version of a Wild West cattle town. The saloons were open all night, beautiful women were only a nod away, and sports reporters stuffed away their note pads. Although a gossip columnist might write an innocuous line or two, generally what transpired after the moon came out was off-limits. What happened at night outside Yankee Stadium died with the morning's first light.
With his wife still in Oklahoma, Mickey operated out of a tiny suite at the St. Moritz Hotel at 50 Central Park South, on the eastside of Sixth Avenue. A historian of the city described the thirty-eight-story building as "a picturesque cliff, amidst towering trees to  the north and other soaring skyscrapers to the south." Completely redecorated in 1950, the hotel featured redesigned rooms, the sidewalk restaurant Café de la Paix, and Rumpelmayer's tea and pastry shop. Mantle wasn't much of a tea drinker or, for that matter, a sidewalk-café sitter, but the St. Moritz was perfectly located for sampling less refined haunts that served stronger drinks.
Mantle, Martin, Ford, and other Yankees regularly ate at Danny's Hideaway on Steak Row along East 45th Street. It was Martin's favorite restaurant. Opened in the mid-1940s as a small bistro with Danny Stradella taking orders and tending the bar and Mamma Rosa cooking the meals, it became popular and expanded, eventually becoming the largest establishment along Steak Row. It attracted celebrity actors and writers. In 1956 Mantle and Martin met Elizabeth Taylor, Mike Todd, and Rock Hudson in Danny's. The actors had just finished filming Giant, and Danny wanted a photograph of the entire group. Of course, the ballplayers agreed. After all, Stradella loved the Yankees, and Mickey never saw a tab on one of his tables. It was one of the smaller benefits of his status.
Some celebrities, to be sure, were renowned for their generosity—none more than Frank Sinatra, generally recognized as the biggest tipper in show business. When he was in New York every door opened. Once, during a slow day at the restaurant Toots Shor's, Joey Rivera, one of the waiters, approached Toots himself and whispered something in his ear. "Okay, set up the table," he replied.
Less than an hour later Sinatra arrived with about twenty people. They had come from the cemetery where they had put Frank's father to rest. Sportswriter Jack Lang recalled, "They sat down, with Sinatra at the head of the table, had one round of drinks, got up, and left." The next day the singer tipped every waiter and every captain $100. "When Frank comes in, he pays the rent," said Rivera.
Mantle had learned the rules of the celebrity game watching Joe DiMaggio and Rocky Marciano—not Frank Sinatra—and neither paid any restaurateur's rent. Both were cheap on a heroic scale, but in a head-to-head contest the ballplayer would probably have edged out the boxer. Throughout his illustrious career DiMaggio dined regularly at Rao's, an exclusive southern Italian restaurant on East 114th Street. For years, while the tiny place was run by Vincent and Anna Rao, there was always a table for DiMaggio and never a bill at the end of the dinner. After they died, their relatives Ron Straci and Frank Pellegrino followed the same policy. Even in old age, DiMaggio always ate on the house. That is, until the day Pellegrino requested a small favor. He waited until Joe had finished his coffee and then asked him for an autograph for a young boy at another table.
"You know, Frankie, I get paid for signing autographs," DiMaggio said.
As he left the restaurant Pellegrino told him, "Joe, you are not welcome here anymore."
It was a sentence he never heard at Toots Shor's. Newspapermen, writers, movie and stage stars, and athletes went to Toots' primarily to drink, though the food served there was more than acceptable. Located at 51 West 51st Street, close to the St. Moritz, Toots Shor's was designed for people to see each other and be seen. Walking past the American colonial facade, a visitor entered the lobby and immediately noticed a large circular bar, 54 feet in circumference, which after a ballgame in Yankee Stadium or a fight in Madison Square Garden was normally packed, often three or four deep. "That's my roulette wheel," Toots explained. Journalist John Bainbridge said that the place was "as devoid of subtlety and fussy trimming as a boxing ring." Unlike the Stork or the 21 Club, it oozed a masculine comfort—plank oak floors, redbrick and knotty-pine walls, red-leather upholstered bar stools. The main dining room was open and well lit with a high vaulted ceiling and an enormous brick fireplace. Beyond the showcase territory, there were other rooms and bars where the noncelebrities were seated and served.
At the time, a "problem drinker" was not a man who drank too much but one who couldn't hold his liquor.
Toots, a big, loud, backslapping man, seemed to live in his establishment. The restaurant opened at noon every day but Sunday, when the doors were unlocked at four. It closed at four in the morning, except on Saturday, when it closed at three. When it was open, Toots worked the main rooms, a drink in one of his large fists, a wisecrack  or an insult on his lips, and an eye always out for a more famous celebrity. He judged celebrities like a jockey appraises horseflesh; he had an unerring sense of who was up and who was down, who was hot and who was at the absolute top. He entertained fixtures of the stage and screen, sportswriters and columnists, and television actors and literary figures, but he favored athletes above anyone else. They were the gods of Toots Shor's. And the saloon was the recognized center of New York sports.
Gay Talese called Toots Shor's "the first sport's restaurant." It was where the ballplayers and boxers went to celebrate a victory or forget  a defeat. Its bar was often so crowded with athletes and sportswriters—and visitors gawking at the stars—that it was difficult for a newcomer to get a drink. Yogi Berra reportedly once observed, "Toots Shor's is so crowded, nobody goes there anymore." Yogi's opinion notwithstanding, for the sports crowd it was the place to be. "What you have to understand is that Toots was the pivotal character in New York. Everything revolved around him," said Talese. "His place was the celebrity hangout, like Sardi's is for the theater crowd and Elaine's is for the writers." And although it was a public place where athletes and sportswriters mixed, the next day's papers did not report what athletes said and did in Toots Shor's.
As far as Toots was concerned, sport was America's civic religion, and the most celebrated athletes were the nation's high priests. One observer commented, "Shor believes that sports are the backbone of American life and that good citizenship demands a close interest in them." Athletes' youth and virility, grace under pressure, and competitive drive underscored the strengths of the country, then locked in the Cold War with the Soviet Union. How could anything be wrong with America, he reasoned, when the Yankees ruled baseball and Rocky Marciano dominated the heavyweight division?
DiMaggio proved his case. Even after he retired, Joe was the unofficial king of Toots Shor's. Years after the Yankee Clipper left the game, Toots ranked him as one of the ten most important living men, right up there with Dwight Eisenhower and Winston Churchill. "DiMaggio always got a premier table at Toots Shor's," noted Jack Lang, "right in the front." When Joe showed up with Marilyn Monroe it was the equivalent of a royal appearance. Of course, their presence also made clear that there was no saloon in the city like Toots Shor's. No place in America—or the world, for that matter—more consistently attracted celebrities. Shor could be excused for beaming at the constellation of stars that nightly appeared at 51 West 51st Street. For that reason he never bothered to advertise his establishment. He knew that the columnists and celebrity photographers would give him all the free publicity he desired.
A celebrity's standing often determined his opinion of Toots. For those at the summit of their profession, he was "as kind as Saint Francis of Assisi, as generous as Santa Claus, as worldly as [financier] Bernard Baruch, and as understanding as [famed advice columnist] Dorothy Dix." For them he was the gruff but genial host, his rough exterior covering his soft heart. But his detractors were as harsh as his supporters were generous. "He's a slob with delusions of grandeur," commented one. "When his friends are batting three-fifty, Toots can't do enough for them. Then they're real, solid-gold crumb bums. But when they start hitting two hundred, something happens to Toots's eyesight—he can't see the old pals so good anymore."
His eyesight was twenty-twenty when it came to the 1950s Yankees, especially Mantle. Shor admired and respected DiMaggio, but usually at a safe distance. Their affection was undoubtedly genuine, but like everyone else Toots was careful not to get too familiar with the aloof, often moody Clipper. DiMaggio was always uncomfortable with his public. Like a marble statue, he commanded respect but was apt to be cold. In contrast, Mickey was a lovable kid, a big, smiling puppy of a man. When he came into the bar, Toots always hurried over and hugged him, sometimes spilling a little of his brandy and soda on Mantle's jacket, which only made Mickey laugh more. "God, Toots loved Mickey. And vice versa," Whitey Ford remembered. "He was closest to Mickey. He would hug Mick. He couldn't hug Joe."
The Yankees received the best of everything—Shor's biggest smile, his finest tables, his best liquor. Mantle, Martin, Ford, Bauer, Berra, and other Yankees Dead End Kids were regulars. They dropped by during off days and following afternoon games and even showed up for nightcaps after playing under the lights. Baseball lore is rife with stories about heavy-drinking major leaguers—from Babe Ruth's frequent bellyaches to hungover Hack Wilson losing a ground ball in the sun—but, as one authority on the subject wrote, "this hard-drinking world reached it apotheosis in New York . . . during the 1950s when Mickey Mantle, young and vibrant, was the biggest star in the brightest constellation in the baseball firmament."
For Mantle, professional baseball players, and millions of other Americans, booze was the drug of choice in the 1950s. At the time, a "problem drinker" was not a man who drank too much but one who couldn't hold his liquor. When Mickey and "the boys"—the very designation is telling—ventured out for a night of fun at Toots Shor's they intended to drink heavily. They followed Toot's personal philosophy: "Drink, certainly, and drink a lot, but hold it." The argot of Toots Shor's was part of a national idiom. A person who was drunk but holding it was "loaded" or had "a load on." But a patron could also be "half loaded," "three-quarter loaded," "winged," or "bouncing." None of that mattered, except if the drinker slid past "loaded" to "sloppy." A sloppy drunk—mawkish or aggressively belligerent—was an embarrassment and unwelcome at Toots's.
This culture of drink transcended Toots Shor's and baseball. In the publishing industry it was the decade of the three-martini lunch, a time when the most important business was completed early in the  day. In white-collar professions it was common to take a prospective employee out to lunch. If he didn't drink, he didn't get the job. If he drank too much and became "sloppy," he didn't get the job. If he got "half-loaded" but showed no signs of wear, he had a good shot at whatever position he was up for—that is, if anyone could remember after the midday binge. The main difference between white- and blue-collar drinking was not the quantity but the brand of booze. On Wall Street and Madison Avenue they drank Scotch, bourbon, vodka, and gin. In Astoria and Brooklyn, beer was the beverage of choice.
In the world of professional baseball, drinking was part of the daily rhythm of life. Big-league players spent most of their days waiting for a game to begin and dealing with long stretches of boredom. So they turned to the bottle. They drank on the road, in the bar cars during lengthy train rides, during low-stakes poker games, and at late-night bull sessions. They drank in bars while they trolled for one-night stands or just engaged in some "innocent" flirting. They drank beers in the clubhouse after games. Normally Pete Previte, the clubhouse assistant who, when he was younger, had brought hot dogs to Babe Ruth and coffee to Joe DiMaggio, made sure that there were cold beers for Mickey and the Yankees to sip as they unwound after a contest. Often after victories Casey Stengel paid for the beer. Drinking made them feel like winners.
It was like the old joke: "If you avoid the bottle, don't overeat, save your money, go to bed and arise early, you will live longer—or at least it will seem a hell of a lot longer." Mickey, Billy, and the rest did not aspire to long lives of asceticism. At the plate Mickey swung for the fences. Away from Yankee Stadium he lived the same way—drinking hard, ignoring curfews, and behaving as if he were a bachelor.
If some players drank to escape boredom, others drank out of fear. Theirs was a precarious profession. Most knew that they would be forced out of the game in their thirties, if not earlier. And it could all end in the blink of an eye. A pitcher might tear a rotator cuff on one fastball. A fielder might stumble and "blow out" a knee beyond the limited skills and knowledge of surgeons at the time. A slightly below average batter might go into a slump and simply be replaced by a promising minor leaguer. In the mid-1950s the Yankees had second baseman Bobby Richardson and shortstop Tony Kubek in their farm system. Young, talented, and fresh faced, they were waiting for the opportunity to replace Billy Martin and Gil McDougald, respectively. It could and would happen. Every Yankee knew the popular legend of Wally Pipp—the outstanding first baseman who sat out one game with a headache and was replaced by some kid named Lou Gehrig. Pipp never got his job back. Maybe the details of the story were apocryphal. Perhaps manager Miller Huggins was punishing him for gambling or had lost confidence in his hitting against left-handed pitchers. It hardly mattered. The essential story line was correct: here one day, gone the next. None of Mantle's teammates wanted to be the next Wally Pipp.
Added to all this was the code in the big leagues: "Drink hard, play hard." Drinking and playing baseball defined a major-league man. Mickey Mantle epitomized this ideal of red-blooded masculinity. The stories of Mantle showing up at the ballpark bleary-eyed with a hangover—or still half loaded—and blasting a home run are staples in the folklore of the game. "Shit," Mickey would say, "the home runs weren't nothin'. Now, runnin' them damn bases was a killer." That was big league, Babe Ruth stuff. Legend material. Ryne Duren, a former Yankee whose career was cut short by alcoholism, understood the deeper ties between baseball and the bottle: "Alcohol is tied to masculinity—the more you drink, the better man you are."
In 1956, as his incredible start to the season suggested he might break Ruth's single-season home run record, Mickey Mantle was simply the best. Digging in at the plate, swaggering into Toots Shor's, or ducking into a woman's hotel room, he was the heir apparent to Babe. "If you could drink all night, get the girl, get up the next day, and hit a home run, you passed the test," he recalled. "Temptations were everywhere. Fans would buy us drinks [and] girls would hang around to meet us." Unfortunately, Mickey was better at passing the test than resisting temptations. Not that he tried very hard. He had a code to uphold. "In those days, how well you could hold your liquor was, for many of us, a measure of being a man. At the ballpark, you belted them out. At the bar, you belted them down." That was the way he played—and the way he lived.
__________________________________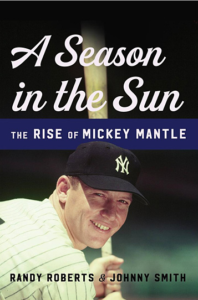 Excerpted from A SEASON IN THE SUN: The Rise of Mickey Mantle by Randy Roberts & Johnny Smith. Copyright © 2018. Available from Basic Books, an imprint of Perseus Books, a division of PBG Publishing, LLC, a subsidiary of Hachette Book Group, Inc.
---