Off the Clock: What the Lit Hub Staff Loved This Week
Creepy Elmo, Dashboard Confessional, Jumanji 2, and More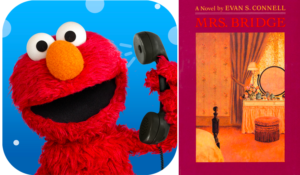 To prepare for a three hour car ride with an oft-carsick dog and a toddler who hates his car seat this weekend, I've spent my evenings searching Spotify playlists to calm the nerves (hoping to counteract the particular creepiness of Elmo's third-person verse and the fact that every song is to the tune of jingle bells). I've also been rereading Mrs. Bridge by Evan S. Connell (1959) which is quite possibly the most perfect novel—a character study of India Bridge, an upper middle class housewife aging into a passionless marriage, told in a way that's funny, dark, a little sad, and full of absolutely perfect sentences. I was reminded of how wonderful it is by Meg Wolitzer's piece in the New York Times earlier this year, and am so happy to have found it again.
–Emily Firetog, Managing Editor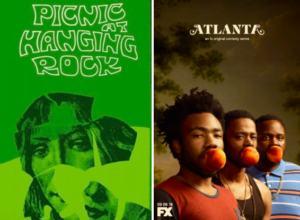 This week, I've been rewatching the first season of Atlanta in preparation for beginning the second (I understand that normal people are already halfway through the second season, but I need to give myself a lot of lead time on television or I get grumpy). I definitely remembered how good it was but also I kind of forgot how good it was—all those little surrealist details charm me to pieces. Speaking of getting charmed to pieces, this week I also finally read Joan Lindsay's slim and delectable Picnic at Hanging Rock, which I'd never managed to pick up before—though obviously I have seen the film; I'm not a heathen.
–Emily Temple, Senior Editor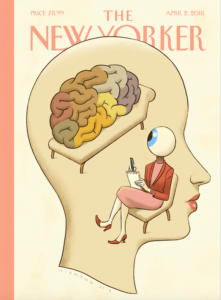 "Love" is perhaps the wrong word to describe the existential tailspin that reading Rachel Aviv's latest piece in the New Yorker sent me on this week, but I certainly haven't stopped thinking about it. "How a Young Woman Lost Her Identity" is a fascinating look at dissociative fugue, a rare and mysterious psychological condition "in which people lose access to their autobiographical memory and personal identity, occasionally adopting a new one, and may abruptly embark on a long journey." The specific case that Aviv sketches out here—that of Hannah Upp, who is still missing in St. Thomas after what is believed to be her third fugue, which struck just before Hurricane Maria—is even more discomfiting for the way it diverges from this definition: rather than adopting a new identity, Upp seems to empty out entirely during these episodes, losing any sense of selfhood whatsoever. While I have felt, as I suspect most people do from time to time, that it would be a wonderful to take even a 5-minute vacation from being myself, this kind of extended self-exile sounds terrifying, and I look forward to adding it to my list of irrational anxieties through which to cycle before falling asleep.
–Jess Bergman, Features Editor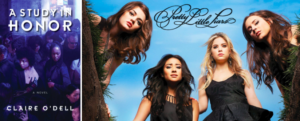 This was a week of highs and lows in my new life in the city. It's been a fantastic week for food—I went to Veselka for the first time and had salmon eggs Benedict over latkes this past weekend, felt like a Parisian when I stopped by a fish shop for fish instead of going to the supermarket, and made potato leek soup using my hand blender for the first time. It's also been a great week for subway reading—I'm halfway through Claire O'Dell's upcoming release A Study in Honor, a dystopian reimagining of Sherlock Holmes featuring two queer black women fighting against an evil conservative conspiracy in the midst of a new civil war, that just happens to be the perfect weight and size for a subterranean commute. As the low of the week, I spent untold hours carrying laundry up and down four flights of stairs. In terms of cultural amusements, the week was a mixture of highbrow and lowbrow: I enjoyed a modern dance performance with family and a rewatch of Pretty Little Liars with my cat.
–Molly Odintz, Crime Reads Associate Editor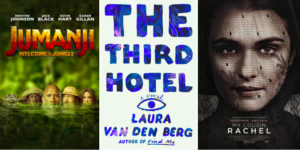 I watched two very similar movies this week: Jumanji: Welcome to the Jungle—a quasi-sequel to the 1995 Joe Johnson-helmed tour-de-force, and My Cousin Rachel—the latest adaptation of Daphne du Maurier's intense gothic romance. Both are richly atmospheric period pieces wherein people are not who they appear to be, and though I suppose each works as a stand-alone film, your enjoyment will be greatly enhanced by considering them in conversation with one another. Having lost it inside the secret compartment of a suitcase last month, I dug out, continued reading, and was completely engrossed by Laura van den Berg's upcoming novel, The Third Hotel. The story of a recently widowed woman who travels to Havana for a film festival which her husband was scheduled to attend, only to find him (or his ghost? or a manifestation of her grief?) standing outside a museum. It's a haunting, surreal, and utterly riveting portrait of a city, a marriage, and a mind in turmoil.
–Dan Sheehan, Book Marks Editor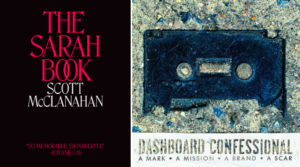 I emotionally destroyed myself (an activity I truly love!) this week with The Sarah Book, which I've been meaning to read for a while. As the first page informs us, "first you lose your youth, and then your parents, and then you lose your friends, and finally you end up losing yourself." As promised, I am now acutely aware that everything I love will suffer, age, and eventually die. But in the face of such bleakness, The Sarah Book manages moments of immense tenderness and beauty, which is what really ruined me. I don't know if this is related, but I spent the day after I finished it listening to Dashboard Confessional (which I wouldn't recommend as much).
-Blair Beusman, Associate Editor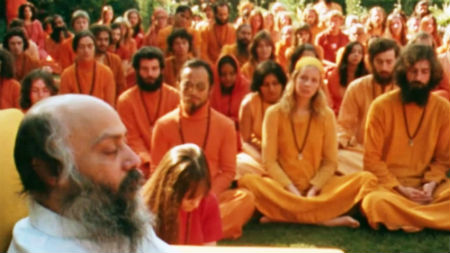 This week I devoured every blessed minute of Wild, Wild Country, Netflix' new six-part documentary about Rajneeshpuram, the town in Oregon that was built by the new age followers of an Indian guru in the 1980s, and quickly fell into an incredibly antagonistic relationship with local authorities, leading to firebombing, poisoning and a general state of complete paranoia on all sides. Probably I did and enjoyed other things this week, but this documentary was so powerful it blocked the rest out. My wife and I quickly fell under the spell of Sheela, the guru's charismatic secretary, who led the construction of the town and is still an eloquent, if sometimes frightening figure. I still can't quite believe the access the documentarians had on this one, and how expertly they unfolded a truly insane story.
–Dwyer Murphy, CrimeReads Senior Editor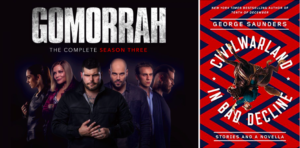 I'll be back in London so the first thing I'm going to do is chase down season 3 of Gomorrah on the DVR, and then try not to watch it all in a stretch. I'm also writing pieces on Clarice Lispector and George Saunders so I've got re-reading to do, happily, all of it happy. I finished Civilwarland in Bad Decline not long ago and its startling how many of the stories take place in theme parks (I had remembered just one), and how much of our murderous, mass-shooting, history-butchering 2018 world he got right back in the mid 1990s. Seems we live in the theme park now.
-John Freeman, Contributing Editor
---