The Unlikely Celebration of Fireflies in a Declining City of Japan's Far North
Dreux Richard Visits With the Aging Citizens of Wakkanai
Wakkanai (pop. 33,869) is Japan's northernmost city. On a clear day, its residents can look across the La Perouse Strait to the Russian island of Sakhalin, which was a Japanese prefecture until the closing days of World War II. The city was a smuggling hub during the immediate post-war years, when movement between Sakhalin and Japan was forbidden, and smuggling resumed during the bubble era, when little of the seafood offloaded in Wakkanai had been caught legally. When I visited for the first time in 2011, two weeks before the Fukushima earthquake, Wakkanai was a city of colorful memories and little to boast about.
The mayor at the time was Yokota Koichi. Funding had been secured to build a new train station and transit hub in the city's historic downtown, and Yokota proposed that multiple floors of the station building could be reserved for a nursing home. It's difficult to overstate the symbolic importance of a Japanese rail hub to the commerce of the surrounding area; using it to house the elderly struck many Wakkanai residents as an attempt to "surrender to the future" instead of confronting it.
Yokota carried the proposal to fruition, at the cost of his political career. The nursing home wasn't cheap (or remarkable; it was part of a mid-market chain), but its manager was a woman who deftly turned aging and mortality into occasions for kindness, and its central location gave residents an abundance of opportunities to live fully before their health declined. I visited often and took oral histories. I was always welcomed.
My closest acquaintance in Wakkanai was not a nursing home resident. He was a 63-year-old Wakkanai native who spent his entire life in California, returning only to care for his elderly mother when her health failed, a few months before I met him. He regarded himself as American, a feeling that intensified when he discovered that the city he came from had vanished, leaving behind a place that showed no signs of the post-war hardship he remembered, but was also a ghost town. He could speak in standard English, but didn't see the point (his life in America had never called for it) and my memories of Wakkanai are inseparable from his 1960s immigrant patois.
Steve was not the name his mother gave him, but it was the only name he ever gave me.
–Dreux Richard, February 2021
*
During my intermittent residency in Wakkanai, I joined the Japan Firefly Society. Mayor Yokota and Monma Katsuhiko (the former Antarctic explorer) were friends of the Wakkanai chapter's chairman, Hiranuma Michihiro, a retired construction contractor suffering from advanced Parkinson's disease. When he was a boy in his father's marine engine workshop, Hiranuma told me, grasshoppers were attracted to the heat of the workshop's fire, and he would pass the hours by catching, observing, and releasing them. His interest in the natural world recurred when his children were in elementary school and a fellow PTA member mentioned that her daughter had never seen fireflies; the population vanished after Wakkanai urbanized. This disappointed Hiranuma more than he expected, stirring regrets about the competitive, solipsistic society his generation had passed to their children. He visited his children's teachers, to propose firefly breeding as a class project. "Kids today would let a goldfish die," one teacher replied. He wondered if this teacher had tried keeping one in the classroom, or only imagined the outcome. The latter possibility, the presumption, offended him.
Hundreds of firefly enthusiasts traveled to Wakkanai for the 2018 conference and were taken to the neighboring town of Toyotomi for firefly viewing.
Hiranuma opened the Wakkanai chapter's meetings by reading from the first book on firefly entomology he acquired, which survived a fire in his house. The borders of the pages were brown and brittle where the flames had touched them. Favorite passages were followed by his own commentary: "If a firefly enters the beam of a passing car's headlights, it never illuminates again." "Fertilizers, pesticides, and the fumes of industrial chemicals disrupt illumination. Disoriented chemically, a male and female firefly could land on opposite sides of a leaf and never notice each other." I didn't look these notions up or verify them with an entomologist. They belonged to my experience of Hiranuma, whose body revolted against his presence in the meetings. His left arm moved involuntarily, and he sat with it pinned between his knees. His left eye wouldn't open as wide as the right, which produced the sensation (he complained) of viewing his surroundings through a transparent place in his eyelid. When he spoke, saliva pooled in his cheeks, making it difficult to enunciate. A few of his gestures retained the physical vitality of his former profession, and this incongruity made us feel as if we were witnessing the first day of his illness.
Hiranuma had assigned himself the goal of holding the Japan Firefly Society's national conference in Wakkanai, a city with no fireflies and a difficult city to reach. His bid was supported by the southernmost chapter, in Okinawa, which insisted it would host the following year's conference, and Hiranuma would be healthy enough to attend. Wakkanai was selected to host in 2018, and Hiranuma died shortly after the selection process concluded. He was 66.
Among the retirement-age residents of Wakkanai I befriended, many of whom were in their nineties and living in care facilities, Hiranuma was the only one who passed away. I saw him shortly before his death, in Wakkanai Station. He was leaning on a vending machine to keep his balance, watching the local train depart, lifting his cane to salute the conductor. We spoke, but he was disoriented and didn't remember who I was. "I'll tell you how the Ainu describe fireflies in their epic songs," he offered, after I identified myself as a member of the firefly society. "The gods of light that begins and ends."
Hundreds of firefly enthusiasts traveled to Wakkanai for the 2018 conference and were taken to the neighboring town of Toyotomi for firefly viewing. Opening ceremonies occurred at Toyotomi's gleaming new high school, a testament to the stability of the town's dairy industry. The school's band played, and a few students were still present when the ceremonies ended, filling the hallways with youthful laughter, completing the sense that we had traveled to a type of institution that would never exist in Wakkanai again.
When hundreds of people gather to commemorate a mutual friend—when they file into the darkness of a spring evening, when they speak in whispers and stand shoulder to shoulder in a soft rain, observing the illuminations of the evening's first fireflies—a sense of that friend's presence is a ritual certainty. "These fireflies must be related to the larvae Hiranuma hatched," Mayor Yokota remarked, and his tone was not wishful, though his notion was. Only one firefly was observed alighting on a conference attendee, and that attendee was Hiranuma's widow, Asako.
The birthrate had plateaued far below government targets, and domestic migration was drawing women of childbearing age to the cities where starting families was most difficult.
Asako managed the city's welfare program for infants and their mothers. She had planned to retire in March 2019, to care for her husband full-time, and mourned the loss of this difficult experience, wishing she could have become the person it would have made her. During my final period in Wakkanai, I became friends with her son, Masahiro, who lived in Sapporo and worked for a supplier of construction materials. His dated house in a distant suburb received the best light on its block, which filled the tatami room where his daughters (four and one) spent their days. "That's where they're from—that room, this city," he told me. "When they're older, one will remind them of the other. If you drive to Wakkanai, there's a moment when you come into the flat terrain of Soya, and the horizon is suddenly much farther away. I am always overwhelmed by my involuntary recognition of that place."
On the evening before conference attendees departed, the firefly society's Wakkanai chapter invited the Okinawa chapter to sing karaoke. I sat next to Yokota for most of the night, talking about population decline and Japan's aging society. The birthrate had plateaued far below government targets, and domestic migration was drawing women of childbearing age to the cities where starting families was most difficult. "This conversation makes me so depressed," Yokota complained, "that I'm repaying you with a melancholy song." He insisted we perform a duet of American folksinger Hedy West's ode to homesickness, "500 Miles." I told Yokota I didn't know it, but he played it anyway, and I surprised him by following the tune. I couldn't understand why I wept when I listened to the song later in my hotel room, as soon as I realized the original recording had been performed by a woman. My mother died shortly after and I inherited her dulcimer. She had only ever practiced a few simple arrangements of popular songs, and in the book she played from, only one page was dog-eared, which was the tune I remembered when Yokota asked me to sing.
I spent my final night in Wakkanai with Steve Tamaki, whom I'd met when I was working on my first feature story and he was adjusting to life in Wakkanai after 44 years in America. His mother had died in February 2018, at age 95. Other family members had considered placing her in a care facility, but Steve, who was living with her, honored her desire to die at home. The last few months of her life were exhausting. When she was tired, she would ask the same question hundreds of times, forgetting the answer in a matter of seconds. She stopped when he shouted at her. She would say, "Thank you, I was stuck," but the act of deliberately frightening her left Steve emotionally disoriented. "Then I'm understand," he reflected. "Already I'm one miracle, come back Wakkanai. Even I'm hard time with Mom, make a wrong decision—okay, I'm still a son who did his duty."
After his mother died, Steve filled his time with day labor, joining a friend's crew on landscaping jobs and building demolitions. He was 70 and his working years were over, whether or not he knew it. He was losing his eyesight and his cuticles were bruised from misplaced hammer blows (they barely held his fingernails in place). Three cups of instant coffee, with several spoonfuls of crystals in each of them, didn't stop him from nodding off periodically during our conversation, which started while the sun was up.
We were in his living room. Because Steve behaved like a working-class American, mutual acquaintances of ours in Wakkanai (Japanese people) assumed he lived like a working-class American. His home would have surprised them. His furnishings were sparse but adequate, and the house was broom clean. A bowl on the living room table was filled with fresh fruits. Portraits of his parents adorned the family altar in the neighboring room, which was otherwise empty, in the Japanese style. The house could have belonged to any lifelong resident of Wakkanai.
Steve inherited it from his mother. He didn't expect it to be valuable, but he was surprised to learn it was worthless. It couldn't be sold, couldn't be rented, and the cost of knocking it down would exceed the value of the land, even though the house was located within walking distance of downtown. Still, the property was subject to taxation, and as Wakkanai's population declined, each homeowner's share of the tax burden expanded. Steve, who had no idea whether he was entitled to access Japan's crumbling national pension system, was working to keep a roof over his head, as he always had.
He observed that the pace of decline in Wakkanai was accelerating. The Fukuko Ichiba dining complex—the city's main redevelopment of downtown property—was closing for lack of business. There would be no Sakhalin ferry next summer. Wakkanai Hokusei Gakuen University had warned students that it might cease operations. And, as Steve discovered when other family members tried to institutionalize his mother, changes in the national government's system of subsidies had left Wakkanai's elder-care facilities overwhelmed with difficult cases. One of the front-runners in Wakkanai's forthcoming mayoral election, Steve pointed out, openly opposed the construction of a municipal curling rink—and by extension the enormous subsidies the project would attract—in favor of directing the city's resources toward an expansion of elder care.
Before leaving, I asked Steve if he would tell me his given name. He evaded the question by telling stories I hadn't heard, about serving in the Vietnam War, about securing a transfer out of Vietnam after seeing another soldier lose an arm in a firefight, and about spending the rest of the war on an American base performing the lowest duties his commanding officers could find for him. I was surprised when he explained that the base was in Japan. Soldiers of Japanese ancestry, he told me, were forbidden to mix with locals, so his time there never felt like an interruption of his American period. I imagined him sitting in the basement of the officers' mess, peeling a crate of potatoes, affected by his American uniform and his disdain for the war far more than he was affected by the country he was stationed in, or the fact that he was born there.
I didn't know Steve's name, I didn't know if he had married the mother or mothers of his children in America, and I didn't know what he intended by telling me about his military service at this late moment in our friendship. I didn't feel I needed to. People in Wakkanai found Steve odd, but I'd come to regard him as part of the scenery. Japan is a society that values the quiet endurance of hardship, especially in depopulating rural areas. Steve cared for his mother when nobody else was willing. He worked in physically demanding jobs when other people would have sought family or government support. He aged the way the city aged: Before his time, and it was the first thing you noticed about him.
We parted in laughter, because I knelt down to cluck at an approaching shadow on the street in front of his house, and Steve knew I had mistaken a northern fox for a house cat. The fox crossed the street to avoid me, treading on a pile of crushed scallop shells. The white dust from the shells left a trail of paw prints leading to the porch of an abandoned home, where the fox disappeared through a broken panel in the door. "If you build a city, someone can always use it," Steve observed, and joined me on the street to count the number of houses on his block that had their lights on, in the hours of the evening when people were awake after sunset.
____________________________________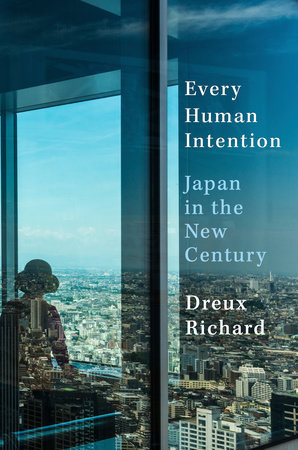 From Every Human Intention: Japan in the New Century, by Dreux Richard, courtesy Pantheon. Copyright Dreux Richard, 2021.
---