The Unavoidable Villainy of Being an Organic Farmer
Julie Carrick Dalton on Being the Mr. McGregor of Her Garden's Story
What if I am the villain?
This idea crashed over me like a wave one day while picking Colorado potato beetles off my potato plants. These beetles had moved in with a fury, threatening to destroy my crop. Bright orange eggs clung to tender leaves like gobs of caviar. Insatiable, gooey larvae munched on my plants without mercy. I scraped eggs off, mashed the larvae, and crushed the adults as fast as I could, but even as I worked in the hot sun for hours, I knew it was hopeless; I could save some of the plants, but not all.
As an organic farmer, I refuse to spray my crops, so I often find myself at the mercy of birds, beetles, raccoons, deer, and other critters determined to ruin my harvest. But this particular year, as I smushed beetles, I pondered a bit of writing advice from author John Rogers: "You don't really understand an antagonist until you understand why he's a protagonist in his own version of the world."
When I was drafting my debut novel, Waiting for the Night Song, I consumed writing advice like water. I read books and blogs and listened to podcasts as I searched for the secrets to writing a compelling story. This particular bit of writing advice from Rogers helped me more than any other tidbit I'd picked up: The antagonist believes he is the hero.
This change in perspective prompted me to take a harder look at my own antagonist. I interrogated him and came to realize he did not see himself as a villain; he was doing the best he could, making decisions that made perfect sense to him. I wanted to apologize for misunderstanding him in the early drafts, where I painted him with broad strokes and failed to give his rich life the full dimension it deserved.
At the center of a barbaric scene—with smushed beetles staining my fingers orange and mud soaking the knees of my pants as I crawled through rows of potatoes—I began to question my role in my own story. Was I the villain?
During the same years I was writing Waiting for the Night Song, I was building my farm from scratch. These two endeavors—the book and the farm—are intertwined in my mind as a single, tangled memory: working in the field during the day, writing in the evening, drafting a scene in my head as I weeded, researching best agricultural practices alongside novel research at night. Often, while I tended crops, an idea for my book would come to me, and I would dictate notes to myself on my phone. Elements of my farm emerged in my fiction.
Days before that moment in the potato field, I had stumbled on John Rogers' observation about the antagonist believing he is the hero. Now, at the center of a barbaric scene—with smushed beetles staining my fingers orange and mud soaking the knees of my pants as I crawled through rows of potatoes—I began to question my role in my own story. Was I the villain?
But eradicating the beetles by hand was necessary, noble work, I thought. I rely on organic practices on my farm. No chemical additives or fertilizers. No pesticides. I shield the food I grow from chemical contamination, and I protect my soil and the waterways that catch runoff. I do this because I refuse to add to the toxicity that poisons so much of our land and water.
I do not harm birds or mammals who want to feast on my crops. No poisons or traps. Instead, I build tall deer fences, which extend several inches into the soil to dissuade burrowing invaders. I tie reflective ribbons on posts that flutter in the wind to scare off birds. I scatter rubber snakes on the ground to torment birds and small mammals tempted by my vegetables. And I squish bugs.
I take pride in my commitment to organic practices, but on days like that day in the potato field, as I stomped on bug after bug after bug, my mission felt futile. It would have been so easy to give in and spray chemicals. I, feeling a bit self-righteous, chose a different path. I was protecting the environment, being a good steward of the land.
I was the hero. Wasn't I?
I looked around my farm with tall fences keeping hungry deer out and rubber snakes terrorizing birds. And those beetles. They were simply trying to procreate, find a safe place to lay their eggs with abundant food for their young. And there I was, slaughtering them.
On numerous occasions, I'd seen a mother deer with a fawn on the perimeter of my deer fence. Did they watch me as I sat there surrounded by abundant food and wonder why I was too selfish to share with them? To all the insects, birds, and woodland creatures who watched me, I most certainly was not the hero of this story.
I refuse to give up my commitment to organic farm practices. And that means, come August, I'll be on my knees squishing beetle larvae again.
It made me think of Beatrix Potter's The Tale of Peter Rabbit. The mischievous young bunny just wants a snack from Mr. McGregor's garden, but the evil gardener chases him out. I hated Mr. McGregor when my mother read those stories to me as a child. And when I read them to my children, I always used my stern, bad-guy voice for Mr. McGregor and cheered for Peter.
In my attempt to keep my garden organic, I had become Mr. McGregor.
I recently watched a documentary called The Biggest Little Farm about a couple who starts a farm and, like me, must contend with insects, rodents, birds, disease, and weather. These farmers considered each obstacle and tried to solve the problem by countering whatever appeared out of balance in nature. When slugs infested a fruit orchard, they brought their ducks in for a slug feast. The farm owners sought out sustainable solutions and ways to coexist with nature, to be part of it—not to control it. The documentary followed this couple through disaster after disaster, building to a beautiful message about seeking balance with nature and letting go of the desire to control it.
In The Biggest Little Farm, the farmers are the protagonist. I cheered for them. I cried when they suffered losses. But more importantly, I walked away recognizing their profound respect for nature, which served as an antagonist, but one whose heroism I respected.
I love to traipse through the forest surrounding my farm and take pictures of mushrooms. The colors, shapes, and textures delight me. The purpose of fungus in an ecosystem is to breakdown formerly living organisms. The beauty of mushrooms blurs the lines between creation and destruction, life and death, protagonist and antagonist. Nature, like a story, requires both points of view.
As for that antagonist in my novel, I spent a long time getting to know him after my beetle-squishing epiphany. He's not a bad guy. He's a bit crusty, but fiercely loyal. He has lived his whole life regretting unfortunate choices. But don't we all have regrets?
I refuse to give up my commitment to organic farm practices. And that means, come August, I'll be on my knees squishing beetle larvae again. But I do so with a new respect for my adversary and a keen understanding that I will always be a villain to the beetles, birds, and deer. That's okay. Every story needs an antagonist who believes they are the hero.
_________________________________________________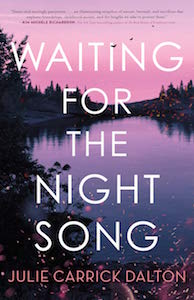 Julie Carrick Dalton's Waiting for the Night Song is available via Forge Books.
---